Thursday, September 2, 1999, Hanksville, Utah - During the day, he rides along the dry, hot clay of the Utah desert, and during the night he lives inside of it. He does this because he is a cowboy, and that's all he has ever been, and the dirt floor of the Great Plain, though not his only love, is possibly his greatest.

Born and raised on his family's "Robber's Roost Ranch" A.C.Ekker grew up in the area known as one of Butch Cassidy's favorite hideouts. While studying at the University of Utah, in Salt Lake City, he began working the rodeo circuit and was the National Intercollegiate "All Around Cowboy." He spent the next three decades on some of the meanest animals in this country, and now he lives a relatively quiet life on his ranch in southeast Utah.

Ekker chose this piece of land, near the Hanksville gun club, because of the butte, and the climate and water rights on the Fremont River, which flows along the ranch - but mostly because of the butte. Rising nearly 100 feet, the sandstone and clay wall is tall enough to hold in the temperature without holding in the moisture.
Ekker bought the 120-acre ranch in 1984, and he spent that summer blasting away at the sandstone. He didn't need building permits, because the county didn't have a zoning department at the time. He used up that entire summer and about 3 tons of dynamite to dig the hole. After that, the job was simple; he laid the plumbing, poured a concrete floor and finished it out. Simple, but not cheap. The banks weren't interested in putting a mortgage on his home - "They want them all to look like they came out of a cookie cutter," he says. So he had to wait three years while he built up some cash, and during that time, he had to live in an apartment in town, which is a lot like getting thrown off your horse, and then getting kicked into the fence.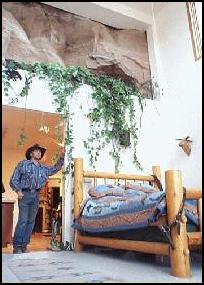 To discourage the whole thing from crashing down on top of him, Ekker installed dozens of rock bolts. These are eight-foot long rods that are split on one end, which he slid into holes drilled into the rock. He pounded on the bolts with a jackhammer, compressing and expanding those split ends, which now hold the bolts - and the rock - in place. He didn't move in until 1988, and a decade later, there is still some work to be done. "The fun is in building it," he says. "I hope that lasts until the day I die. As long as you got something to do, you got something to live for." His next project is a large bathtub, made out of petrified wood and dinosaur bones.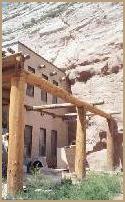 Only part of the home is underground; the kitchen and bedrooms poke out into the Utah sunshine. Man-made walls are covered with drywall. The exposed beams are natural fir. The floor is covered with pond pine logs, and, in the kitchen and entryway, tile from Saltillo, Mexico ("there's a paw print in one of them.") To hang a painting in the rock walls, he drills a hole in the sandstone, pounds a wooden peg into the hole, and puts a nail in the peg.

A.C. Ekker keeps busy growing alfalfa for his cattle, a herd which he estimates at 600-800 head (it's hard to keep count when they graze on over 200,000 acres) and an orchard full of peaches, apples, plums and strawberries. It takes plenty of water to grow these products, and water doesn't just fall from the sky around here (usually about a half-inch of rain falls each summer) so, those water rights come in handy. But then, he is used to dry weather, so he was less than thankful for the three inches of rain he got this summer. No wonder he calls the place "Raindance Ranch" - it keeps him on his feet.
Ekker got the idea of building a home underground during a cool visit inside a uranium mine. His living room and den occupy a space about sixty feet wide and fifteen feet into the rock. Behind that is a "heat sink" - a hole about ten feet square that goes back eighty feet into the earth. Air passively circulates from this hole into the home, through open doorways and gaps between walls and the rock ceiling, and that air is always 68 degrees - day and night, winter and summer.
He only has one air conditioner - in the kitchen - and that is for his wife. "I turn it off when she's gone," he says. His electric bill, for heating, cooling, lights, well pump, farm equipment, and welding shop (also underground) is about one hundred dollars a month.
Ekker's third wife, Gloria ("I keep trading up for a better model") is an emergency room doctor up in Price. She takes the 2-hour drive each week to work a 24-hour shift. To keep the kitchen comfortable, he placed a gap in the front porch roof, which allows the sun to shine in at the right times. During the summer and winter solsti, he stretched strings from his front windows to the roof, and made the gap so the sunshine heats the home during the winter, but not during the summer.
Come to Hanksville, Utah, and buy a soda at a real, underground store.


Both A.C. and Gloria travel often, and he doesn't see very much of his three grown children, but he doesn't mind the frequent separations. "I was raised to be by myself," he says. "And I enjoy my solitude."

Ekker earned his pilot's license in 1968, to fly around the rodeo circuit. He now has an instrument rating, and he owns a Cessna 175, a single engine, 4 seater, that can do 135 mph over the Utah desert. When he isn't tending to his crops, he offers horseback tours around the 320 square mile Robber's Roost Ranch. He has even guided actor Robert Redford around the Roost, a ride which got him on the cover of National Geographic.

This is A.C. Ekker's dream home, and he is quite pleased to be living here. "I like it out west," he says. "I like it out of town more than anything." Someday, he will be riding that great bronco in the sky, and when they put him away, it will be under the dirt and clay, and under Utah's big, beautiful sky, and this cowboy will feel right at home.

With this view of the Henry Mountains,
Ekkers has his home - and his life - made in the shade.