Thursday, August 6, 1998
One Times Square, 25th floor rooftop, New York City
Only 145 days to go! Can you believe the year has gone by so quickly? Where did the nineties go? Where did the century go? Remember the good old days?
300 million people will watch The Ball drop in Times Square this December 31st, and you'll be smarter than all of them, because you're about to brush up on your trivia of the most famous orb on this great orb.

CONTEST!!
Guess the size of The Ball! You've seen it drop on Times Square for nearly 100 years - how large do you think it is?
Diameter =
10 feet, 16 feet, 25 feet, 33 feet, Other: ______feet
Email your answer to us! at: TrueAmerica@usa.com

First, we'll visit The Ball's home, the place where she spends most of her life, asleep, in a vault. Here she rests, two floors below Times Square, one of the busiest intersections in the world. Spend a day down here and 1.5 million people will walk, run, drive, dance, photograph, litter and even kiss right above you.
To get here, simply enter the Warner Brothers' store right next to the military recruiting station, pass security, take the elevator two floors down, pass more security, unlock one set of steel doors, then unlock a second set of steel doors, and you can see The Ball buck naked.
She's not bad looking either, for a fifty-one year old Ball (she had a major face lift in 1996.) But then, who wouldn't look good in twelve thousand silver rhinestones? (See below.)

A better view from the top of the world.

And once she gets dressed up with 180 halogen Ball-Bulbs, she'll start looking even better. It is this image that the people who represent The Ball will be marketing shortly, on T-shirts, pins, coffee mugs and other souvenirs. The Ball may not get much rest in the next few years, as Countdown Entertainment (her representatives) are planning The Times Square Millennium Ball Tour, rolling her around the country to roll in the new millennium.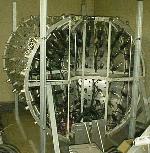 Fully dressed, she weighs 500 pounds - don't tell her that.
Here is Our Favorite Ball, split in half and inside-out, on her racks and asleep in her subterranean vault below Times Square.
---

Who would have thought, in 1907, when a few people from the New York Times had a ball made, lit it up and lowered it down the flagpole atop One Times Square, that they would start such a popular tradition?

New Yorkers, that's whom, because these guys always think big - really big. Big, as in over half a million people crowding the "Bow tie" where Seventh Avenue and Broadway intersect to make Times Square. Big, as in enough candle-power to see the thing from the moon, and big enough to be computer controlled.

Computer! Is nothing sacred anymore? For eighty-eight years, The Ball was lowered by a bunch of guys up on the rooftop. There was an art to it, there was a bit of human uncertainty to it, there was probably more than their share of booze up there. This sure has taken a lot of the mystique out of the whole event.
Let's just hope that, before the year 2000 Ball Drop, they will have solved that whole millennium bug problem.
These days, ceremonial ball droppers stand on a platform at 45th Street and they press The Button to drop The Ball. In 1996 the Mayor pressed The Button, in 1997 we watched Osceola McCarty (who had donated her life savings to a university) and last year, children from each of the five New York City boroughs had the honor.
The people who select the button-pushing ball droppers are The Times Square Business Improvement District (BID) and they have not disclosed who's finger will send the world into 1999 - or 2000 - yet.

If you have watched New Years Eve in Times Square lately, you've noticed that, after The Ball drops seventy feet on her one-minute journey, she goes dark and numbers light up announcing the new year. After only four years of use, these numbers will all be replaced next year when we no longer have a use for a 1 or 9's or an 8. Just like most of us may have to buy new bank checks, and new computers, VCR's, microwave ovens and probably new shoes, even.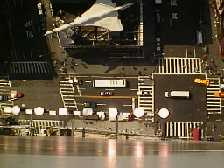 ...and here is your view south from the rooftop.
Looks like some kind of cool game board, doesn't it?
Sure is getting windy up here...
---
Even though our Digital Earth may indeed stand still at midnight, December 31, 1999, it will be a very normal day, just like every other day around the world. Birds will still fly, bees will still sting and rivers will flow downhill. In fact, most species on this planet will not even notice that we humans will be nearly dizzy from the frenzy we will have created over this calendar change. Times Square may truly be the center of the world that day, as the BID is planning to heighten that frenzy with a day-long, incredible event.
From most anywhere on the Bow tie, you will be able to watch as the world celebrates the changing of the millennium. Giant television screens will show partiers around the globe frolicing into another epoch. Starting at 7am in the South Pacific, people in each time zone will whoop it up until twenty-four hours later when we've all pretty much wiped ourselves out.

With only four seconds left in the year, Times Square will be awash with tons of colorful paper, thanks to Treb Heining, the official Times Square New Year's Eve Confetti Master. Invite Heining to your party if you want have a lot of fun, but not if you have to clean up. Actually, organizers of the Ball Drop found an ingenious way of getting rid of the 3,000 pounds of tossed confetti Heining masterfully provides each year; they gave away thousands of "souvenir confetti" bags so people could take a little bit of the mess home with them.

To finish dressing the ball up for her night out, workers will test the 10,000 watt, xenon lamp inside her. This light will shine out of hundreds of small holes drilled in her shell. The Ball Technicians will then check the 144 xenon glitter strobes and they will prepare her onboard fog machine, which will supply a reflective mist to magnify her brilliance.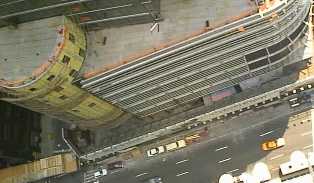 Here is The Ball's view eastward, and... whoops!
Isn't that the building with the Loose Scaffolding?
---

She is a solid white ball - always has been and always will be. She does not have blue and red stripes and she is not shaped like a cookie or a piece of candy (though some people have tried.) She does not have a name; she has always been called The Ball.
The owners of One Times Square could raise a giant purple tomato above their building on New Year's Eve and unfurl ugly pink streamers if they wanted to - it's their building. But they don't and they never will. They don't even have to drop The Ball, but they do.

They do it for auld lang syne, because these are the good old days.
---
Would you like more information on Times Square?
Try the: Times Square BID

Check out the Holy Cow! Archives
for other flying objects...

Return to our
MAIN page