Jackie is a high school art teacher and maybe that is why, four years ago, she and Dick offered their property to display works created by art students at the local university.
Maybe some days Jackie will quietly walk through the field, admiring the work of students like her own, appreciating the interaction of the two processes of learning and creation. She may touch the sculptures and hold their form in her hands, run the visions and dreams of students across her palms and sense the joys and fears of another heart in her fingertips.
Jackie is a Registered Nurse and maybe that is why she spends so much time helping her friends and other people understand and combat the illnesses that afflict them.
Maybe Jackie needs this field of art to remind her of the beauty in this world, of the tremendous wonder of nature and its power to inspire and challenge, to destroy and to mend.
Jackie, a mother of adult twins and wife of a man who, after more than two decades, can only describe her as nothing less than incredible, has a disease called NF2. Through its cruel promulgation of benign brain tumors, NF2 has all but stolen her hearing and it will soon take away her eyesight.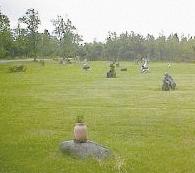 Maybe some days Jackie and Dick walk the field together, helping each other see what the rest of us cannot see, hear what we cannot hear and dream what we cannot dream.

---