A Healing Heart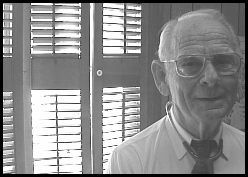 Thursday, February 4, 1999, Carrollton, Alabama - In the half decade of William Hill's wonderful life as a doctor in this small, western Alabama town, you will find a level of success that can't be measured with a bank account, and you will find a motivation based on an unshakable foundation.

Dr. Hill practices in the same small building where his father began his practice nearly a century ago. He estimates that he has delivered over 2,000 babies - twice the present population of Carrollton - and has seen many of them grow and mature and age and decline, and some move away, and some have babies whom he has also delivered.

To understand the role of a country doctor, you could go back to the late 1920's and an inspiring event one night. Young William Hill was asleep in his room. The sun had disappeared hours before, the moon was high, and William was but a bundle of pajamas in his bed. A hand touched the boy's shoulder. "C'mon, son, wake up." William looked up at the man standing beside him - "daddy," he still calls him - and he climbed out of bed. His father was going on a house call, as he had done so many times before - and as his father had done before him, and his father before him - and this time, young William would go along.

The patient was a young boy who had pneumonia, and Doctor Hill wanted to check on him before he took that lonely sleep through the night toward an uncertain dawn. William climbed into his father's Model A - a black, leather satchel on the seat between them - and they rode along the forested roads of central Alabama to a small home. They shut their car doors quietly and William followed his father into the house. Doctor Hill checked the boy carefully as William watched, and then he gave the young patient a warm smile, and assured him that he would be fine. He tucked the boy in, and father and son left the house, got in the car and rode home.

"They don't come any better, as a doctor and a person," says Mary Drake, of her favorite physician for the past 24 years. Gary Hankins, a Carrollton business owner says; "When you think of Pickens County medicine, you think of Dr. Hill - he is one of the best around." Hill has been recognized nationally, having been named a "doctor of the year" by both the National Rural Health Association, in 1996, and Staff Care, Inc., in 1997. Medicine is still running deep in the Hill family - one of Dr. Hill's daughters is a medical technician, and his grandson is a registered nurse.

Hill remembers a man who had some influence on his attitude as a young pre-medical student. "I didn't know what I wanted to do, except have a good time," he says of his first few years at the University of Alabama at Tuscaloosa. "After my junior year, Dean Graves said to me; 'How would you like to be on your death bed and have your doctor know only seventy-five percent of what he should?'" Hill hit the books from then on and earned his M.D. at the University of Kentucky at Louisville in 1943. He interned with the U.S. Army for three years before returning to Carrollton.

Medicine has changed in the fifty years since his return. "It's pretty exciting now," he says. The greatest improvement, he claims, has been in electronics, namely the MRI, CAT scan and ultrasound. But first on that list would be the X-ray machine, which the young doctor brought to Pickens County when he joined his father's practice after the war. Another improvement is that health care is now more available, he says. "With medicare and government programs, the opportunities are there," he says. "No one should go without medical care now."

Though he has never had a malpractice claim against him in fifty years, Dr. Hill, like any doctor these days, must have malpractice insurance. Since he turned 75 four years ago, he has had to visit the underwriter each year and demonstrate to a panel of insurance agents that he not only still has a pulse, but can read one, or at least can still fulfill the oath that he took well before many of them were born, with all due respect.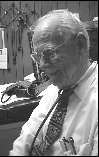 The remarkable thing about that house call, some seventy years ago - which was one of the events which Hill says made him want to be a doctor - was what didn't happen in that small house in this small town. "We didn't wake the parents when we came to check on that little boy," he says. "I saw the parents the next day and told them that we had come by around midnight."
Hill enjoys doctoring in a small town. "All your patients become your friends," he says. "Another doctor asked me; 'why do you always tell me; 'I've got a friend I want you to see, when you're talking about your patients?' I say that, because they are my friends."
A county hospital, built twenty years ago, has taken some of the load off Hill's shoulders. There are now seven doctors in the county. He no longer delivers babies or practices pediatrics, and he is able to refer patients to more specialists. He doesn't even need to have Sunday morning hours anymore.
Hill enjoys caring for people from middle age to geriatrics, but finds the entire practice of medicine to be his own medicine. "Every time I think about retiring," he says. "I think about how much I enjoy medicine. We all wake up in the morning, sometimes, depressed, but then I start seeing patients, and my attitude improves." Hill has had three heart attacks and he had bypass surgery ten years ago, but his heart grows stronger with each diagnosis. "Seeing patients is very therapeutic for me," he says.
The doctor enjoys fishing, and he has a boat down on the coast, on the deck of which he likes to reel in king mackerel. He has lived in the same home for the past five decades, and it is evident that money is not a motivation for his work. "Anytime you help someone, you get more out of it than they do," he says, noting that his father was sometimes paid with potatoes, molasses and corn. "After a while, you know those who can't pay," he says. "My daddy told me you don't even put it on the books.
Dr. Hill misses the house calls, and he still makes one when asked. During a snowstorm a few years ago, Hill allowed somebody else the pleasure of helping someone - of making that house call. The storm was so bad that not even the ambulance would venture out to take him to a patient's home. But Hill knew the patient needed him - he couldn't wait for the storm to end. Hill asked around for somebody with a vehicle that could travel in the heavy snow, and he finally got the head of maintenance and his pickup truck.
"We didn't get above thirty miles per hour, the snow was so deep," Hill says. They arrived at the patient's house, and the family was excited, if not a bit surprised, to see the doctor. They heaped on thanks and praise and made the two feel very special, even serving them a hot meal. For Dr. Hill, this was just another house call, but he could tell that this was not an average day for his driver. On the way back the maintenance man was still smiling from the experience. "He said; 'This was fun! Let's do this again!'" Hill remembers. This being the foundation for his entire practice. "When you help people," he repeats his earlier assertion, "you help yourself."