Saturday, December 25, 1999, Americus, Georgia - Home is space. It is merely a place to live and laugh and love. It is space to hold belongings, to eat, rest and grow. Home is a haven in which to stabilize a life and to help a family blossom and prosper.

Nathan and Brenda Poole spent many years trying to raise their family without a real home. They lived in an apartment on the east side of Americus, a place Nathan Poole describes as "a hell-hole." Not only was it too small for them and their six children, but instead of sharing sanctity, his neighbors brought fear into their daily lives. "The people there were fighting and doing drugs," Poole says. "The police had to patrol every night." Poole fought a daily battle to protect himself and his children from harm and from dangerous influences.
.
Habitats for Humans*

Since 1976, Habitat for Humanity Int'l. has built nearly 26,000 homes in the U.S. and over 80,000 worldwide.

Applicants for homes must earn less than 50% of the area's median income, and they usually earn 30% according to Habitat spokesman Denny Bender. Homeowners are selected "based on their level of need, their willingness to become partners in the program and their ability to repay the no-interest loan."

The average U.S. Habitat home in 1998 cost $42,000. In addition to paying a no-interest mortgage, participants must complete up to 500 hours of "sweat equity" helping to build a home, working in a Habitat office or taking classes.

The foreclosure rate nationally on Habitat homes is about 1%, according to Bender.

Millard Fuller, along with his wife Linda, founded Habitat for Humanity in 1976.

Throughout the world, the cost of Habitat houses varies from as little as $700 to an average of $42,500 in the United States. Mortgage length varies from seven to 30 years.

Each year, President Jimmy Carter leads thousands of volunteers to "blitz-build" hundreds of homes. In March of 1999, 2,000 people from north America flew to the Phillipines and built homes for 293 families.
*Unless noted, source is the web site: www.habitat.org

1(800)HAB-ITAT
.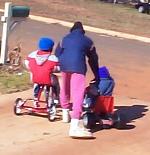 The "Easter Morning" subdivision is a half-filled Habitat for Humanity development on the north side of Americus. Standing on the red, Georgia clay are dozens of new homes built this past spring by thousands of volunteers. The mood is peaceful and quiet, as children play with their Christmas toys in their front yards and in the street. Home ownership not only provides housing for families, but provides "a restoration of pride and sense of accomplishment and place," says Denny Bender, spokesman for Habitat for Humanity International, headquartered in Americus.

Inside the Poole home sits a beautiful Christmas tree. The dinner table is set with festive decor (paper plates ensure Brenda won't wash dishes today) and the small living room, dining area and kitchen are tidy and clean for this unexpected guest.
Eleven months ago, after applying for a Habitat home four times, Poole heard the news that his family had been accepted. "I had just gotten off from work," he says. "My wife went out to the mail box, and I heard her scream!" - it was an outburst of joy, as if she had just won the lottery; "I got my Habitat house!" she said over and over.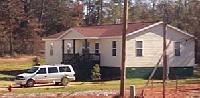 In late March and early April, 1999, the Pooles' home and others sprouted up in a storm of volunteers. "You couldn't even look down that street and see the street, there were so many people." Poole says. He remembers fondly the unselfish people who built his home. "They were really nice, lovely people," he says. "I never met anyone like that in my life." This tradition, a version of the Amish barn raisings, has become so popular, that groups of people - mostly retirees - caravan around this country in motor homes, working on Habitat sites. In early April, Nathan and Brenda Poole, and their children; Nathan Jr., Joshua, Henry, Cedric, Eric and Portie, moved into their new five bedroom home. It was built by amateurs, including Poole, but it was built with pride and care and compassion.
40 year old Poole, a maintenance man at South Georgia Tech, knows his way around a hammer and saw, thanks in part to the volunteer hours he spent on his, and other, Habitat homes. "I learned how to hang siding," he says. "I learned a whole lot about measurements, patching drywall and painting." Working for Habitat alongside his maintenance job kept him busy, as he and Brenda put in 300 hours in a few months. "It was kind of rough at times," he says. "But at the end, it was worth it." Though he is not required to do so, Poole intends to work on future Habitat homes, and with 142 total homes planned for his community, he will be busy for a while.
Poole pays less than $300 per month for insurance, taxes and a 20-year mortgage. He pays more than he did for rent in his subsidized apartment, but he enjoys the security and stability of home ownership. "I sure don't regret it," he says. "It brought my kids out of that place, and they act better and play with better kids. You can see a totally different reaction now - over there, they were always angry and getting into it with other kids. We don't mind socializing here, but we didn't want to socialize there - those people were terrible."
Poole, who grew up in a home with fourteen people, doesn't mind a crowded house, for being crowded is only one element of space. His new home on Hosanna Circle has a mere one and one-half baths for eight people, but it has plenty of space to live, laugh and love, and to be in harmony.