June 23, 1998, Surry, Maine - Lucy Woodward has always loved horses - she "lived, breathed and died for horses" as a child on the eastern coast of Maine. She loved to ride, not in a ring, but out in the wild, with new scenery around every turn, a new adventure with every mount.
Maine, with its millions of acres of rugged and beautiful terrain, could not hold her, could not sate her thirst for new frontiers. "I wanted to keep going" she says. "I never liked going in a circle, returning to where I started - I wanted to be able to keep going and not come back."
One day she did just that. On May 15, 1973 Lucy Leaf and her friend Karla Edmunds, both in their early twenties, set out on a horseback ride from Maine to Montana. The young ladies looked all of seventeen and they carried no weapons, short of an axe, which they threw away the first week. They would simply ride each day until they were ready to stop, find a place for their tent, ask permission from the owner, if possible, and camp for the night.
Was it pure guts, naivete or insanity that made these ladies believe they could simply ride their horses along the roadside, sleep in fields and avoid danger from people, animals, snakes, insects and starvation?
"We just didn't worry about it," Lucy says without a hint of insanity.
Oftentimes, families would be so impressed with the ladies' spunk and courage that they would invite them in for meals, maybe a shower, a long-distance call home or even a warm bed for the night. People would ride with them, or offer help, just wanting to be a part of this experience.
Lucy and Karla became unwitting celebrities, with newspapers at each town covering their journey. At some point it may have dawned on even these two intrepid explorers what an incredible Odyssey they were on. When asked why she chose to give up nearly everything, leave her home and ride a horse to areas completely unknown to her, Lucy says simply; "It was a dream of mine all my life."
It was pure adventure for them. They were not trying to get their names in a record book, to send a message, raise funds for a group or even attract attention to themselves. They just wanted to ride their horses.
And ride they did, averaging twenty-five miles each day. Lucy, on her large, draft horse named Igor, Karla, on an Arabian and their two dogs running alongside, woke up to a new adventure at every sunrise. Four months later they arrived in Montana. They found jobs quickly and broke in their new home. Karla taught in a one-room school house and Lucy worked on ranches, taming horses.
Karla would stay in Montana for five years, then move to California to ride race horses for a living. But Lucy had only begun. Her survival skills honed, her confidence up and her desire to explore stronger than ever, she mounted Igor again for what would become the greatest part of her journey. She would spend the next three years living her dream.
Her nearly foolish expectations of safety proved to be realistic. When asked about dangers or violence she encountered, Lucy can only reminisce of a few drunken men harassing her or of snakes crossing her path. Thoughts of writing a book of her journey are perhaps dampened by the extraordinary lack of conflict.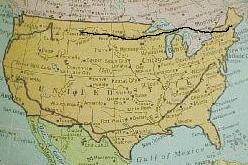 A map from their trip scrapbook shows the route Lucy Woodward (nee Leaf) and Karla Edmunds took from Maine to Montana and the route Lucy took around the rest of the United States.

Through the Mohave Desert her greatest concern was water. No one could help her plan the trip - most thought such a trek would be impossible. In a stroke of luck mixed with determination, she met an unlikely source for a solution. A bartender at a small, local's bar told her of a service road with water stops every ten miles. This knowledge made the desert crossing at least possible and that was enough for Lucy. She rode down through California and into Arizona and New Mexico.
At a slow gait, it took months just to cross the state of Texas. Lucy lived and worked with migrant workers, farmers and ranchers during one of the most enjoyable parts of her trip. Igor was holding up incredibly well and when Lucy would find a place she liked and could get work, she would settle in for a few months, save some money and move on.
One of the most interesting parts of the trip was the deep south. Staying in the rural areas, Lucy actually found people fearful of her. Troughout the country, she had been welcomed in by strangers, but in this area the African American residents were suspicious, if not afraid, of her.
1997 and the state of Virginia marked the end of this Odyssey for Lucy, as the Northeast is too congested for horse travel. Her sister, Nancy, trailered Igor up to Surry, Maine and Lucy went back to Texas to study at Texas A&M.
Adventure has been a life-long journey for Lucy Leaf, now Lucy Woodward. She met Sam Woodward in the late seventies, they married and sailed the Caribbean for a year. Back up in Maine, they took up dogsledding. A lengthy trip around the Labrador, Canada peninsula got them hooked and in 1991 they organized the Labrador 400, a sled race that would attract up to sixteen teams at a time.
Sam and Lucy are a perfect team, each enjoying and strengthening the others talents and interests. An ice-climbing accident in Acadia National Park three years ago put Sam into a wheelchair for life, but has not killed the spirit of these two adventurers. They canoe and kayak and ride "dogless sleds" (snowmobiles). Sam rides a hand-operated bike around the rolling countryside near their home and is planning an adventure of such magnitude we'll be sure to hear about it, but in the typical mix of Downeast modesty and superstition, Sam isn't ready to reveal the details.
What did Lucy Woodward gain from her four-year trip around the United States? "There was a message that I carried away with me, in that this is really a great country. The Vietnam War was on at the time and there was much confusion and anger, but what a great country!"