Corio once painted murals, which are large objects of art that stand still, while people drive past them. Now he paints parade floats, which of course, drive past people who are standing still. But, that is not the only difference, according to Corio. "With murals, I would do a fully-rendered, scenic painting," he says. "I had to tone my style down quite a bit to paint floats - this is like, the next step down from mural painting." That's not to say this job is easy. "It's not as simple as it seems, though," he says. "You have to present the subject a little simpler and still get the message across. It isn't fine art, but it is an art."
Corio spends an average of two days painting each float, and he enjoys that pace; "It's very refreshing, always having something new to paint," he says. "One day I could be painting Snow White and the Seven Dwarfs and the next day I'll be painting a French opera. It's real challenging to have to switch gears like that - even in the same day."
Corio is spending less time in New Orleans these days, traveling to Orlando to paint for Universal Studios, to Philadelphia to paint floats for a 4th of July parade and even Japan, where he painted figures that were forty and fifty feet tall.

On an average float trailer, Corio will use about five gallons of Rosco Off-Broadway scenic paint, which is made for the theater industry for scenic backdrops. "It's basically house paint made in artist's colors, with more pigment in it," Corio says. It takes about sixteen to twenty man-hours to paint a float.
Using his liner brush, Corio takes plain canvas and lifeless pools of pigment and works magic with them. He spreads paint onto canvas, onto paint and into paint, and he gives a once stark-white canvas beauty, energy - life.
"This is something I think I will do for quite a while," Corio says. "Because there's a lot of floats to be painted and Mardi Gras is going to be around for a long time." His career is much more than a paycheck to him - it's a source of pride. "My daughter goes to school and tells all her friends; 'My dad paints Mardi Gras floats!'" he says of his ten-year old girl, Angela.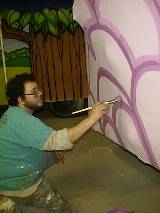 Painting has improved Corio's life as a single father, a life he now "enjoys every minute" he says. "If I have to work on a Sunday, I'll bring my daughter in, and put a brush in her hand - she has a ball." He has visited his daughter's school, bringing paints and supplies, and teaching the students. He also paints backdrops for school fairs, and he painted a nativity scene for the school.
Corio did get out to see one parade last year. "We went to Cleopatra - I did half of those floats - and all my friends were like... 'wow!' I didn't want to crow too much, but it was really cool. When one of my floats came around the corner, the crowd jumped. They cheered and shouted and screamed."
Blaine Kern Artists is building a five-trailer float that will be 240 feet long, when you add in the tractor to pull it and the huge generator to power it - "this will be the largest parade float in the world," says Blainie Kern. If you want to have your own float for a Mardi Gras parade, plan on spending at least $15,000 and waiting three to four months, for a float that can hold up to 48 people.
Why would people spend so much money to buy a parade float? It's hard for me to explain, since I've never even been to a Mardi Gras parade. But when you buy a Mardi Gras parade float, and on that magical day when you ride on it down St. Charles Street, and there are thousands of people watching you go by, hysterical with excitement, screaming for you to toss them a shiny bauble, and even though you are just an average person, with an average job, today, you are a celebrity, a real king, giving your peasants trinkets, and today you have a whole, new life.
That's the fantasy of Mardi Gras. With just a little paint and canvas and a lot of imagination and talent, Danny Corio can take a street corner full of people - and much of the city of New Orleans - and bring it to life.