Saturday, November 14, 1998, Globe, Arizona - "Use your wrist. Hold your arm steady and twist the rope - good!" Nancy Sheppard sure made this little trick look easy when she did it, but I am finding out that there's more to spinning ropes than meets the eye. I am learning to spin a "Flat Loop" and I am learning from one of the finest trick roping and trick riding cowgirls in the world.
If you were a fan of rodeos, or of such entertainers as Roy Rogers, Gene Autrey or Rex Allen, during the thirties, forties or fifties, undoubtably you know of Nancy Sheppard. If you have ever worn jeans in a color other than blue, you have been affected by her creative and adventurous spirit.
Sheppard is in the fourth generation of a Texas ranching family. She has carried on the family traditions of horsemanship, taking them off the family ranch and around the country - even to Europe. "I learned my first trick - 'Around the Horn' - at age four," she says, and I recall that when I was four - I promise - I would scream my fool head off at the mere sight of a horse. I would have been darned embarrassed by the feats of this ambitious cowgirl. "I wanted to hang from a trapeze beneath an airplane," she says. "But that never happened."
Sheppard started her career when she was only nine years old, at the Hayward, California Rodeo. At seventeen, she was performing at Madison Square Garden, and during the forties and fifties, she rode and roped at most of the major rodeos in the United States. She is so proud of her heritage and her job that she travels in western clothing and carries her all-cotton ropes with her on planes, rather than risk losing them in baggage.
Her expertise on a horse, her finesse with a rope and her ability to light up an audience in a career that lasted for two decades earned her inductions into both the National Cowgirl Hall of Fame and the National Cowboy Hall of Fame. Sometimes being a rodeo performer can be pretty glamorous, but for Sheppard, "performing was just my work - that was all that I knew how to do."

The magic that thrilled audiences from coast to coast has shown through with tricks like skipping in and out of Flat Loops, the Lift and the Wedding Ring (a Loop above the head.) Sheppard would warm up with these, and then she would start doing two at once, and then all of them in succession - and all this while on a horse, barrelling around the arena!
Trick riding was an important (and dangerous) part of her act. When she performed the Cossack (Russian) Drag, she would hook one foot in a stirrup and hang over the other side of the galloping horse. Riding Roman, she would actually stand on her horse - she has even done this on two horses at once! Sheppard was also well known for her Quadrille riding - a form of square dancing on horseback.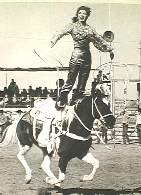 Her favorite horse was a Thoroughbred and Shetland mix named Candy. "I was very lucky to have that horse," she says. Her favorite trick was riding Candy Roman-style while spinning two ropes. "No other woman could do that," she says.
Sheppard designed and made her outfits and she trained her horses. She modeled clothing and had a few sponsors, including Tony Lama Boots and Lee, the manufacturers of denim clothing. Lee became the first company to market jeans in colors other than blue after Sheppard asked them to make some pairs for her.
She married Lynn Sheppard, a rodeo cowboy and rancher, in 1948, and they had one son, Lex William, in 1951. As a contract act's representative for the Rodeo Cowboys Association, Sheppard had a busy decade. "We were always on the road, pulling two horses behind us," she says. "We went straight from rodeo to rodeo. We didn't get to stop and see things - we always had the horses to care for."
Life on the road can be difficult. "Sometimes, it was all I could do to keep from crying, I was gone so much," she says. One way she mended her homesickness was to entertain patients in hospitals - her favorite area was always the children's ward.
A rodeo performer's career is grueling and dangerous. Sheppard was never hurt badly, but the rodeo circuit wore on her. In 1961, she pulled in the reins. "One day, I'd had enough," she says. "I decided my mother needed me, and I decided to stay home."
Sheppard settled into life on the ranch, tending to family for three decades. But you just can't let talent like hers go out to pasture, and she was roped back into show business early this decade. In 1991, she was inducted into the the Cowgirl Hall of Fame, in Hereford, Texas. This led to her being invited to ride on a horse-drawn wagon in Macy's Thanksgiving Day Parade. The next year, she flew to Milan, Italy and performed at an event put on by clothing designer Giorgio Armani.
Her career was taking a victory lap around the ring, and Sheppard was back in the arena; she was traveling, entertaining and lighting up audiences once again. But her encore was cut short when her husband had an accident and was injured. Lynn Sheppard, after decades of riding some of the toughest horses in the west, suffered a fall during a rooftop repair. Nancy Sheppard stopped accepting roping engagements and once again stayed home for her family.
Two years ago, Sheppard was inducted into the Cowboy Hall of Fame, In Oklahoma City. Today, the Sheppards keep busy in ranching, mining and construction, but they are trying to scale back on those, so she can return to the ring, get in front of audiences again and get her hands back on the cotton. "I'm hoping by summer that we will have time to get away," she says. "I will be off roping again."
The real trick for Sheppard is not just in the Loop, or the Lift, or even a Wedding Band while skipping in and out of a Loop. The trick is not just in riding her horse in unusual positions. The real trick - and the one Nancy Sheppard does so very well - is doing all these while making it look so very easy.