Friday, April 9, 1999 - Between Hattaras and Okracoke, North Carolina - Life at 12 knots is just the right pace for David Havard, a 43 year-old Ferry Master in North Carolina. He has been carrying people and their cars between Hattaras and Okracoke Islands for fifteen years, in one of the neatest jobs going.

Riding on the
out of Okracoke one chilly April day, I climb up to the bridge to meet Havard, and talk with him about life as a Ferry Master. "I've always loved the water," he says. "And if I'm going to work, I'm going to work on the water." Personally, I can't think of a better way to spend a life.
David Havard grew up along Chesapeake Bay, and he has been on or near the water most of his life - he remembers fishing on his father's boat when he was only five years old. When he isn't piloting ferry boats, you might see him on his 23-foot Mako, fishing for dolphin in the summer, or speckled trout, or flounder, or "whatever's out there." He and his wife and two sons live on Hattaras Island.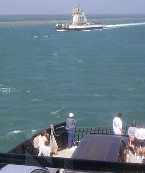 View from the bridge, of our foredeck, as we approach the Frisco, making its way southbound from Hattaras to Okracoke.
Before becoming a Ferry Master, Havard was a commercial fisherman, and he enjoys his current job more. He doesn't have to worry about the fluctuating price of fish, or busting his back on a daily basis. He spends most of his time on the bridge, steering the Thomas A. Baum on six round-trips a day.
Havard enjoys piloting a ferry boat for one, good reason; stability. Not only is the ship (you can put a boat on a ship, but you can't put a ship on a boat) stable - which it is - but so is the job. Unlike many jobs on ships, his does not send him away from home for months at a time, and it does not take him into foreign waters, or out into the great, deep sea. No, being a Ferry Master in the North Carolina ferry system - the second largest in the United States, according to him - is a fairly routine job for a sea captain. He works 12 1/2 hour shifts for seven days, then he gets seven days off.
But, with up to thirty cars and possibly a hundred passengers on board, this is no place for amateurs. Havard has a U.S. Coast Guard license to pilot a ship of up to 1,600 tons inland and 100 tons off the coast, and he is in command of three crew members: a Chief Engineer and two Seaman. Though it may seem easy to steer the vessel through the protected waters of the channel, his job can be challenging.
Like many inland ferry boats, the Thomas A. Baum has a very shallow draft. Because of this, the wind loves to push it around. "She'll slide across the water like a sailboat without a keel," says Havard. This can make docking a big problem, and Havard is adept at using clustered pilings to maneuver, actually pivoting the boat on pilings during high winds. He has been caught amid wind gusts of 100 mph and visibility as low as 100 ft, though he will not leave the dock if the wind speed is higher than 40 mph,
To steer the vessel during the forty-minute crossing, Havard applies light pressure to an electronic controller (see top photo.) "Some of the older ships still have wheels to control the rudders," he says. Watching him, it just doesn't seem right - it's almost like he's playing a video game - but we have forsaken tradition for efficiency, reliability and safety.
Havard has many other devices on his "desk," such as radar, a VHF radio for navigation, another VHF radio to monitor the Coast Guard channel, a fathometer (depth gauge) compass, clock, weather station and controls for the GM deisel engine.
On an average day, he will really need very little of this equipment - he has sailed the course so many times, he could follow the channel with his eyes closed - but here on the coast of North Carolina, bad weather can kick up in a hurry and catch him off guard. Also, Havard rarely cancels crossings due to weather, and he pilots through some pretty nasty stuff, including thunderstorms, heavy fog and even nor'easters. He encounters most of the bad weather during the summer, during his busy season.
Havard has carried everything from motorcycles to a small airplane and helicopters. "Everything on Okracoke comes across on these ferries," he says. That means building materials and books, groceries and gasoline - that means everything, including tourists. He enjoys watching the tourists go to their vacation island paradise, and watching the gulls dive for bread the children throw off the stern, and he enjoys watching the peaceful islands of North Carolina glide past his desk in a 12-knot, dynamic panorama. "What better office can you find?" he asks me, opening his arms in a grand flourish, trying to explain something to a mere landlubber, something which only a sailor could fully understand.
Indeed, David Havard - and what better pace at which to enjoy it?