Thursday, August 20, 1998, York, Pennsylvania - What's the difference between any motorcycle on the street and a Harley Davidson?
Attitude.
Not the driver's attitude, though that is usually pretty distinctive. It's the attitude of the motorcycle and of the people who built it. Punching a clock and putting out a decent product just won't cut it at Harley Davidson; it takes attitude.
It takes the attitude that every motorcycle you and your team works on, every motorcycle that leaves your factory, will be the finest motorcycle in the world. This subject is not up for debate.
Bill Snyder has this attitude down cold and he enjoys working at the Harley Davidson Final Assembly Plant in York, Pennsylvania because his coworkers have this attitude and because they do in fact make the finest motorcycles in the world.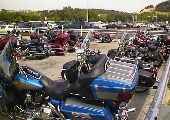 Part of the employee parking lot at Harley Davidson's York, PA plant.
You can park any brand of motorcycle here, as long as it's a Harley.
---
Snyder rides to work on a 1996 FLHPC Classic and this act alone is enough to earn him idol status among most men age twenty to fifty. He parks his bike in the employee motorcycle lot and he walks into the building where he will assemble eight beautiful motorcycles today. He will enjoy his work, he will love his work and he will ride back tomorrow knowing that thousands of men in this country would trade their jobs for his job any day and every day if only they could.
Bill was once an automobile mechanic and he sought his present job for one reason; "because I wanted to work for Harley Davidson." Would he ever go back? "Not if I can help it," he says. To leave his team on the "Dyna" line and return to fixing cars would be like going from pitching in the major leagues to carrying bats on a farm team.
Trade Secrets: Inside the plant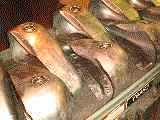 Let's see how your average Harley Davidson motorcycle is made. First of all, ninety percent of the parts are created in America, right in the York, Milwaukee and Tomahawk Wisconsin (fiberglass) plants. Take a gas tank, for example. The two halves are stamped out of sheets of stainless steel, cut by a computer-guided laser and welded together. The unit is then painted and fitted with hardware. Now you have a gas tank. (Photo: M. Gunarich)

You only need a few dozen components like this before you're ready to assemble the bike. The famous Harley Davidson V-Twin engines are made in Milwaukee out of parts milled there. Every part, from handlebars to footpegs, is made by the hundreds, finished with paint or the legendary "Harley chrome" and put in racks, ready for Snyder.

The final assembly is performed using two methods. The Soft Tails, the Dyna Glides and the FL class bikes are made on the "Dyna" line, where Snyder works. This line runs on a team concept started here in 1992, making the Sportsters, and shifted to the larger bikes when assembly of Sportsters was moved to Kansas City earlier this year.
Team attaching a gas tank on the Dyna line.
Photo: M. Gunarich
---
Fifteen teams of three people each work on a single bike at a time. They start with a frame and roll along the assembly line with it through fifteen stations and about 150 steps. Every three and a half minutes they complete their work at a station. Then an alarm sounds, red lights glow all over the place and the entire line shifts ahead one station, where tools and parts they need are waiting.
In fifty-two minutes the team will have assembled the finest motorcycle in the world.
1999 Harley-Davidsons, coming off the line!
---
The other bikes are assembled on a traditional assembly line, called the "main" line, where one person will, say, attach gas tanks to every bike as it passes by. Teams on both lines produce over 500 motorcycles each day.
Snyder's first job at Harley Davidson was as a mechanized assembler on the main line. He then worked as a specialized assembler before becoming an Inspector General on the Dyna line. His job is to lead the team and inspect every part they install. As I watch, Snyder adjusts a motor on a Springer. He has to make sure it it precisely true. How much leeway does he have in making this motor straight? Well, just how straight would you like your motor to be as you're doing ninety down that Montana highway? Thought so.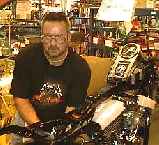 Keith Clinton, in his third year with Harley Davidson, started out making tanks and fenders and now enjoys his work as a Builder on the Dyna line. "Here we're building the bike from the frame up - the whole bike," he says. "It makes you feel good when you're building the whole motorcycle." Clinton's favorite bike to assemble? "I like the FXDX. It's like what we call a sport bike and it's a very nice looking bike." But does he really enjoy working here? "I just hope I'm here to retire. It's a great place," he says. (Photo: M. Gunarich)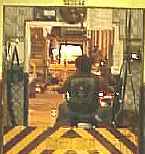 There is almost no need to try to explain the elaborate quality control procedures Harley Davidson uses, as the product and the market tell that story. Harleys last much longer than the average motorcycle, they hold their value much longer and their owners practically enshrine them. Every part is inspected during and after its manufacture and before, during and after its installation. One final inspection involves a rolling test, where the inspector reviews all aspects of the motorcycle's performance and condition.
How does Harley do it? It's the attitude. Everybody, from the top executives to the designers, to the line workers has that attitude. "It's all the people staying together here that's really making it work," says machinist Michael Gunarich, my tour guide today. "The people on the floor are the one's that run this company, because they listen to us."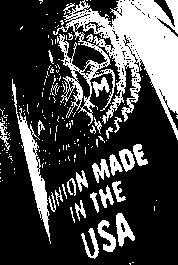 The York plant is mostly union, with over ninety percent of the 2,700 workers, members of the International Machinist and Aerospace Workers Union, Local 175. Gunarich is quick to point out that the factory is more than just the line. It is also carpenters, painters, waste treatment workers, power house people, chrome platers, warehousemen, machinists, pressmen, welders, painters, inspectors, set-up crew, tool and die makers, janitors, groundskeepers, plumbers, security and office personnel, and he will certainly let me know if I have left anyone out.
In his two decades at Harley Davidson, Gunarich recalls only one short labor strike, and he remembers a period when workers received only an insignificant pay raise over seven years, opting to stick together so the company could survive. That's attitude.

The Harley popularity was exemplified for me the day before this interview, after I had taken the public tour of the plant. As I left, two grown men arrived, after evidently traveling a great distance to get here. They gaped at each other with giddy excitement and one of them blurted out; "We have reached the top of the mountain!"