Saturday, August 21, 1999 - Jarbidge, Nevada - It doesn't take much to keep justice in a small town in northern Nevada, as problems are few and small, and they tend to fade away with the setting sun. You do need someone to follow up occasional fish and game violations, and you need someone to marry people. But more importantly, you need somebody to keep the town's morale and spirit on an even keel.

The man for Jarbidge, Nevada is Johnny Williams, Justice of the Peace for the past three decades, and all-around pleasant man most of his life. I meet him at 10:30 sharp one morning, for our arranged interview, and he seems a little off-put. It takes me a while to get straight answers from him, and I'm not sure if it's me he's annoyed at, or maybe he's just having a bad day. He warms up quickly though, and soon we're talking like two boys down at the creek.

Check out his daily schedule; He rises and is on the road by 9 a.m. for his morning breakfast meeting at the Outdoor Inn, a quick shuffle down the dirt road from his house. He then returns home for paperwork or whatever (usually whatever) until 4:30 sharp, when he heads to the Red Dog for another meeting, over a nonalcoholic beer. Then, he'll cook himself up some dinner and catch something on the television, and it's off to bed. Those "meetings" are more or less bull sessions, but important for him to keep in touch with everyone in this town. Not bad, for a man who suffered a stroke only a month ago.


Jarbidge, Nevada - they'd roll the streets up at night, if they weren't made of dirt.

Actually, Williams doesn't get to work very much these days, mostly handling fish and game situations; such as fining people for fishing without a license, or for hunting game out of season. These are delivered to him by the rangers in the surrounding Humbolt National Forest, from which this town emerged only 88 years ago. He did handle a DUI case once, when someone got into a wreck in the canyon. ("It was a put-up," he says.) But he felt more at home officiating at the emotional (drunken) ceremony marking the recent closing of the town's dump.

Some days, he may marry a blushing, young couple, and he may even notarize a signature or two, but that's about it. In Williams' entire judicial career, he hasn't heard a single criminal trial. If there ever were a serious crime, it would be handled by the county or state, but there never is, so essentially, Johnny is the law in this town. He is the law, with a brusque sense of humor, which could get him into trouble, if he weren't loved so much here. "Thank God he's ours," said one resident, "cause we just love him to death."

From the mouth
of justice

Judge Johnny Williams is well known (and loved) around here for his wit as well as his wits. Here are a few "Johnnyisms."

"Hell, if you can't get some laughs out of people once in a while, why the day is wasted."

"I got a new rule now," (now that he's 75 years old.) "I got to spend two to three nights with the bride, to see if she's worth the time."

Tourist walks into a bar. He asks Williams a cliche' question; "So how does it feel to live way out here in the wilderness?" Johnny says; "Well, I don't know, I live here in town."

Some of the (printable) signs in his window facing the street:

"Work is for people who don't like to fish."

"Deliver us from kids who act like we did."

"Don't tell me what kind of day to have."

In all sincerity, does he have any suggestions for the neXt generation?

"Just to be honest, and treat everybody alike, is all I know."

To get to Jarbidge, Nevada, it is easiest to actually leave the state first. You take Route 93 into Idaho, take a left at Rogerson, on Jarbidge Road, drive about 60 miles on the paved road, and 18 more on gravel, into the canyon. It's a beautiful drive, unless you're in a hurry. Here, you'll find two bar/restaurants, a hotel, a car repair shop, a bed and breakfast, a gift shop, a one-room school house, fire station, a few dozen homes and a small store.
The town store, where making a purchase involves real conversation.
The Trading Post store claims to be "The best little store-house in Jarbidge" and offers a smattering of groceries and odds and ends, and whatever. It isn't so much a store as it is a small room with a couple of chairs for whomever to come in and sit down and shoot the bull for a while. OK, for an entire afternoon. It is right next to the town jail, which is now just a landmark, but which once held a notorious robber in an infamous case. The jail, built to "hold rowdy miners" as the sign says, once held Ben Kuhl, who killed a stagecoach driver in the last mail stagecoach robbery in the United States. He was the first person in the U.S. to be convicted based on a bloody palm print. This event happened in 1916, just 8 years before Williams was born.
When he began his judicial career, in the early 1970's Williams was paid only $25 a month. He was also the town's postmaster for a while, and now owns the building in which the post office is housed. It would not be unusual for residents to knock on his door after hours and ask if they had any mail waiting, and he would just go into the room next to his living room and find out. It's hard committing Williams to an accurate timeline of his life. "I don't pay attention to years," he says, and at age 75 he has that right. Guess if it doesn't matter to him when exactly he began his life as a Postmaster, it shouldn't matter to you, either.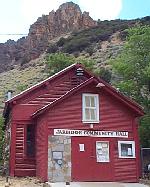 The Jarbidge Community Hall, which houses a nice historical display - get the key from the bartender at the Outdoor Inn.
Williams has married "probably two to three hundred" couples in his career. Sometimes he will marry them in his living room, and sometimes at the town's community center or at the Sawmill Campground, or in one of the bars or restaurants - even in the jail house. Not all of his unions were perfect ones, he admits. "I tied a lot of slip knots," he says. "One couple, their marriage didn't last until they got to Rogerson. She found out that he was still married."
Williams enjoys marrying people. He gets to dress up in the top hat which a couple gave him, and have a permanent, positive effect on their lives. But he is too cavalier to admit this, relying on a more jocular reason; "We used to get pretty loaded afterwards," he says, And he gets a fee, of about $25 for his work. Quite a few couples renew their vows each year, a service he provides, as they say in the legal profession; "pro bono."
Born in Burley, Idaho, Johnny Williams went to school in Jarbidge, and roamed to California and Oregon before returning here some three decades ago. He was a medic in WWII, he has dug graves and house foundations, worked in a welding shop, a shipyard and a gold mine. In Jarbidge, he has worked as a hunting and fishing guide, Postmaster and Justice of the Peace, and lately as the town's Water Manager. At 75, he is about ready to retire; from the water job because of his health, and from the J.P. position because, as he says; "I can't remember shit anymore!"
Williams has a stepdaughter who lives in Buell, and who comes down every once in a while. She made him a judge's robe, which he wears for a few minutes each year, to have his photo taken at the annual J.P. convention. At least, he used to, but he hasn't attended them lately. His wife, whom he married in Elko in 1961 by a Justice of the Peace, died two years ago.
Jarbidge is a quaint, little town, and a nice place to live - if you like to live nearly 100 miles from the nearest city (Twin Falls, Idaho.) Life on a canyon floor means needing a TV repeater, with an antenna on the "surface" for which residents each pay $25/year. Life way out here means only having two phone lines for two dozen residents and up to 100 guests at the motel, bed & breakfast and campground. But, life here can get pretty slow in the winter, when the tourists are gone, and only a dozen residents stay. "What do you do here in the winter?" I ask the bartender at the Outdoor Inn. "Not a damn thing!" he says.
I get up to leave, shake the judge's hand, and I make a note of the time: "It's 11:30," I say, "about time for lunch." He corrects me; "No, it's 12:30 here - we're on Mountain Time." This crazy town ignores the federal timeline and chooses to step an hour ahead of the rest of Nevada, and it turns out that I was an hour late for this meeting. I apologize, and he tells me it's all right, which makes this, I believe, my first judge's pardon, and then he says, with all the gentleness and sincerity of a seasoned juror; "You can call me Johnny."