Sea Lamprey Hit-Men

Willsboro, NY Friday, June 12, 1998 - It's a clear morning on the west shore of Lake Champlain. There is a mild chop on the water, making access from the Willsboro boat ramp a routine task. Across the large parking lot wait a few empty trailers, gangly and quiet, like rib cage skeletons, waiting for their cargo.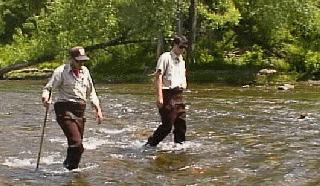 Downtown, a pickup truck turns onto a gravel road, just across the Boquet River from the Willsboro Middle School and follows the river for fifty yards. A white motorcycle follows.

Adam Zerrenner and Wayne Bouffard climb out of the truck and begin a routine they will perform a hundred times this year and it goes like this: Take off shoes, put on neoprene wetsuit overalls, walk the trail until they see a reasonably inviting cliff to scale to the river and climb down. These two men are with the U.S. Fish and Wildlife Service, working on a program begun in 1990. They will wade this river, sometimes for hours, looking for the Sea Lamprey.
Over one hundred and seventy years ago, an incredible feat was performed on the eastern border of New York State. A waterway was completed between Lake Champlain and the Hudson River, providing passage for stone and materials to help build a massive city, with huge, stone buildings and bridges.
The waterway also provided access for the Sea Lamprey, a salt-water, parasitic fish, sometimes a foot long or greater, that attaches itself to larger fish and whales and feeds off of them.
As the Sea Lamprey travel up the canals and rivers to Lake Champlain, they feed on smaller fish such as trout and salmon, often killing them.
Zerrenner and Bouffard are a part of a three-man team on Lake Champlain, using the same techniques as are used on the Great Lakes, which have been affected even more than Champlain.
These men spend their working hours outside, exploring rivers, streams and lakes -- now this is a great job! The fact that they are preserving the sport fishing industry in New York and Vermont really gives them something to brag about.
This may be the final season for this dream job, however, as they are finishing up an experimental phase of this program. If a long-term program is approved, these men may find themselves up to their knees in nature for a career.
The need is definitely there, as the techniques being used (spraying with TFM, a species-specific chemical) seem to only control, not eliminate the very prolific Sea Lamprey population.
It is Saturday morning now, and at the Willsboro boat ramp, the parking lot is filled with trailers and pick-up trucks, abandoned for a while by their owners, who are on the lake, hoping for a good catch of trout and salmon.
Side Facts and Iota
The Sea Lamprey is a delicasy in many countries. There was actually an industry in New England for harvesting them.
Sea Lamprey follow a life cycle similar to the frog, with a larvae stage and a, well, an adult stage.
To find the Sea Lamprey on inland waterways, follow the salmon, mostly during the spawning time in the fall and the hatching time in the spring.
Check out the Dream Jobs Archives

Return to our
MAIN page