Tuesday, August 3, 1999 - Bald Mountain, near Gilchrist, Oregon - There is the major, cataclysmic, week-long forest fire, that ruins thousands of acres of natural habitat, endangers hundreds of firefighters and neighboring communities, and costs millions of dollars to extinguish, and then there is the small fire that is doused by the first crew on it. The difference between these two is firewatch Cathi Lane. If she catches a wisp of smoke while fire is still in a single tree, and it only takes one crew to put it out, she has done her job well. Anyone can see big fire, but it takes concentration and diligence to catch the covert flame before it becomes a roaring monster.
The Walker Range Forest Patrol, in the old Gilchrist Theater in "downtown" Gilchrist, Oregon.
This is Lane's second season as a firewatch for Walker Range Forest Patrol Association. She spends five days each week on a mountain, at the end of a 15-mile dirt road, alone. There is nobody to keep her company, except for voices through several radios and a cell phone, and the occasional, stray hunter. "I had never been alone in my entire life," she says. "Now, I'll go all week and not see a soul." Life in a fire tower is lonely by design, as they are placed in wilderness areas, and on mountaintops, so watches can see as much forest as possible. On a good day, Lane can see a hundred miles, from the Sisters mountains in the north, to California's Mount Shasta.
Lane was a Walker Range forest firefighter for several years, until injuries from an automobile accident put her behind a desk. She became a weekend dispatcher, and in 1998 decided to take a tower. Her pay scale isn't nearly as good as a federal firewatch, but "I love working for Walker Range," she says. "The people are just like family." Some of her "family" are; Sue Graham and Echo Murray, who work in the office, and R.D. Buell, director of the Association.
48 years among the forest is a good life.
Lane grew up in the Oregon woods, and spends as much time as she can among the trees. In 1996, she shot the #3 buck in all of Oregon for bow and arrow. She has been a ham radio operator since childhood (her family had no telephone) and from the mountaintop, she uses the ham and a phone patch to keep in touch with her family. Each night, she'll talk with her husband, Alan, and their 30 year old son who, with a mind retarded to that of a five year-old, can stand to hear her voice each night. She does fear the dark, and one other thing; "Spiders, I hate them!" she says. "Now, gutting a deer, or gutting an elk - no problem, but I can't stand spiders."
Firewatches are an ongoing experiment in self sustenance. Solar power provides 12 volts for Lane's radio equipment and a small TV, and propane powers a small refrigerator, stove and a heater. Each week, Lane brings to the mountain enough supplies to last five days, and she carries out all her garbage. She must be careful with her diet, because the nearest facility is 49 steps down, and a short walk - which is way too far when you're keeping track of fire - so, she has created a high fiber, low bulk diet. In an average 5 days, Lane will consume: 10 lbs of fruit (apples, oranges and bananas) chips, ramon noodles, crackers, peanut butter and jelly, 1 quart of milk, cereal, juices and tuna fish. Cutting her waist-length hair has helped cut her water use to only 4 gallons a day. "I have learned here, that we waste so much," she says.
WHERE THERE'S SMOKE

Forest fire begins in many ways, but usually from a very, very small source. Here are a few fire factors:
LIGHTNING: The most common cause, this hits mostly during the summer, when the forest is driest, and though rain follows, it is usually not enough. "A direct lightning strike to a tree can just explode it," says Lane. Sometimes wood inside a tree can smolder for hours before igniting.

Humidity: Many areas don't allow open fire before 4 p.m. After that hour, and into the evening, the air becomes humid enough to thwart rapid fire expansion.

Engine Exhaust: Sparks jump from chainsaws and other forestry engines and can sit for hours before getting to work. Even vehicles on paved roads can cause trouble. "We had a man dragging his exhaust pipe," Lane says. "He caused a fire ten miles long!"

Accident: Campfire and other controlled burns can get out of hand, throw a rebel spark, or not be doused properly.

Arson: Sometimes it's a prank, sometimes vengeance or passion and sometimes it's for money, but all of the time it's stupid and dangerous and it puts innocent people in peril.
It is very rewarding to thwart fire, and to sometimes save more than trees. One afternoon, on her way home, Lane noticed a column of black smoke. She called a fireman on her ham radio, and a crew got on it, catching what turned out to be a kitchen fire, before it turned into a house fire. Later, Lane met the homeowner, by accident, at a craft show, and when the woman learned that it was Lane who had saved her home and her belongings, she thanked her gratefully.
Cathi Lane scans the forest toward Mt. Shasta.
Every ten minutes, Lane circles the tower to search for smoke, methodically dividing the vista into small sections. It is a challenge to be the first to see fire, and Lane takes it personally if someone calls smoke on her turf. She watches as lumbermen ride the dirt roads, kicking up dust. She knows where the chainsaws are today, and where the farm and lumber traffic will be, and this helps her separate fire risk from illusion. Most of the time, she is looking for smoke, and most of the time, what looks like smoke, is actually dust from a vehicle or animal, or even a whirlwind "dust devil." Sometimes even an old, dead tree, turned a driftwood silver, can look like smoke. When Lane sees something suspicious, she looks through her binoculars, or the 60 power telescope, for an even closer look.
Lightning is the single cause of fire which, no matter how hard we try, we will never be rid of. It is also the greatest fire risk, but is easier to monitor, as Lane can see a storm coming, and she can see the bolts strike. During an active storm, it can get pretty exciting at the top of this mountain, and when lightning encircles her tower, Lane stands in the center of the tower, away from the radios, on her "lightning stool" which has old, glass, electrical pole insulators at the foot of each leg. Here, she rides out the storm, taking in the spectacle. "If you are ever in a lightning storm," she says. "Try to get yourself up into a lookout tower - you will never see anything so exhilerating!"
The Osborne Firefinder, unequalled in it's simplicity and accuracy.
CATCHING FIRE
When she sees smoke, the first thing Lane does is get an "azimuth" (a compass bearing) from the center of her tower. She uses a decades-old device called the Osborne Firefinder. With this, she can easily get the bearing on a column of smoke, and with training, practice and a little luck, she can even tell how far away the fire is.
Lane then radios the dispatcher (located in the old movie theater, in Gilchrist) with a fire report. Other towers listen in, and they look for the smoke. If a second tower gets a bearing on the fire, it can then be pinpointed to within acres. Lane has a map of the forest, with clear, plastic compass dials and pieces of thread centered on each of the six towers in her area. She simply lines up two towers' azimuth readings, and where the threads cross is where the action is.
Based on information from the towers, the dispatcher calls out the firefighters, and it can sometimes take an hour to get to the scene. If the crew can't see the trouble (if she caught the fire early enough) Lane will direct them, watching their plume of dust race over the gravel roads, and send them into the fire. "It can be frustrating," she says. "You want to get down there and help put it out."
First come the trucks; the 200 gallon pumpers, and if more water is needed, the 500 gallon tankers are brought in. For widespread blazes, 1,000 gallon tenders are marshaled. Airplanes shower Borate, a sticky, orange compound that suffocates a blaze, as though they were throwing fire onto fire. Helicopters dip huge buckets into lakes and douse what they can, where they can. Today, there is a major fire up at Sisters, and Lane knows that her resources may be limited.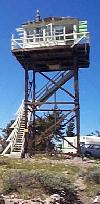 There is danger in working a fire tower. Lane is isolated, and between her and help is 16 miles of washboard, dirt road and sheer-edge switchbacks. There are cougar and spiders and other scary things in the dark. There is heavy wind, and lightning, and, of course, there's fire. Lane has four escape routes off this mountain; if she can't drive down the road, she has established two foot escape routes, and should those become "hot" there is a helipad thirty yards from her tower. It is a rugged life, "but," she says. "If you love the land, how can you not adapt?" Lane loves the outdoors with a passion, and she loves this area. "This is one of the few spots on Earth that hasn't been destroyed by man," she says. Indeed, in her entire view from the tower, she can barely see a building or road.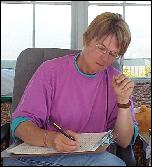 "Weather forecast - Weak trough of unstable air, low clouds... partly cloudy with scattered thunderstorms. Humidity 80% in the valley, 30% on the ridge..."
The forest is in a constant healing process. Trees burn - they're supposed to - and what is left enriches the soil for more trees. Animals die - they're supposed to - and they provide life for more animals. As a firewatch, you sometimes sit in your tower above it all and worry that you can't save it, and sometimes you just let it all go, and you let it all grow as it should, because it was there millions of years before you, and will be for millions more.
Each morning, the Sun rises, creating a beautiful spectacle, and it sets, in a passionate denouement to the day. The wind caresses and talks to you, and the lightning dances and enthralls you, and violently betrays you, and yet you prevail. You, who has never been alone in your life, are at peace out here, for you are never alone in the forest.
The night that both of Cathi Lane's parents died has been a tough one to forget. Her father had been ailing tragically, so when her mother called that night and said that he had died, her feeling was more of relief than surprise. She and Alan drove to her parents' house, expecting to console her mother, but, in an inexplicable, yet purely understandable way, her mother's heart had given up soon after her father's - they had lived together for half a century and there wasn't more than 10 minutes between their leaving. "I spent many days up here," Lane says, "just watching the trees, getting over that."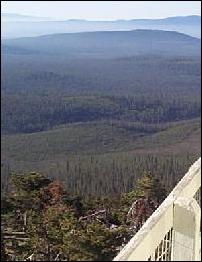 "If there ever was
a 'God's country,' this is it."

That is the sort of thing you live with out here. Life is a cherished collection of experiences, turned memories, but, compared to the staggering agelessness of nature, our lives are just so, very short. There is a lot of life out here, and there is a lot of death. You watch as forests burn, and you try to stop it. You watch as a buck falls from your arrow, and you use it to continue life. You know every person in your small town, because they are practically family, and a sad part of your life is watching their's end, and you deal with it. You help your friends deal with it, and they help you. But sometimes, the only way to make it all work, is to work it out yourself, so you come out to a tower hundreds of feet above the valley, and miles away from any person, and you gaze upon the wilderness. You let the serenity of a million acres revive you, and you let your soul absorb it all, and you just let it heal.

Office 541/433-2451