---


Who put that there! - They call these "haystacks" and they rise out of the Pacific ocean for sometimes hundreds of feet like, well, stacks of hay in a sown field. They are dramatic, inspiring hunks of rock, and people just love to stare at them. Indians once worshiped them, ships crash into them - I would love to dive off of one - and the seagulls just ignore them.
---
155 Steps - While on the northwest tip of Oregon, I climbed the Astoria Column, because I just can't resist climbing things, and I caught the magnificent view off the top (Boy, was it foggy...) They recently restored this monolith, to the tune of a million dollars, and it has a beautiful mural, "painted" with some kind of powerful, German epoxy, scrolling up its side. The mural tells the story of the Lewis and Clark Expedition, which had little to do with this area, other than it ended here. The climb up the steel, circular staircase to the top was OK, and the view was lousy (fog) but when a fun group of teenagers panted their way up, and tossed a fleet of balsa-wood airplanes off the rail, we watched them float and spin and dive their way to the ant-sized people below, and that was fun.

---


The Color of a City
WEDNESDAY, JULY 28, 1999, PORTLAND, OREGON
Tour a beautiful rose garden and learn why, for the residents of Portland, Oregon, World War I was the "War of the Roses."
Posted August 8, 1999
---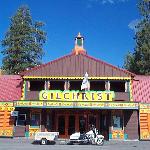 "That's a pretty name..." I don't know how many times I've used that dumb line. Why, just last week, I was on the phone with a media person at Microsoft, and I said; "I forgot your name already - I remember it was a pretty one. What is it?" And do you know what she said? "Sally." Many tourist towns have prospered or struggled because of their names; Homer, Alaska is a cute place to visit, while you have to be talked into visiting Valdez. Jim Thorpe, Pennsylvania was a good try, and Sweet Home, Oregon had been called Buckhead, until loggers renamed it in hopes of attracting attractive ladies. (I'm thinking of renaming my bike from "Bob" (Harley) to "Sweet Ride.") Tourism should be a breeze for the town of Gilchrist. It was owned by the Gilchrist paper mill for decades, and the 200 homes came on the market a few years ago. The place has one of our country's first strip malls, with a 2-lane bowling alley. It has a beautiful history, an old theater just waiting to be revived, and an awesome name. Now, that's a town!

---
Glass House - When R.D. Buell, director of Walker Range Forest Patrol Assn., heard that I had long wanted to spend a night in a fire tower, he set me up in a beauty, on Bald Mountain, near Gilchrist, Oregon. The size of a large bedroom, it has a double bed, stove, fridge, heater, 12-volt solar panels, and an incredible, 360-degree view. This was one of the most enchanting nights of my life; watching stars cascade into my bedroom as I nodded off to sleep, and waking up center-stage in a beautiful scene of an exotic play.
* * * Read the story of a forestry fire watch, in: A Million Acres to Heal
---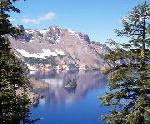 I had a great time circling Crater Lake, with it's incredible, blue water and stunning landscape. It's a decent hike down to the water, and a helluva haul back up. I couldn't resist jumping in the cold water for a swim, even though I only had my jeans with me. (It was a cool, cool ride the rest of the day.)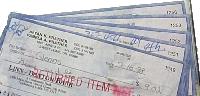 But, this one's good, I swear it! Stopped into Jones' Market, in Sweet Home, Oregon (a small town, with forgiving merchants) and saw the "Jones' Home for Bounced Checks" on the counter; a few dozen bad checks under plexiglass. I'd seen this attempt at detering poor accounting before, but here is a series of five bad checks written by the same couple! Are Bryon and Pamela (the two inept kiters) in jail yet? Nope. "They still come in here," said the cashier. "They place their bag over the checks and hope I don't recognize them."
---


A Million Acres to Heal
TUESDAY, AUGUST 3, 1999,
BALD MOUNTAIN, NEAR GILCHRIST, OREGON
Fire watch Cathi Lane works together with the Oregon forest, and together, they can keep going.
Posted August 20, 1999
---


Date: August 6, 1999
Location: Crescent City, California
Recent Stops: Western Oregon, including Boring and the northern coast.
Next Stop: Yosemite National Park?
Mileage so far: 37,087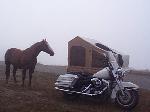 Horse Sense - I spent a few days on the beautiful HF ranch, while on the northern California coast, on a cliff, 600 feet over the Pacific Ocean. One of the more enjoyable parts about staying on "Tap's" land was his horse. The beast just came wandering out of the fog, checking me out. It was pretty scary being around something so big, that could kick the stuffing out of me in one heartbeat, but it was a quiet, peaceful, mysterious - nearly magical - scene, and I about expected him to start talking. Hank had no desire to kick me - he just wanted something to eat, and even gnawed a small hole in my camper for me.
"This is cattle country," said my new friend, Tap, who has lived here for 38 years. "You have to learn to adapt. We get 90 inches of rain in the winter and almost none in the summer." Tap is a nice cowboy, with a way of talking by ending most sentences with a chuckle, even when it hurts; "almost none in the summer - haha."



---
Money Trees - Here in Ft. Bragg, California, Crown Pacific Paper Company has a tree nursery, where they have grown 47 million seedlings since 1974. Here are a few thousand of the 2 million fir and redwood seedlings they grow each year.

---
Oh, that tree... I've been to places where they are so proud of their big trees, they have parks built around a single one, and you have to hike a mile into the woods to see the thing. Here in northern California, they put huge trees right on the side of the road, and people just drive right past them.

---
This Place Sucks - In one day, I passed through the towns of Orick and Eureka, California - how odd? - and so I just couldn't resist saying that.
---
A Wild Life - This herd of elk were grazing along Route 1, in northern California yesterday, watching the humans pull over, get out of their boxes and gawk at them through antler-like binoculars. They were pretty oblivious to the slamming doors and clicking cameras until a trucker rolled by and hit his Jake Brake, and then they scattered, but the humans stayed around, grazing on the spectacle.

---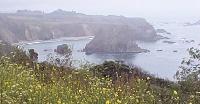 Sure could use a giant vacuum cleaner? - Most of the Pacific coast (that I have seen) is a real mess. A couple of million years ago, some, really, really big dude went strolling down the coast, and I guess he was eating mountains, or something, because he dropped these crumbs into the water the whole way down. So now, as you drive down the coast, you are constantly distracted by this scattering of huge rocks sprouting out of the water - sometimes they look like small boats in the harbor, sometimes like lone teeth on an old man's jaw. I wouldn't use "beautiful" right off to describe them - more like "magnificent" and "dramatic" and then "beautiful," several times over.
---
A photo to get all misty over - After a run through Sausalito, I pulled down to get a good view of the Golden Gate Bridge, and she was swathed in fog, and was letting a ship pass under her, and even if I were blind and had no fingers, I could have easily taken a great photograph.

---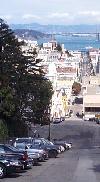 "I left my clutch, in San Francisco - I love driving in San Francisco - most any mad driver does - because the hills are incredible. I was actually nervous taking Bob and the trailer up and down some of those streets. As I was hanging out at the top of this hill, a group of fire fighters came by, discussing strategies. They can't just pull up to a place and unload, because their truck might fall right over. "We burn up a lot of transmissions," one of the men told me.

---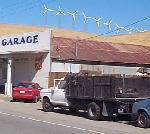 Catching the Wind - West of San Francisco, there is a consistent wind pulling through the mountains, and there are thousands of huge windmills to try and make something of it. Not more than 10 miles away, I saw groves of fruit trees with huge fans, powered by car motors, which create a warm breeze when the frost hits. Boy, we think we're so smart.
---
They gave it the exotic, European name of "El Capitan" because, I guess, "Huge, Muther Rock" was taken. I didn't see any climbers scaling the Captain, maybe because it was late afternoon, on a southern California, August day, and that wall faces due west, like a big skillet, and those guys would probably just explode halfway up.

---
Perfect Timing - I dragged my heels getting into Yosemite, arriving in the early afternoon, but because I did, I reached Vernal Falls just as the Sun was falling behind me, and, as Ron Labarre, Captain of the "Great Land" told me, you need to have the Sun directly behind you to see a rainbow. I caught nearly a full bow at the base of the falls in a series of beautiful shots, and I left the pot of gold right there, for you to pick up.

Tourist Cleansing - At the top of Vernal falls, people like to hop in the river and swim, probably to wash off the sweat from the 1,000 foot climb they just made. There is a sign up there that says "DANGER - do not swim in the water" in English, Spanish and Japanese, and then "...If you slip and go over the waterfall you will die" in English only.
---
At the end of Jackass Road, in this small cabin, (which probably wasn't so run-down 150 years ago) Mark Twain is reputed to have written the story; "Jumping Frog of Calaveras" from notes he made at a tavern in nearby Angels Camp, just north of here on Hwy. 49. The frog is long gone, but the tavern, the town, the cabin and the signs begging for tourists are in Calaveras County, California.

---

Middle of the Road - There's a whole lot of nothing out here, in northwest Nevada. Heading up to the Black Rock Desert, I didn't see another human being for miles. So I parked Bob right on Highway 447, took a photo, had a drink, did a little dance, then just sat in the road, soaking up sunshine - because I could, that's why.

---
Let Him Burn! - Don't know what to write about this, except that The Burning Man is one cool festival, which I regret missing out on. Every Labor Day for over a decade, people have trekked way the heck out here in the Black Rock Desert - miles from nowhere - and have spent a week on the dusty, unforgiving playa, partying their sunburned be-hinds off. They call it an experiment in community, because the place is barren before and after the event, all food and water is brought in, and it is really, freaking hot out here. They build this 42 foot tall dude and torch him in the desert midnight, in a primordial, fiery ritual, the rational of which no one seems capable of explaining, and that's the cool part.


You can call me Johnny
SATURDAY, AUGUST 21, 1999, JARBIDGE, NEVADA
You don't want to keep the judge waiting, and sometimes that's not easy.
Posted September 10, 1999
---
Motorcycle Missionaries - While in Elko, Nevada, I came across the only Harley-Davidson Mobile Customer Service Unit in the United States. (L-R) Don Gilman (Manager) Luke Richardson (Service Technician) and Frank Pizzo (Assistant Manager) run the unit, owned by Carson-Tahoe H-D. "We can change tires and fluids and get many repairs done right here," says Richardson, noting that they also offer Harley clothing and accessories. In their first season, they attend events, as well as cover a route in Nevada, to "service our rural customers."


Lucky Lady
MONDAY, AUGUST 16, 1999, RENO, NEVADA
She's seen more winners and losers than a referee, but has life dealt Laurie Voelker a winning hand?
? ? ? ? What's Mike Myers doing in Reno?
Posted August 29, 1999
---

Date: August 22, 1999
Location: Mountain Home, Idaho
Recent Stops: Reno, Nixon, Contact & Jackpot, Nevada
Next Stop: Boise, Idaho, then Utah
Mileage so far: 39,489
AAAlllllll Aboard! While looking for a yard to camp in one evening, in Mountain Home, Idaho, I met Russ Baxter, a man who lives on both sides of the tracks. Baxter is building a 1/8th railroad in his front and side yards, and when finished, he will have over 1,200 feet of track, a locomotive and cars in which to pull children (and adults) around. "We figure, if we build this, our grandchildren will come visit more," he says. He should know, as the yard (which he bought 3 years ago) once held a similar track, and a train, and he would bring his young children over to ride on it decades ago. He and dozens of train enthusiasts around this country do this sort of thing just for fun, and I hope to get a full story on this someday.
---

Reeling 'em in - Fly fishermen are an odd bunch. They sit on the shore for hours, just staring at the river, waiting and studying the surface, the flies, the birds and the fish. And when they think the time is just right, they bring out their rods, and waders and precious, hand-made flies, and they trudge out into the water, and they stand in the current for hours, just staring at the river, waiting and casting a counterfeit insect upon the surface. They do this in hopes of becoming so incredibly talented at their work, that they can actually imitate that insect perfectly, or at least enough to fool that fish, which cannot claim to have a brain much larger than a pea. During my visit to Idaho last month, I had a hell of a time interviewing one of these guys. I mean it - they were about as elusive, coy and cagey as any subject I've covered. I literally had to hang out along the shore for hours, and watch for just the right character to come along. Then, I had to approach him carefully and patiently, using just the right expressions, phrases and motions... I landed a pretty good one, and you'll see his story shortly.


HOOKED
FRIDAY, JUNE 25, 1999
HENRY'S FORK, SNAKE RIVER, ISLAND PARK, IDAHO.
"A fly fisherman fishes for many years, before he realizes that it's not the fish he's after."
Posted July 25, 1999
---

Papa was Here - While in Ketchum, Idaho, I just had to visit the Hemingway sights. There are a few motel cabins

he rented during his stays here and in nearby Sun Valley, a nice memorial along a creek, his and Mary's graves in the town cemetery, and the last home in which he lived, which is off limits unless you're a guest of the Nature Conservancy (to which Mary donated the property) or you're bold enough to ask directions from enough people, then travel the private roadway to the home.
The cemetery didn't seem too restricted, for the site of a Pulitzer Prize winner and national literary icon, so I phoned Wanda Glasmann, who is on the board. She said that there are still many plots available near Papa, and you could lie there too, for only $600 if you're a town resident, and $1,400 if you're just one of his fans.

---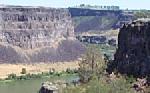 Never seen a place so proud of failure as Twin Falls, Idaho, through which the Snake River passes, creating a beautiful canyon, over which Evel Kneivel tried to ride a motorcycle, on which he crashed at the bottom of the canyon, out of which he climbed, in a legendary "ill-fated attempt" which they still celebrate a quarter of a century later.

I don't much like photos of myself, but I have long wanted to grab a snap of me and Bob in a big, ol' field of America, and here I am in Gerald Bashaw's barley field, in Bellevue, Idaho, watching amber waves of grain before they become Coor's beer.

---
Birth of an era - Surely selected for its utter remoteness, Arco, Idaho has a juicy history. Haha.

---

A Marriage on the Rocks
FRIDAY, AUGUST 27, 1999, CAREY, IDAHO
Two young kids collect million year-old treasures.
Posted September 25, 1999
---
True America Tip
PHOTO ALBUM: California
The collection of True America CD photo albums is available from the main page. Here is one:

Click on the Lighthouse to view the
True America California photo album.