1 Year on the Road
It has not been as exciting, rewarding and adventurous as one could have thought, but it was more exciting, rewarding and adventurous than I could have ever imagined!
Posted June 9, 1999

---


But, can you believe it? - Strolled through the nation's largest indoor shopping mall, where you can dredge hundreds of stores, ride the roller coaster or other thrill rides in the amusement park, and buy official (read: kitsch) merchandise from the state's Governor. Wouldn't it be great if every state was so proud of their government that they wore T-Shirts and bought action-dolls in his glory? Wouldn't it be weird? Those little things you see hanging upside down at the top of this ride are people.
---

Coming 'Round Again - On Route 8, Somewhere between Shafer and Taylors Falls, Minnesota, I saw the Franconia Sculpture Park and had to stop. The first article I posted for True America was about a sculpture park, and it seemed very cool that, exactly one year into the tour, after crossing this country three times, and not seeing another park, I saw this one - I stopped and strolled among the eclectic works in this 16-acre park. This 1998 piece, by Mike Rathbun, is 76 feet long, made of poplar, and is called "N45 degrees 22.822' W92 degrees 41.087'.

---
Who's writing this article, anyway? - The media is still a strong part of our society, and radio stations still play an important role, especially small town stations, which are a main source of entertainment, news and community information. I have been searching for such a station - one that is traditional, small and maybe even a bit quirky - and I thought I had found one, in northern Minnesota. A reader emailed me about WELY, the station Charles Kuralt loved so much, that he bought it. I phoned the station and spoke with the assistant manager. Everything went well, until she insisted that the Kuralt foundation approve the manuscript before I could publish my story - a common, arrogant tactic which some subjects attempt to use to control the media. I'm not just airing sour grapes, here - it's just that I can't stop wondering how insulted Mr. Kuralt would have been by such a demand.
---
Little House on the Big Screen - I cruised through the sleepy, little river town of Marine on St. Croix today, and happened upon magic in the making. Gayle Knutson, an industrial film maker, has had a dream of producing and directing a commercial film for years. After reading a popular Ann Landers story about a grandfather who is forgotten by his family on his birthday, Knutson ventured into the heady, perilous gamble of independent film making. Indy films involve throwing tons of money away, bargaining off a lifetime of favors, and putting your tail so far out on a limb, you can hear the wood crack. You do all this in the hopes that at least a small part of this world will see your work and be affected by it. Knutson hopes the film "Grandfather's Birthday" will appear on television, but right now, she is inside of a borrowed home, with the windows blacked, half her life savings sitting on the front lawn and her dreams developing on celluloid.


An Untamed Desire
THURSDAY, JUNE 10, 1999, DEER RIVER, MINNESOTA
Gil Quaal is wild about food.
Posted June 16, 1999

---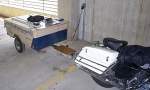 Handicapped Parking? - What do you do when the only library for miles is closed for construction, storm clouds are ready to empty out on you, and you are way behind deadline? You hide out in a parking garage - of course - like this one, in western Minneapolis. I didn't raise much of a stir at all here, and I could only guess that people do this all the time. "Oh look, another vagabond journalist, hiding out from the rain," I imagined the locals said.
---

Little Ben - In Northome, Minnesota, where much of the population walks on all-fours. I stopped in the yard of a logger and bear hunting guide who discovered these two orphaned cubs and, took them in. He is caring for them, and will soon let them loose in the wild. (He wasn't home, but, according to the people in town, he is licensed by the state to do this.) The bears paced back and forth when they first saw me, and squealed like angry puppies. I didn't get too close, because, as small as they were, they had some fierce looking paws and teeth, and looked very willing and able to use them, and I wasn't sure if their mother was still alive or not, and you know what they say about getting between a mama bear and her cubs.

---
From the beginning... - It splits the country in half - in more ways than one - and it's the longest river in the United States; the great Mississippi. I wasn't aware that it actually started anywhere, but it does start somewhere, geologists insist, and it starts right here, in northern Minnesota's Itasca State Park. Actually, it starts a bit south of here - I saved the park admission fee and took this shot of the head-waters on the north edge of the park. But the great, muddy river must be over a thousand miles long, so I didn't think a mile or two would matter. I picked a young dandelion and tossed it into the flowing waters, and when I reach Louisiana later this year, I'll find a comfortable place on the bank, and I'll sit there and watch the water flow past, and I'll just hang out for a while and wait for that flower.

---

Date: June 10, 1999
Location: Lake George, Minnesota
Recent Stops: Cut Foot Sioux, Blackduck, Bemidji, Minnesota
Next Stop: Fargo, North Dakota
Mileage so far: 30,326
Shoplifters will be hurled to the mat - While in the sweet, little town of Lake George, Minnesota, I happened upon a man of great legend. Inside The Wigwam souvenir store, sitting behind the counter, reading a paperback and greeting customers, was none other than The Claw. After a 25 year career of stomping villains and crushing feeble opponents on the championship wrestling circuit, after thrilling millions of adoring, blood thirsty fans with an awesome, ferocious talent for maiming, after decades of clenching throats and groins and other precious body parts in his magnificent Claw, Baron Von Raschke has taken on an even more audacious opponent in the American tourist consumer.

Von Raschke and his wife, Bonnie are in their fifth season with The Wigwam on the corner of Route 4 and Highway 71 (shaped like a teepee, mind you) selling toy spears, Indian gadgets and photos of The Claw with Jesse Ventura in a choke hold. I was nervous about asking him to pose for a photograph, fearing that, after decades of brutal showbiz slaughter, and 4 years of even more brutal tourists, he might just respond to my request with a body slam and a steel-grip neck hold. But he graciously obliged, and he and Bonnie came out and posed, and he even showed me The Claw, and it was fearsome.
---
Please check your ax at the door - I stayed with Ron and Margo Moore, while in Lake George, on my way out of Minnesota, and they even provided me with evening entertainment. During a recent storm, this tree - it must have been 60 feet tall - fell upon their barn, and a neighbor came over, and with a deft swoop of the backhoe, he plucked that timber off the barn and laid it down. Life in a small town includes having friendly neighbors with heavy equipment, and a "we're all in this together" attitude. The Moores took me out for a delicious dinner at the Logging Camp, an endearing compound of logging museum, gift shop and restaurant, where you are served all you want, family style, until they have to roll you out the door like a felled redwood. I had a great time, and wish to thank them for all their hospitality.


Special Delivery
FRIDAY, JUNE 11, 1999, LAKE GEORGE, MINNESOTA
Visit one of the smallest post offices in the United States, with one of the nicest Postmasters you'll ever meet.

ALSO - See beautiful lobby murals painted during the depression.
RIDE ON one of the few remaining postal mailboats.
Posted June 20, 1999

---

"You have a lot of courage to do what you're doing," Carmen Grove-Suminsky, Superintendent of the North Dakota School for the Blind, told me as I left her office to interview one of her teachers, and, considering the incredible efforts by students in her school, her comment actually humbled me.


A Sense of Touch
WEDNESDAY, JUNE 16, 1999
GRAND FORKS, NORTH DAKOTA
We are a world apart, together.
Posted June 23, 1999

---

I met with some of the kindest hospitality here, in David and Debi Bratager. They let me stay in their field, which has a mystical aura. It is a long, beautiful lawn, bordered on two sides by poplar trees, and on the ends by colorful cropland. They took me to dinner at Dimaggio's Restaurant (no relation to the Clipper) and made me feel right at home. David made it his personal challenge to remedy any and all of those annoying maladies which befall anyone on the road, and I am very grateful. I will long remember this family, and the nights which I rested in my camper in that beautiful, calm field, with the soothing sound of the rushing wind in the trees above.
---
Moving Sale - I had a splendid time in Grand Forks, a town in which you could befriend anybody, merely by asking to see their "flood photos." This town survived one of the most devastating floods in history just two years ago, and the memories are as fresh as water in your attic. These people are still recovering, turning entire neighborhoods into empty parks, and building walls around the city - it looks like a cross between Times Beach and Cold War Berlin. These are truly hardy people, to endure this.

Silver Medal
FRIDAY, JUNE 18, 1999, MINNEWAUKAN, NORTH DAKOTA
For Darryl Howard, silver is the most beautiful color of all.
Posted June 27, 1999

While interviewing silversmith Darryl Howard, I asked him to engrave my initials in my Spyderco knife. He tried, but the blade was too tough. After the interview, he gave me a beautiful money clip which he had hand engraved. I tried to decline the gift, but he said; "it's too late!" and turned it over, and on the back were my initials. I would never buy myself such a nice piece of art, and this is a special gift, indeed.
---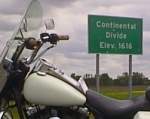 Where am I? - I passed this sign between Harvey and Fessenden, North Dakota and stopped for a photo. Checking my maps, later, I see no mention of the Continental Divide here, but only in Montana! I give...
---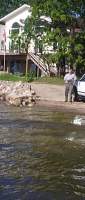 River's gonna rise... It's the craziest thing. Devil's Lake, in northeastern North Dakota is getting larger every year. Something about the water table and underground springs, but the water level has been rising for decades. They measure the level in feet above sea level, and report it on the radio like the weather, as in "today the lake is at 1447.1." That is an unbelievable 27 feet higher than six years ago, says Chuck Soderstrom, who lives on the lake, and it has consumed nearly 90,000 more acres. He has moved his house uphill once already (I stood in his old front yard to take this photo)

and he may have to move it again. "This has affected 300 homes so far," he says. The USDA worker is at odds with the Army Corps of Engineers, as is nearly everyone around here, it seems, and has given up hope on the water receding ever in his lifetime.

The Corps can't divert the water, as that would send it to Grand Forks and Winnipeg - and they sure don't want it. So they first build short, rock pile walls along roads that are about to be washed out. Then they fill in the walls with dirt as the water rises, then, when the water creeps over the wall, they fill in the road and call it a levee. All these men with their dump trucks can't seem to quell the spirits within the devil's lake.

---

Date: June 20, 1999
Location: Billings, Montana
Recent Stops: Killdeer, Zap, Zen, Beach and Home on the Range, North Dakota, Rosebud and Big Horn, Montana
Next Stop: Yellowstone
Mileage so far: 31,456
My Big Sky - It is mesmerizing, to cross the great plains, to keep the narrow string of black laid out in front of you, and the great, wide, blue sky all around. For hundreds of miles, you ride between two ranges of hills and buttes, and you can see the road go on forever, and then you come up on a rise, and the hills disappear, and the great, huge sky envelopes you, and you take a breath and just float for a while, because you actually believe that you are on the top of the world.



Thunder Road
TUESDAY, JUNE 29, 1999
FROM MISSOULA, MONTANA, TO HELENA AND BACK
You hear him coming, you see his mile-long train roll into town, and when he roars past, you feel the Earth shake.
Posted July 11, 1999


---
Slow down, son! - Ever since I'd learned that Montana had no speed limits, I couldn't wait to come up here in whatever vehicle I owned at the time, and let that muther rip. Well, my vehicle right now is an 80 cubic inch, ex-police bike, so I've been itching to reach the land of the American autobahn. But I have arrived about 60 days too late, and the state, anticipating my arrival, now has a speed limit of 75 mph. Heck, with my trailer behind me, I haven't even reached that speed yet!
---

Alaska, my Alaska - Had some very, very good news today. From a pay phone in North Dakota, I spoke with a shipping line in Seattle and firmed up a deal for me to hop a ride to Alaska! I dreaded the thought of the 7,000 mile round trip on motorcycle, and so this is really wonderful news. Riding west on Route 200 north of Bismark, I actually shouted; "I'm going to Alaska!" every mile, practically to the Montana border, and I startled more than a few cattle. I stopped at a truck scales and weighed Bob, just in case the captain wanted to know, and Bob and the trailer and I weigh in at a hefty 1,340 lbs.
---

At Home on the Range
SUNDAY, JUNE 27, 1999, DILLON, MONTANA
Why is so much Montana ranchland turning into subdivisions?
Posted July 18, 1999
Like it on the range? Read A cowboy poet's story: Come Ride With Me
---

The Insanity Defense - So badly did I want the story - downhill skiing in late June - that I actually backtracked 35 miles to get it. Not only 35 miles (70 miles, roundtrip) but most of those miles in the rain. I say "most" because a few miles were through some helacious hail. I had to cross Bear Tooth Pass, in northern Wyoming's Shoshone National Forest, to meet somebody - anybody - at the Red Lodge Ski Race Camp. I had no assurance that anyone would even be there. I stopped people and asked how the weather was over the pass, and ignored their frightening answers. I rode on wet, winding, steep roads, and between cut-out, 15 foot-tall snow drifts, for an hour, with wind so harsh, it beat my face with the rain, and then the hail. At 10,000 feet, it started snowing, but did I turn back? No! I held out my tongue and caught a few snowflakes. I reached the slope at ten, and there were two hardy skiers there, and I pounced on them. Story to come.



Over the Edge
TUESDAY, JUNE 22, 1999, BEAR TOOTH PASS, WYOMING
They live to ski, even if it kills them.
Downhill skiing in late June? Where in frozen heck are we?
Posted July 1, 1999


IT ALL STARTS HERE. It is an inspiring thing to sit by a river and watch the massive liquid machine roll past, to watch such tremendous action in action. Some rivers are fierce, pushing more water through than we as humans can fathom. Some are loud, roaring their prideful prescence nonstop, day and night, and some are gentle and silent in their power. But one thing is true about them all; they all start right here -- and in millions of innocent, quiet places like this -- and you come up here and see the tiny pools of water waiting their turn, and even the morning moisture on a blade of grass, which will slide off that blade, collect in the soil, join more moisture from other blades, and will journey down the mountain toward a rivulet, into a creek, into a stream, into a larger stream, then into a river, and by then, this little drop of moisture has joined so many others that it has awesome power, and its power is even sometimes collected by man-made hydroelectric dams to light up entire cities, and sometimes that water becomes out of control, at least, out of our control, and it powerfully and silently destroys entire cities.
---
Arch Deluxe - Jackson, Wyoming is a rugged town, a rugged, tourist town, with beautiful, wooden buildings and gift shops and real estate offices to attract tourists dollars. The heart of town is around a square, and when you approach the square, the first thing you notice is a large arch made of elk antlers - hundreds of them - and it is awe-inspiring, considering these antlers sometimes sell for hundreds of dollars apiece. So you take a family picture in front of the arch, and you marvel at its size. Then, as you wander around the square, you notice that this was only one of four arches this size! The arches were built in 1960, and the antlers came from the nearby National Elk Refuge, where Boy Scouts collect antlers shed by the bulls each May, and they bring them here and auction them off.


Quitting is for Losers
WEDNESDAY, JUNE 23, 1999
JACKSON HOLE, WYOMING
"Climbing a mountain... is like a vertical chess game." Discover a great camp for Boy Scout adventure!
Posted July 6, 1999

Va-va-voom! - I rode through Yellowstone National Park, and thought it was nice. Then, I saw the Teton range - wow! Now, these are mountains!



A Thread of Decency
THURSDAY, SEPTEMBER 16, 1999
CHEYENNE, WYOMING
She is a material girl, having sewn enough pieces of it together to cover Cheyenne in a warm, quilted blanket.
Posted October 28, 1999 .
View some beautiful quilts!

---

In for Extra Innings - Microgallery, the exemplary Ohio firm which sells computer hardware, and offers web hosting service, has offered to host the True America web site for another 8 months, until February, 2000. (This was originally a 12 month project.) This is very welcome news, as they have done an excellent job at this for the past year, with absolutely no interruptions. They can host your web site for you, no matter where you're based (look at where I am based!) at a great rate. For exemplary service, call them at (614)786-1713, or click on their logo, or click here.

Date: June 30, 1999
Location: Spokane, Washington
Recent Stops: Priest River, Hope, Wisdom, Montana
Next Stop: Port of Tacoma
Mileage so far: 32,918
---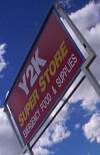 Sale ends January 1, 2000 - Here, in the heartland of political skepticism, is the survivalist's store for the end of the world. Right here, in the Big Hole, Montana, you can get your 50 lb bag of pinto beans, and a wind-up radio, so you will be the one all your neighbors come to when our economy collapses. "Aww, people are always thinking something like that might happen," said the kid at the counter. "But we also got people who live up in the mountains, and they need supplies like this, anyhow." Maybe next year, they'll call the store "Y2K+1".
---

Sum, sum, summertime - Around here (Cooke City, Montana) the few months when snow doesn't cover the ground are good for, well, fixing the snowmobiles, and you have to dodge them at the service stations. The mechanic offered to put a ski on the front of my Harley.

---
True America Tip
PHOTO ALBUM: The Midwest
The collection of True America CD photo albums is available from the main page. Here is one:


Click on the covered bridge to view the
True America, Midwestern U.S. photo album.