---

Date: March 8, 1999
Location: Orlando, Florida
Recent Stops: Miami, Florida Keys
Next Stop: Southern States
Mileage so far: 23,252
Notes: It has been a great month, here in my home town of Orlando. I have been as busy as a rookie on deadline trying to get everything set for the second half of this trip.
Into Thin Air
SUNDAY, FEBRUARY 28, 1999
920 FEET OVER POMPANO BEACH, FLORIDA
It weighs tons, yet is lighter than air.
Posted March 9, 1999



One small, but significant addition, was provided by Tom Cheeves, of Airstar Lighting. He had a few words cut out of vinyl lettering for me. "50 states, 19 months, one long ride." adorns my trailer, and two small words sit on my steering column. "What's Ahead!" reminds me each mile to keep plenty of clear road in front of me - enough to land a 747 if I had to. As I tow this heavy trailer, which wants to jump in front of me when I stop too quickly, this seems to be the only way I'll keep this bike on two (or four) wheels. Also, when this going gets tough, and I look at the near future with more fear then excitement, this reminds me what an exciting adventure I am on. Thanks, Tom.
---
Saving Life
FRIDAY & SATURDAY, FEBRUARY 26 & 27, 1999
THE FLORIDA KEYS
In the delicate balance of the Florida Keys ecosystem, three people hold onto life as we know it.
Posted March 15, 1999

---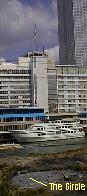 While in Miami, I stopped to see "the circle" a Tequesta Indian archaeological treasure which developers want to turn into the foundation of yet another condominium, and which many people, Native Americans in particular, want to preserve for thousands of years. I went to the hotel next door to ask about the circle and, oddly enough, nobody knew anything about it, except for the concierge, who sent me off property for a glimpse. "Get on the bridge over the Miami River," he said. Well, he was wrong, and if you're ever down there and you want to see this thousand-odd year old piece of history before they turn it into plumbing for the laundry room, head to the Sheraton at the mouth of the river and stand on the top level of the parking garage. Just don't tell them I sent you.


Visit the southernmost tourist trap in the continental U.S.!
---
When you live in the "lower" (western) Florida keys, you have a landfill situation - you live on an island 100 miles from the mainland - and since they tightened up on the Stock Island Junkyard, it's been real hard to trash your old set of wheels. Driving from Big Pine to Key West, you'll see several cars abandoned and picked apart. This one has a message spray painted on its side; "OUT OF GAS, BE RIGHT BACK."
---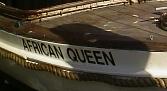 Hepburn and Bogart quarreled on this boat, and now you can, too. Jim Hendricks bought the boat that was used in the movie The African Queen, and he keeps it at the Holiday Inn on Key Largo, Florida. Built in England (in 1912) the ship was prohibited by law from carrying paying passengers in U.S. waters. Hendricks has somehow floated around this law, perhaps because he donates the $15 fare to charities.
---

Date: March 18, 1999
Location: St Marie, Georgia
Recent Stops: St. Augustine, Marineland, Florida
Next Stop: North Carolina
Mileage so far: 23,556
Notes: Rode through our country's oldest city, St. Augustine, which is also one of our country's most beautiful cities, in spite of the tourist swarm constantly crawling the streets. It is actually beautiful because of the tourists, especially the really old ones. About a century ago, Henry Flagler built several beautiful hotels here, which are now used for a college, a museum and government. Wouldn't you like to have a city hall like this?

---
I thought this place was cute. Not only is Marineland Florida's oldest attraction (opened in 1938) but it is one of the state's smallest towns, with about a dozen residents, most of which live on boats in the marina. Rumors are the park is up for sale, but in a town this small, there's plenty of rumors. (Without the "R" in the Marineland sign, it looks like "Maineland!")
---


From Cuba, with Love
THURSDAY, FEBRUARY 25, 1999,
LITTLE HAVANA, MIAMI, FLORIDA
Come to one of the most popular parks in Miami, where you come to play and you play to win.
Posted March 20, 1999

---
Us "travel writers" like to write about places that have a beautiful history, the places nobody knows about. "The gallant, quiet, art deco structures call out for memories of years past and gay old times..." one might have reported about Miami Beach two decades ago. But "South Beach" has been rediscovered and all the pastels are back and everybody knows about it, so it's just no use. They've even brought back the gay old times, sort of.
---
While in Orlando, I spent a few days working an art festival - chalk art, that is. A wonderful tradition brought over from Europe, where people draw beautiful, large works of art right on the sidewalks. Jeanie Linders, the festival organizer, sets up sponsorships and permits, so all the artists need to do is come and draw. It is an exciting, creative weekend, which actually raises money for a local charity. Would you like to have a similar event in your town? Contact Ms. Linders.

---
History as Adventure
THURSDAY, MARCH 18, 1999
SAVANNAH, GEORGIA
It's hard to believe how much one man's death could bring a city to life.
Posted March 25, 1999

---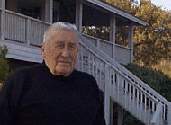 While on the coast of South Carolina, I stopped in to see Mickey Spillane, who looks as good as he did four years ago when I last interviewed him. Many of you young kids remember Spillane as a writer of comic books, many young adults remember him for his Miller Lite commercials. Many of you older readers remember him as the greatest mystery writer of this century and if you're a bit older than that, you might even remember him as a comic book writer.

Spillane just had to update me on his favorite car; a 1956 Jaguar which John Wayne bought for him. It looks beautiful with new leather upholstery. I was thrilled to be able to see Spillane again and I know I will always remember him as a wonderful, charming man.
---


Sweet Love
FRIDAY, MARCH 19, 1999
MOUNT PLEASANT, SOUTH CAROLINA
She uses the tall, sweet-smelling grasses of the southern coastal plains to make beautiful baskets.
Posted April 5, 1999
---

BOOM BOOM! Freedom calling! - I am staying with my brother and his wife in the beautiful town of Swansboro, North Carolina, which is just a 50mm shot away from Camp Legune, "the home of the U.S. Marine Corps." Of all the hundreds of places I've visited this past year, this is hardest on the nerves. The marines have been practicing firing their big guns - huge freaking guns, which make your windows and glassware rattle, and knock you off your damn seat - you expect to see flak in the skies and a tank crushing your garage. You expect to be hit at any minute.

This is worse than living near a railroad track. These BOOMS come without warning and shake your foundation. It sounds like someone stomping around in your attic, and I swear my brother has somebody living (or dying) up there.

I guess you get used to it, and there is a psychological aspect to the noise. The economy of the Jacksonville area is tied to those guns, as is the defense of our country. I met a wonderful, old man the other day, who cleared this up for me. Max has lived here his entire life and he doesn't mind the noise at all. As we sat on his front porch, the distant guns calling to us, I asked him how he could stand it. "I don't mind it at all," he said. "Why, that's the sound of freedom."
---