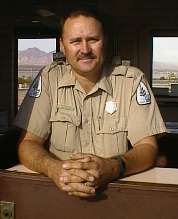 10:14 a.m. Tim Kristof, Park Ranger IV
Lake Havasu State Park
"I enjoy seeing the same groups of people each year. It's interesting to see how people, usually elderly, who have already raised a family, develop new ones - park families, we call them - and it's like they have reunions each year."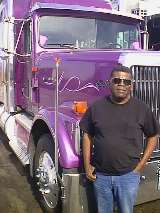 11:45 a.m. James Turner, Truck Driver
Truck Stop in Topock, Arizona
"During the holidays, people's attitudes are a lot nicer. They say 'Have a nice Thanksgiving' and that just makes you feel good."
12:04 p.m. Chad Villamor, Fireman/paramedic
Golden Shores, Arizona
"It's nice and quiet and it gives people a secure feeling that someone out there is looking over them. They always seem to be afraid to call 911 on a holiday, thinking no one will be here."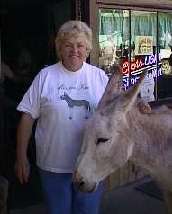 1:30 p.m. Janet Bokan, Restaurant Owner
Oatman, Arizona
"I like to cook a nice Thanksgiving dinner here at the Mission Inn. My family usually comes in from New York and they help out - that's my son behind the bar. People are far from home and traveling and I like giving them a good, warm meal."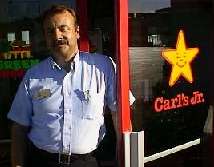 2:05 p.m. Bill Lauchlan, Restaurant Manager
Needles, California.
"Today doesn't mean much to me - I was born in Scotland and was raised in England - but I close at two so my family can celebrate."