As I travel through the back roads of this country, I occasionally see these small memorials along the shoulder. They strike me as special, as they are not a ritual of tradition so much as simply a remnant of someone's emotions after a tragedy.

I will photograph these as I see them, neither searching them out nor repairing them and I will try to discern for whom they were made. I don't know why I will do this - just for good karma, I guess.

Temporary in existence, these monuments for the common man amount to roadside tears, washing away with the next winter's snow, or the grass cutter's blade. In their brief lives, they serve as a sober reminder of our own fragility and they ask us to please, pass with care.
---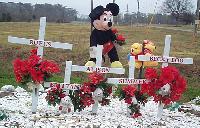 Rufus, Brittany, Alison, Summer & Becky Boo
Found on LA 3087 at LA 316
on Sunday, December 19, 1999, at 9:45 a.m.
I am seeing more of the stuffed animals on these things, and it may be a trend. The problem is, when do you remove them? If you take them away before they get beat up by the elements, people might think you stole it, and if you wait too long, they look just terrible. I do hope this is the last scene I post, as even I am getting weary of them.

---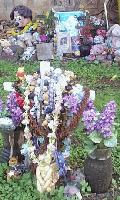 Alyssa M.
Found on Waiaula St. near Komo St., Waiaula, Hawaii
on Saturday, November 20, 1999, at 1:58 p.m.
Alyssa was a young girl, probably about 10 - old enough to have friends who are young enough to not understand what this is all about. The cross is covered with leis, and behind it are several large stuffed animals. Someone wrote to the newspaper today, asking about these, which people here are evidently leaving for adults as well as children. The writer thinks it's a new custom, and I must say I've never seen it before.

---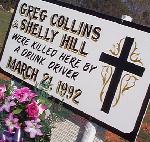 Greg Collins and Shelly Hill
Found on Route 27, in southeastern Arkansas
on October 29, 1999, at 2:46 p.m.
This event occurred seven years ago, yet this sign is brand new. Perhaps it replaced one, with renewed interest in Greg and Shelly, and making a good point.

---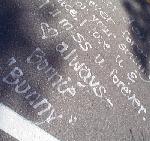 Brandon H. S.
Found on Route 10, south of Thornburg, Arkansas
on Wednesday, October 27, at 1:46 p.m.
On the cross, I could only find the initials "B.H.S." but on the roadway are several painted notes to the young man. I assume he was young, because of the beer and soda bottles, and cigarette lighter placed on the cross. But, one of the notes said "daughter." Could Brandon have been a girl? This is the first time I've ever seen tributes painted on the roadway.

---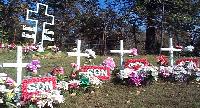 Bobby, Frank, Kelly and George
Found on Route 11, south of Pawhuska, Oklahoma
on Monday, October 18, 1999, at 2:13 p.m.
This one will get to you. I try not to be affected by these tributes, but when you see the four signs that read; "Son, Son, Daughter, Son" you'd have to have a heart of granite not to tremble as you walk away.

---

James B. Lawrence, "Cable Ice man" 7/21/99
Found on Route 54, west of El Dorado, Kansas
on October 15, 1999, at 8:86 a.m.
Lawrence's friends have done a lot of drinking in his honor. The ground around this cross is covered with thousands of can pull-tabs. I couldn't tell if they were from beer or soda cans, and we'll probably never know.

---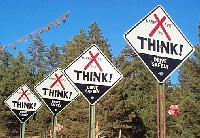 Unknown
Found throughout South Dakota
These "X Marks the Spot" signs are posted throughout the state at sites where residents have left without crossing a border - as four of them did right here. Some signs say "Why die?" or "Drive Safely." I thought these were new, but one resident says the state has been erecting them for 60 years. He also says that putting flowers on the posts is an Indian tradition.

---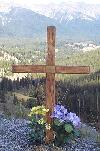 Marilyn Joy Coleman
Found on Hwy. 75, in the Sawtooth Mountains, Idaho
on Friday, August 27, 1999, at 4:07 p.m.
There are many beautiful, but treacherous mountain passes in this part of the country, where, if you slip up, you go over the edge and fall hundreds of feet, and you tumble through an orgy of incredible beauty in your final moments.
"An Angel's wings spring from the heart.
For all those times you've been there for me,
with your love and support,
you and I both know, you've earned your wings!"
(Engraved on a brass plate on the center of the cross.)

---
Danny and Sandy Brierly
Found on Salmon Dam, on the Salmon Creek Reservoir, Idaho
on Sunday, August 22, 1999, at 11:46 a.m.
There are concrete barriers here now, perhaps placed here after Danny and Sandy's car went tumbling over the edge, a few hundred feet into the dry creekbed below. Too little, too late? I am sure a few families believe so.

---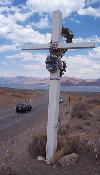 Unknown
Found on Hwy. 445, near Pyramid Lake, Nevada
on Wednesday, August 18, 1999, at 1:06 p.m.
At over 8 feet tall, this is the largest cross I've seen so far - in this area, everything is big. Though there is no name, the wreathes look old and new, as if someone has returned recently. With no grass to mow, it looks like this sturdy memorial will be around for a long time.

---


Jerry Thomas
Found on Hwy. 20, Eddyville, Washington
on Sunday, August 1, 1999, at 10:43 a.m.
It was eerie finding two young men with such close names within an hour of each other, but then, this whole page is eerie. Mr. Thomas' friends are pretty resourceful; since he had left them in front of a store, with only pavement all around, someone built a wooden box, and they propped a cross and large photograph on it. The flowers are all potted, and there is bottled water tucked in the back. I can just see someone coming by each night, turning the box over, putting the cross, plants and mementos (stuffed animal, rolling papers) in the box, and putting the whole thing away for the night.

---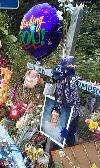 Allen Thompson
Found on Hwy. 101, Agate, Oregon
on Sunday, August 1, 1999, at 9:54 a.m.
In urban areas, the effects of a memorial are felt more widely than ones in rural areas, because, not only do more people pass by, but those people are more familiar with the subject. The young Mr. Thompson (age 16) left his friends only 8 days ago, here at the intersection of the Agate Golf Course, and everybody who pulls out of the club's driveway can still see this candle burning for him.

---

Joy Colson
Found on Hwy 12 coming down the eastern side of White Pass, Washington.
on Monday, July 26 1999, at 3:25 p.m.
Beauty and the Beast - It may have been the gorgeous mountain pass which distracted a driver in this accident. I doubt if careening down this long, steep grade is exactly the way I want to go, but, with this incredible view, it would seem a nice place to.

---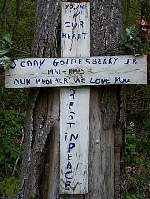 Sonny Goldesberry
Found on a mountain pass in southern Kentucky.
on May 9, 1999, at 4:16 p.m.
I can't help, sometimes, to wonder what the stories are behind these signs. This one, for a man who died in 1995, says; "Our brother, we love you," and I could just see a couple of guys wading through the snow, hammering this cross to the tree on a dark, cold, winter day. But then, they could have been his sisters, and it could have been a warm, sunny day in July...

---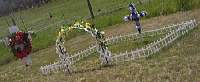 Unknown
Found somewhere in the Big Hole, Montana
on June 27, 1999, at 2:36 p.m.
This area is on the side of the highway, but somebody obviously comes out here and mows the grass short, and keeps up the trellis and flowers - pretty extensive for an anonymous memorial.

---
Unknown
Found on Rt. 18, bridge over Mississippi River, between
Marquette, Iowa and Prairie du Chien, Wisconsin.
on May 30, 1999, at 4:16 p.m.
Don't know who this is, but it could even be one of those construction workers.

---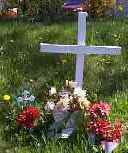 Unknown
Found on Route 7, near Route 2, in a suburb of Wilmington, Delaware
on April 22, 1999, at 12:36 p.m.
It's springtime, and flowers are bringing life to everything, everywhere.

---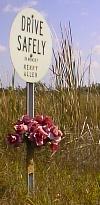 Kenny Allen
Found on US 1, near Lake Surprise, Florida Keys
on February 28, 1999, at 10:06 a.m.
I saw these signs throughout the keys and thought they were just friendly notices, but the flowers gave this one away. I guess they have gotten organized, down here, possibly in an agreement between those relatives who want their lost loved ones to be remembered and to waken other drivers that this is a dangerous highway, and the tourism people who don't want visitors to realize that this is just another dangerous highway (in paradise.)

---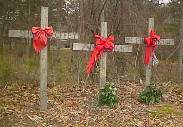 Shane Coffey, Age 19
Amy Bright, Age 17
Emile Bright, Age 14
Found on Route 65, near Bee Branch, Arkansas
on January 28, 1999, at 11:20 a.m.
These rustic, bare-wooden crosses were erected after an accident on March 2, 1997. Though the writing in marker pen is fading, the ribbons and flowers are fairly new.

---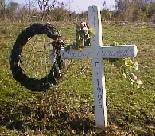 Chantay Norwood
Found on Highway 61, south of Mound Bayou, Mississippi
on January 24, 1999, at 10:43 a.m.
The event that gave reason to erect this cross occurred on August 5, 1996. This is one of the oldest memorials I've seen so far.

---


to 1998
Return to our
MAIN page