Greetings from Indiana!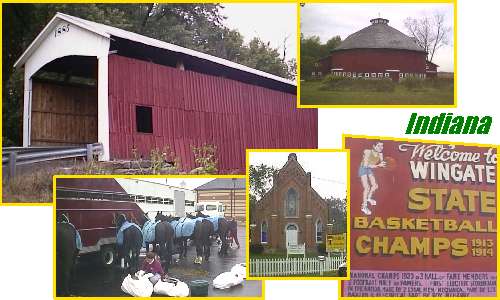 (Upper Left) The Newport Covered Bridge, 180 foot long, built in 1885 over the Little Vermillion River, north of Dana. ::: A neat, round barn, somewhere north of Lafayette. ::: The town of Wingate had state basketball champs, but, in smaller letters, the sign says that they were national champs in 1923, but perhaps not geography champs. ::: Move to Shadeland, buy a church and let God be your partner! ::: The Culver Equine Team from Culver Academy prepares for the Shriner's Day Parade, in Logansport.
September 29 - October 6, 1998
Wanderlust Documented
FRIDAY, OCTOBER 2, 1998, DANA, INDIANA
It's Confession Time. Ever wonder why someone would sell everything he owns, clear his savings account, cut all ties and set off on a nineteen-month long journey?

Lead us not into Temptation
MONDAY, OCTOBER 5, 1998, GOSHEN, INDIANA
Read on, with comfort in the knowledge that we don't all have to ride in buggies and wear black to go to Heaven. Find the secret right here.