Greetings from Missouri!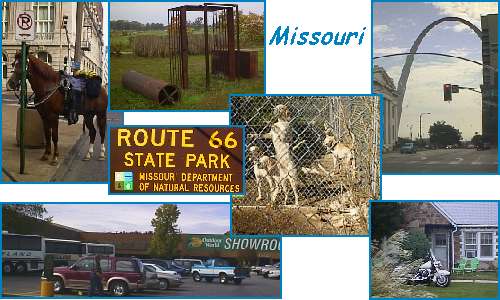 (Clockwise, from top, left) Hey horse! Can't you read? Try towing this guy from his spot in St. Louis. ::: Now, that's art! Notice the subtle use of the cylinder against the harsh, caged structure in my new friend, Carl's field. ::: The St. Louis Arch, as seen through my windshield. ::: When in Cuba, Missouri, stay at the Wagon Wheel Motel, right on 66. Pauline keeps a beautiful, tidy place, and at $15/night, it's cheaper than a campground! ::: Hound dogs at a hunt club near St. Louis. ::: Bass Pro Shops, in Springfield, the state's number one tourist attraction! I get a chuckle out of all the people bringing video cameras into this store. ::: This new state park is where Time's Beach used to be, until they sprayed dioxin on the dirt roads, to keep the dust down - I guess it did the job.
October 13 - 22, 1998
May 25 - 27, 1999
Missouri sure has some beautiful countryside, and I didn't even get up into the Ozarks. I found the people to be friendly, once you got to know them, but very cautious at first - like the woman who insisted on seeing my driver's license before letting me use her vacant lot. I had a harder time finding camping spots here than in any other state, but I met many people whom I liked.
ARTICLES
---

Larry's World
MONDAY, OCTOBER 19, 1998, JEROME, MISSOURI
Enter Larry Baggett's world and find the secret to a healthy life. It may be three foot tall chickens or it may be ghosts of Indians on the Trail of Tears. Enter at your own risk.


Solace on the Vine
MONDAY, OCTOBER 19, 1998, ROSATI, MISSOURI
After a career spent teaching Missouri's most hardened juvenile delinquents, Marvin Rippelmeyer cultivates a different seed, enjoying life as a grape grower in central Missouri.