Greetings from New Hampshire!

"Bob" Harley perched on the side of one of the most beautiful roads in the country - up Mount Washington. ::: A Showy Lady's Slipper, the once endangered species, repopulated by high school students. ::: An antique locomotive brings tourists through Clark's Trading Post, one of the many family owned attractions in the state.
June 25 - July 2, July 7, 1998
Every motorcyclist - heck, everybody - should take a ride up Mount Washington, in the White Mountains. It is an incredible ride, with stunning scenery. Each year, they have foot, bicycle and automobile races up the mountain. New Hampshire is a pleasant state, with friendly people and bucolic countryside.
ARTICLES
---

Cross Culture
Sunday, June 28, 1998, Warren, New Hampshire -
After teaching for years at the college level, Dr. Peter Faletra turned to teaching public school and he forgot that high school students lack the ambition, motivation, desire and courage to succeed.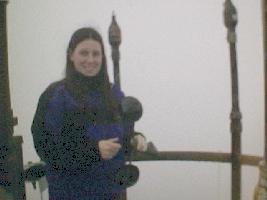 A Life in the Clouds
Friday, June 26, 1998 -- Mount Washington, New Hampshire -
Sarah Curtis actually enjoys working in the place known to have "the worst weather in the world" where, as far as we know, the temperature has never pushed above seventy-two degrees and it will snow every month of the year.



The Last Train to Clarks-ville
Friday, July 3, 1998 -- Lincoln, New Hampshire -
He has been entertaining New Englanders for nearly fifty years. Meet one of America's oldest (and funniest) bear trainers and his family.