Greetings from Ohio!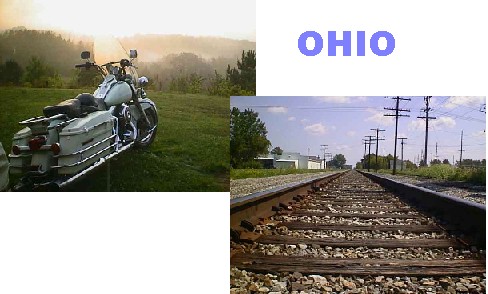 Bob looks out over a bluff at at righteous sunrise near Columbus.
Working on the railroad in Ada.
Talk about big sky! I bet that Ohio has more sky than any eastern state. I had quite a time, sitting outside in the moonlight, with a sky so big, and stars so bright, I thought it would swallow me up. The riding is nice, too, especially up around the lake.
ARTICLES
---

Lacing up for the Big Game
Wednesday, September 2, 1998 -- Ada, Ohio
Making the Super Ball for the Super Bowl. It's about time the real players in this game got some attention!


Striking out in Fast-Food
Friday, August 27, 1998, Macedonia, Ohio
Did somebody say STRIKE?
All Bryan Drapp and Jamal Nickens wanted was a little R-E-S-P-E-C-T. All they got was F-I-R-E-D. Do labor unions belong in restaurants? This report from the land of Red Hots and Red Apples.