Greetings from South Dakota!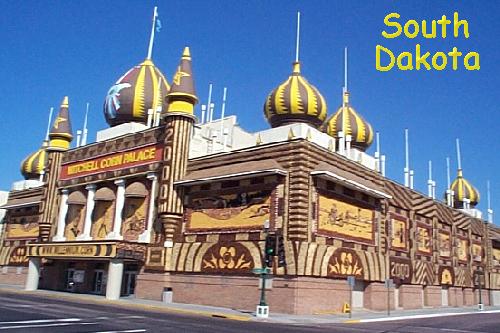 The Corn Palace is a beautiful tradition in Mitchell. Each year, the facade, made of natural farm products including corn and grains, is either stolen by birds or torn down to prepare for a new one. It takes months to design and produce a new facade each year, and it is a grand celebration of harvest, so important in this part of the country.
But, could I live there? - If I did, it would be in the black hills, and not only because they're close to Wall Drug. That is a beautiful area, a gem of geography amid the plains.
ARTICLES
---


A Life in Stone
MONDAY, SEPTEMBER 20, 1999
THUNDERHEAD MTN., BLACK HILLS, SOUTH DAKOTA
"When the legends die, the dreams end, and when the dreams end, there is no more greatness." K. Ziolkowski
Monique Ziolkowski lives to chase a dream
her father died for.



Picking up the Pieces
TUESDAY, SEPTEMBER 28, 1999,
SIOUX FALLS, SOUTH DAKOTA
Broken arm? Crushed leg? Don't lose your head! Send it to Robert Mirzaynts.