Greetings from Virginia!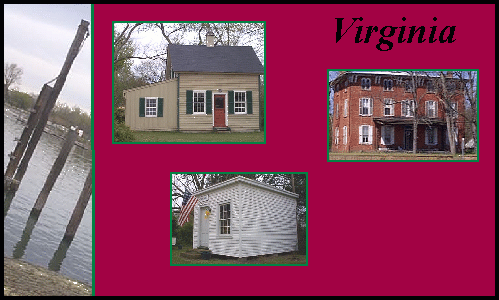 (Clockwise, from left): Oyster, once a thriving town reaping the bounty of the sea, until the oyster beds ran dry. I stayed with Melind and with Jay, who has a dream of building a 70 foot wooden boat right here. ::: Simple, beautiful buildings fill the landscape in this historic state. All found on the Eastern Shore (which is frequently ignored by state map makers) are a traditional house, a beautiful, abandoned building and Frankfort's modest town hall.
April 9 - 15, 1999
But, could I live there? - Live here? Heck, I was born here. Good weather, four seasons, plenty of water and tradition - this state is high on my list.
ARTICLES
---


Counterfeiting Nature
THURSDAY, APRIL 15, 1999, CHINCOTEAGUE, VIRGINIA
"Cigar" Daisy has been fooling ducks for decades,



The WAY Down
SATURDAY, APRIL 10, 1999
14,500 FEET ABOVE WEST POINT, VIRGINIA
If a troubled writer falls thousands of feet to the forest below, can anybody hear his screams?
Learn to skydive, in Dropping Class