Greetings from Vermont!
Saw this beautiful barn while in central Vermont. At right is a view of the stage during the finale' of the fourth of July fireworks celebration in Ludlow, Vermont.

June 13 - 15, July 3 - 7, 1998
A beautiful state, filled with enchanting forests and quaint towns. I hit Vermont in mid June, when summer storms hit me, but it was still a nice ride.
ARTICLES
---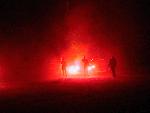 Laying fire to the night sky.
Saturday, July 4, 1998, Ludlow, Vermont -
Like action? Join a pyrotechnics crew on a 4th of July explosive story!

The World's First Website
June 16, 1998 -- Williamstown, Vermont
It's the only spider web farm in the world. Does this surprise you?