Greetings from Washington!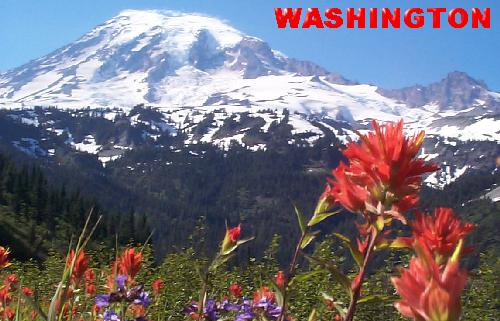 Mt. Ranier - bold and beautiful - not nestled in a range of mountains, not shrouded in a veil of clouds, but way out here on its own. You see it from 50 miles away, and it grows on you, calling to you, urging you to come closer and closer and to be diminutized and humbled by its greatness. This is how mountains should be!

June 30 - July 3, July 22 - 27 1999

But, could I live there? - Water, mountains and snow. Snow? Damn.
ARTICLES
---

Moving Bridges
FRIDAY AND SATURDAY, JULY 23 & 24, 1999
SAN JUAN ISLANDS, WASHINGTON
When you mention Washington state, some people think of lumber and the spotted owl, some think of coffee and Frazier's dog, but the next time you think of Washington, you might want to think about taking off for the islands!

Here are two stories about Mark's trip to and from Alaska, out of the port of Tacoma, Washington, and about the magnificent crew that brought him there.

A Low Crime on the High Seas
SATURDAY, JULY 2 - MONDAY, JULY 5, 1999
100 MILES OFF THE PACIFIC COAST
Isn't the real crime Mark's latest attempt at fiction writing?



A Seaman's Life.
MONDAY, JULY 19, 1999, COOK INLET, ALASKA
Get a taste of life at sea, and meet the crew who (safely!) brought Mark back to the lower 48!