Greetings from West Virginia!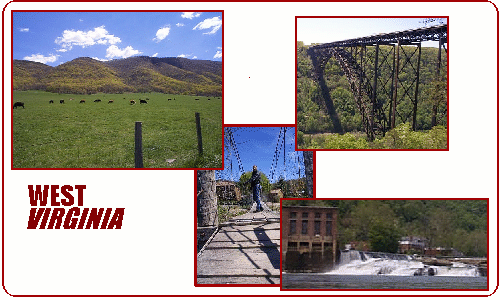 April 30 - May 3, 1999
(From left): Another beautiful day - saw this bucolic scene while in the Shanendoahs, and it reminded me of a good joke. The farmer said; "what beautiful view? Those damn mountains are in the way!" ::: Mark on one of the hundreds of walking bridges still in use around here - get your stride just right and you'll have the whole bridge bouncing! ::: (top) The tallest single arch bridge in the world, crosses the New River, near Lansing. People actually parachute off this sucker. ::: A dam across a river, creating a nice lake for a lakefront park and a nice view.
But, could I live there? - I did love this place! There's plenty of water and rugged mountains, and they say it even stays warm in the valleys...
ARTICLES
---


A Coal Miner's Son
TUESDAY, MAY 4, 1999,
1 MILE INTO COOK MOUNTAIN, WHARTON, WEST VIRGINIA
West Virginia is coal country, and our country depends on coal.


Big Water
SATURDAY, MAY 1, 1999, NEW RIVER, WEST VIRGINIA
Come find out who wins the battle between an intrepid journalist and a huge, muther rock.