Friday, November 19, 1999, Honolulu, Hawaii - As the morning sun comes over the verdant Ko'olau Mountains, Roblyn Kehau-Smith hears the hoarse calling of a conch shell blow, and she follows her students to the front of the Anuenue School for her daily inspiration. Hundreds of students face their teachers and, in a unique plea, ask them if they may enter the school to learn for the day. They chant the "Oli Kahea" a Hawaiian hymn, since in the Hawaiian heritage, education is religious, and a school is nearly a church. The teachers grant the students permission and the children run to the classrooms, where they remove their shoes and socks and place them near the doorway before entering.
Roblyn Kehau-Smith teaches her fourth and fifth grade classes throughout the morning using mostly the Hawaiian language.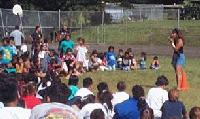 After lunch, as the sun warms the Palolo Valley, the Anuenue schoolyard is alive with children, running and jumping and playing. They strain at Tug-of-war, they joust a toy pig in "Moa Pahe'e" and they learn all about taxes.
"A society's language serves as its netting, as the connections between the cultures."
Charles Naumu,
Principal
Kehau-Smith leads the keiki (children) in the games. Between competitions, she explains the significance the games have on their Hawaiian heritage, and throughout the week, she will teach them traditional Hawaiian games, songs and dances.
While most of America is preparing for Thanksgiving, these students are celebrating the traditional Hawaiian holiday of Makahiki, based on the annual tax collection event, where the Hawaiian royalty would sail around the island and visit each village to collect the year's taxes. (Citizens were apparently so thrilled to see their leaders, they actually celebrated the event.)

"Welcome to the Rainbow School.
Visitors, please report to the office."


The public, Anuenue (Rainbow) School opened in the 1960's, on the main Hawaiian island of Oahu, which holds roughly 80% of the state's 1.1 million residents. When enrollment declined in the 1980's, it was used for offices. The University of Hawaii at Manoa and Milo developed an education immersion program and instituted it here in 1987 with a kindergarten class. Each year the school added one grade, accepting only students from within, and the six remaining students from that class graduated this year. The school now offers a preschool as well as grades K through twelve, and has 335 students and 26 staff.

Though most of the students learn english at home, they are taught in the Hawaiian language until the fifth grade, when they are taught english and english grammar. "We don't deny that english is important, but my goal is to teach our language first," says Kehau-Smith. The program is voluntary for any Hawaiian resident (only 3% are not of Hawaiian descent) with 24 satellite programs on islands throughout the state. Parents of Anuenue students commute their children to bus stops at major points around Oahu. Sports programs in the upper grades are with nearby Roosevelt High School.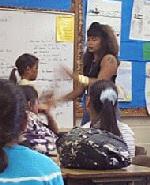 Outdoor activities are completed for the day, and students return to their classes. Kehau-Smith spends the final class period teaching her children a Hawaiian version of Patty-Cake, and dismisses her class with a quiz about today's lessons. "I don't see myself doing anything else but this," she says afterward. "For me, it's not a life, but a lifestyle - I only call it a job for lack of a better word." A young boy wanders in and embraces his mother. He is her only child, and he sprinted here from his kindergarten class to report to Mom. She has two brothers and two sisters, and though they all live in Hawaii, not all of their children are in the immersion program. "My child will definitely attend through high school," she says.
Hawaiian
School Terms
Kumu - Teacher
Kula - School
Hau Mana - Student
Papa - Class
Puke - Book
Keiki - Child
Penikala - Pencil
Hoaloha - Friend
Ha'awina - Homework
Malama - Take care of the land, people, culture and language.
Kehau-Smith has taught here for five years, and she says she treats all of her "hau mana" (students) as if they were her own - this is typical of the 18 Anuenue teachers. "Here, the teachers really care and love the children," says Kawehi Wong, the school's secretary who has worked at other schools and notices a difference in attitude. "It is very obvious also, that the students want to be here."
Her pride in her heritage surfaced during a visit to California. "The wake-up call for me was during a U.H. softball road trip to Menlo College in California," she says. "There was a group of students there that did a Hawaiian presentation, and I kind of felt ashamed that they knew a lot more about my culture than I did." She decided then that she would not only learn about her heritage, but that she would spend her life teaching it to the children of Hawaii. "My goal is to teach them who they are, and who their grandparents were," she says.
"The goal of this program is to keep the Hawaiian culture alive and to have more students learn from the past and prepare for the future as contributing members of society," says the school's principal, Charles "Kale" Naumu. This preparation will help, not only in the state's vast tourism industry, but in business as well. Hawaii is the most isolated island chain on this planet, and an important link between the eastern and western hemispheres. It is growing as a trade center, and the Hawaiian culture is a comfortable medium in which to mix the two societies.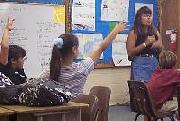 The immersion program is not just a matter of perpetuating historical trivia, but of securing identity. Imagine growing up in a foreign country, and learning only their traditions, ethics and language. You would be caught between your heritage and your present environment. Millions of immigrants do this every year in America, but these people have chosen their new country, whereas Hawaiians are strangers in their own land, and are bearers of a heritage that is being engulfed by strangers. "When you're not sure about who you are," Kehau-Smith says, "You start to question your ground rules and values." Many Hawaiian traditions encourage a gentle, friendly countenance. "My most rewarding moments are from looking at my students and watching them apply the values, and knowing that I was a part of that," she says.
Children grow taro in a garden on campus and learn how to make Poi from the traditional Hawaiian staple. Though the public school breaks for Christmas, there is no extraordinary recognition of the holiday. "La Kupuna" is celebrated in October, to honor family elders. Grandparents are invited to attend the school, and children make meals for them. In January, they celebrate the country's day of sovereignty.
When the day is done, and Roblyn Kehau-Smith cleans up her classroom for another day, she enjoys the same rewards as any teacher; of the small achievements made today. But she also knows that her work will have a greater effect, as she teaches her children not only how to read and write, but how to live in, and to be proud of their culture. As for the long term effect, she grants her children permission to join her. "When they grow up," she says. "I hope they'll come back to teach their own people.
Oli Kahea
He loa ke ala i hele 'ia me ke aloha
I ke awawa o Palolo
I ka lua pele o Ka'au
kahi e pi'o mau nei ke anuenue
Eia au ka haumana 'imi ola
i waho nei e
I ka ua, ke anu, ke ko'eko'e
'O 'oe la ka la e ho'opumehana nei
e ho'omalamalama nei
Ke hea nei au ia 'oe e ke kumu e
Mai pa'a i ka leo
He 'ole kahea mai e