Friday, August 27, 1999, Carey, Idaho - This whole story began over half a decade ago, in 1944. Leland "Bud" Batchelder was a Chief Petty Officer in the U.S. Navy, serving in Great Britain. There, he met a beautiful young draftswoman named Dennise Elvin. She followed him to his home in Carey, Idaho, where they married and began a family.
Batchelder worked as a mechanic for several years, then supervised a fish hatchery for the state of Idaho, a job which allowed him greater awareness and accessibility to the outdoors. Bud and Dennise expanded their love affair to the rugged Idaho countryside and, as many Idahoans are inclined to do, they fell in love with collecting the state's many, beautiful rocks.
When the Carey Rock Shop went up for sale, it seemed natural for them to buy it. "I don't know what the heck it was," says Batchelder. "We were just interested in the beauty of rocks, and the shapes of them." He also likes the unpredictability of it all; "You never know what you're gonna get when you cut into a rock," he says. Bud continued work at the hatchery, while Dennise ran the shop. Nights and weekends, he would cut rocks and polish them, bursting their aged shells, and peering into their millennia-old troves of beauty. The magic of the process is not lost on him, in fact it seems to humble him. "When you think for how many millions of years it takes for these to form," he says. "And we just reach down and pluck them from the ground!"
Batchelder cuts his rocks using a stone-cutting saw, which is a small table saw, with a diamond-tip blade. He clamps the rock into the saw's vise, which is geared so that it advances very slowly as the cut is made. He then closes the cover and turns it on. The saw makes a terrible racket as the blade, drenched in oil, hacks through the stone, and it makes this racket for half an hour, while cutting through the 3" long stone. Batchelder rubs the new slice of stone in sawdust to remove the oil, then washes it in water. "Look at the beautiful design on this side!" he says. The cut edge has a polished shine when wet, but it loses its luster as the stone soaks up the water, so Batchelder sometimes puts a coat of lacquer on a stone to hold its shine.
The next time you're in Idaho, and you feel like hunting for rocks, Bud Batchelder can suggest a few places for you; In the Little Wood Reservoir or in the Salmon River area, you may find agate and petrified wood; in Picaboo Hills, you could find agate, petrified wood and Spencer opals; in Fernwood, look for garnet; and in Bruneau, you might find some of the famous Bruneau jasper.


1. Agate Geode - Little Wood River Resv. 2. Petrified Wood, from Picboo Hills 3. Conglomerate (mostly Jasper Agate) 4. Tube Agate (Thompson Cork) 5. Petrified Wood (Sitka Spruce) 6. Carey Lace Agate 7. Jasper Agate 8. Carey Bacon 9. Petrified Wood (Sitka Spruce)
Keep your expectations in check, as the days of bountiful rock hunting seem to have passed, according to Batchelder. "Anymore, the government has got you locked out of it," he says, referring to the closure of more public lands to public rock-collecting. These actions might be reactions to what Batchelder reports as large-scale excavations of rock fields, and he feels many areas have been over harvested. They took a trip to Little Wood in July, for example. "There was nothing left," he says. "It was barren - someone had come up and cleaned it out."
Would you like to make some petrified wood of your own? It's easy, and it makes a nice birthday or Christmas gift!
Petrified wood is found in areas that have been flooded, and the wood has been covered with mud, which has kept air away from it.
Just take a piece of your favorite wood - look for something with a nice, coarse grain, and maybe even a few knots, for character. Next, dig a hole in moist earth, and put the stick in the hole. Pack very fine mud around the stick, and pack it in tightly, to keep the air out. Fill in the hole, and mark the spot. Wait about one million years, and dig it up.
Don't forget to mark the spot.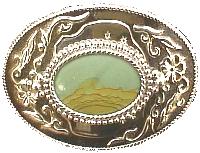 A piece of agate, cut and ground into a cabochon, and set in a belt buckle.

When a collector finds a rock that he really likes, he will often make it into a cabochon - an oval, dome shaped piece - and set it in a ring, belt buckle, pendant, bracelet or other accessory.

The Batchelders fondly recall their times in the hills, scavenging for rocks, exploring the Idaho countryside, watching the wild game and taking in the adventure. Every step could yield a beautiful, different stone, and every step brought them closer together. Even into their fifties and sixties, they would take a couple of old, Army knapsacks and a picnic lunch out to the fields, where they would walk for hours, their gazes fixed upon the bountiful, yet elusive terrain. Stumbling around, they would crouch down every once in a while, pick up a rock, examine it, and either toss it to the ground with a frown, or tuck it inside their pack with a curious smile.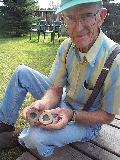 As the day grew longer, the pack grew heavier. "There were times when I could barely make it back to the truck," Bud says.
Either through their shop, or out in the rock piles, the Batchelder's have found a wide variety of mysterious objects, from an old Indian bowl, to a dinosaur bone, and even a human hip joint with an arrow through it. ("I didn't like that," says Dennise.) They have a collection of rocks from all over this world, and have a large rock garden. The outside walls of their home are covered with rocks, but mostly lava from the nearby ancient floes. (They live near the Craters of the Moon National Monument.) Their two girls and four grandchildren haven't shown a great deal of interest in rock collecting, but there's plenty of time yet.
In the early 1980's, the Batchelders closed the shop for a few years, and they finally sold it, putting them fully into retirement - sort of. "It got so it was taking too much time," Bud says. "We couldn't go rock hunting!" They have been happy in their retirement, taking forays into the rugged Idaho wilderness. They don't collect rocks anymore, so much as they just enjoy the collection they have.
Sitting in their garden is a huge, 108 pound agate, that got there after a royal struggle. "We had to carry that stone up a hundred-foot cliff," says Dennise. To carry the rock, which weighs as much as Dennise, Bud removed his coveralls, and they put the treasure inside, right where his belly had been. She clutched the legs, and he grabbed the arms, and they lugged the weight uphill for over an hour, with him half-dressed and her half in stitches. "It knocked me down three times," she says. They may cut it up someday, but they'll need a much larger saw. Meanwhile, the beautiful mystery of the ages lies quietly within its coarse rind.