Monday, May 31, 1999, Main Street, McGregor, Iowa - I've always wanted to be in a parade, and what better way to celebrate one year on the road for True America, than to cruise down Main Street in a beautiful, all-American town, and wave our flag proudly?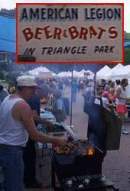 I rode into McGregor, Iowa on Sunday, and incidentally, I felt awed by the spirit of the Ringling brothers, who grew up here, and gave penny shows before they met up with Bailey and Barnum and all those clowns. There was an event going on in Triangle Park - a Memorial Day craft show - and I wandered over to the Beer and Brats Booth, hosted by the local American Legion Post (number 267). Cheri Leachman, the post's chaplain, greeted me. She, the other Legion members and I hit it off well, and I asked if I could be in their parade the next day, and they said "sure" and then I jumped right into the action and served brats for a while, and helped raise money for the Legion's and AmVet's local charities. It was one of the more enjoyable times of this trip - I really felt like I was among friends, and that is hard to achieve when you're in a different town every day, and you have one of those introverted personalities like mine.
That evening, I spent a few hours cleaning Bob (my motorcycle; "Bob Harley") and so I guess it was my fault that it rained the next morning before the parade.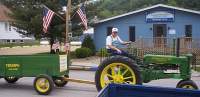 Boy, it rained like heck, and I'm sure it discouraged a lot of people from coming out and enjoying the show. It cleared up though, and I was in the middle school parking lot by 9:30, ready for my very first parade. Leachman put me behind the local scout troops and in front of the farm tractors. "You're in Iowa, Mark - tractors are big here," she said.
I decorated my trailer with a few flags, and wore my True America T-Shirt, which has a photograph of an American flag that had actually been flown over the White House. My rig and I were pretty dressed up, and we were ready to go when the music started. The procession rolled out of the parking lot, and down Buell Avenue, then took a left turn down Main Street. People lined the streets - some came out in their front yards and waved to us as we passed. Some sat on their front porches, and some just peeked out their windows. Parents pointed to things for their children's benefits, and vice versa, and kids strayed out into the street in hopes of frightening Mom and Dad. It was truly an all-American, family day.
As we advanced down the parade route, with the scouts marching ahead of me, the crowd got thicker and more exciting. The junior high school band turned out some peppy Sousa numbers, the fire and police departments played with their sirens, and everyone got right into the spirit.
A highlight of the parade - for me, at least - was the set of miniature trucks. There were three of them, made like the large, cab-over tractor-trailier rigs we thought would take over the industry in the seventies. Made by Jim Cowell for parades, the largest was only six feet tall, and could hold a dozen people in its trailer. The second was about four feet tall and driven by a young boy, and the smallest was only a few feet long, towed behind the middle truck.
I had to struggle to ride very slowly, keeping my hands on both the clutch and the gas, and avoid wiping out an entire cub scout pack. I was tempted to do a few figure-eights, or loops around the tractors, but I was sure it would affect the story if I were to run over a kid, so I just weaved back and forth a little. I had to juggle my hands to keep waving to the crowd, which was getting pretty thick. Everybody was waving to their friends in the parade and in the audience, and nobody knew who I was or what the heck I was doing there, but many of them waved to me, and I waved or smiled back. I got to thinking I was pretty popular, until I realized that the target of all the attention was the 12 year-old kid riding the John Deere lawn tractor behind me.
No one ran out to shake my hand and no one threw confetti. I suppose I'd have to return from the Moon, or the World Series for that.
The parade ended just north of Triangle Park and the gas station, and everyone walked to the boat ramp for a small service, wreath laying and 18-gun salute before driving up the dirt road to the Pleasant Grove Cemetery on the ridge for a more formal service.
The crack of the rifles' reports, and the final notes of Taps reminded me of the day I watched six Marines salute my father, slip an American flag off a casket, fold it neatly in a sharp triangle, and hand it to my mother, only its deep, blue field, spangled with lovely, white stars, showing. Today was all about memories - usually very powerful, if not very pleasant - and I watched as one of the older Legionnaires carried himself slowly up the boat ramp toward the street. A young lady greeted him, and asked him how he was doing, and he gave a sigh and lifted his gun, and he said; "I just don't know - it gets heavier every year." And I don't think he was talking about the rifle.
Parade photography by Harold Brooks