Johnson tells me about the "Delivery from Hell." It was for an eight-foot Douglas and the delivery guy threw it in the back of his pickup truck. "Well, he stopped at a light and someone pulled up beside him," Johnson says. "He got in a race and lost the tree. He didn't realize it until he pulled up the driveway and turned around to back up. Well, the customer was waiting in the driveway and he was pretty puzzled that the driver arrived without a tree. My guy just took off and went back and got the tree. He goes back to the house, thinking he'll tell the customer it just fell off the truck and give him a discount or something. Ends up it was the wrong tree."
Irvine is an hour away from the Johnsons home in Lake Elsinore, so Dedee and their three children stay at the lot only on weekends. Romping around a Christmas tree lot isn't a ball of fun for an eight year old, but they make do, playing among the trees, and building forts out of hay bales. "Sure, it's tough on the family," says Dedee. "This is our holiday season! But it has helped us. Last year we were able to take a vacation; we drove to Maine."
Working like a busy elf the entire month of December doesn't steal his Christmas spririt from Eric Johnson - he makes the best of it. "We set up here two days before Thanksgiving and we have friends over for a little cookout. Each year I see the same customers and I get to watch their children grow up - it's nice."

Thursday night: Johnson hands me a fistful of price tags and a marker pen. "You are empowered!" he says with that grin, and I get a pricing sheet and head off to price trees. This also gives me the power to sell trees and load them on people's cars - "where the money is." Well, tonight I get a big, $5 tip from a man and his wife buying a six-foot Douglas Fir, and I get the fever. I make seven bucks in tips tonight.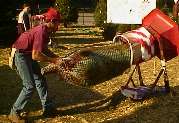 When things get slow, the workers crowd around the balers. When they see me coming with a customer, they jump in to help, hoping I will share the tip, I guess. One guy - Tip Crasher, I call him - actually steals my collar! As soon as the tree hits the ground, he ties up the netting, picks up the tree and follows the couple to the parking lot. Later, he gives me a buck. "They tipped us," he says. "Us?" I think.
So, I just need to keep away from the Tip Crasher and I'll do fine. Friday night should be big, with most of the employees off to their high school football game. I decide that my "journalistic endeavor" should include research on tipping, and the moral lows to which it can drag somebody like me.
It is not customary to tip at a Christmas tree lot, at least not like in a restaurant, where it's expected, and there is no way to prejudge whether someone will tip you or not. (Johnson won't let his employees mention tips.) I loaded a table-top Douglas and a handful of garland for a $5 tip (OK, so I loaded them into a brand new Mercedes van.) I also spent probably a half-hour schlepping half the forest for a couple, then I hauled their ten-foot tall Noble across the parking lot and lashed it to the roof of their van for a zero dollar tip. In fact, I got a lot more of those tips than any other, but I cleared $15 in four and a half hours, in addition to my wage ($7/hr.) - I am thrilled.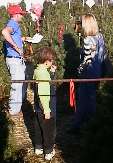 Working with customers is actually fun, because you never know if they will tip or not - it's like having a lottery ticket in your hand; sometimes you win, sometimes you break even, but here, you never lose. It is fun also, because you get to joke with the customer and share Christmas stories. But let me tell you, some people take this stuff seriously, and they spend so much time looking for the perfect tree, you wonder if they know these things are not artificial. It must be a Christmas tradition with some families to see how many trees they can fondle in one night and to see how many times they can get the sorry Tree Lot Guy to haul huge, freaking trees clear through this forest until his faithful legs finally give out, and in a dizzy, yet terribly valiant display of servitude, he drops to the hay, begging their holiday mercy.
Selling Christmas trees can be not fun, because you get to lift trees weighing fifty or sixty pounds sometimes, and because you don't get a chance to really know the people - only for the twenty minutes it takes to show them a few trees and load one onto their car. So much for the Hollywood romance of working a Christmas tree lot.
I have spent a good twenty minutes with a man and his young son and daughter. He didn't like any of the two dozen trees we had set up out front, so we are now out back by the truck, digging through a pile of still-wrapped trees. The table-top trees they are looking at are about as tall as his children are, who, by the way, are bored to tears, and I, by the way, am nearly out of my mind with impatience, but I keep asking him, "would you like to look at another one?"
I meet Alex. He asks for an eight foot tall Noble Fir, and he gasps when he sees the price. "First Christmas in the new house?" I say. "Ahuh."

A father comes with his daughter - she looks to be in her early twenties. He buys two trees, both the same height, with wood stands. I suppose this is her first Christmas out of the house and he is buying a tree for her - not a tiny one, but one the same size as the family's tree (about 5 feet tall). I can tell it's more than he'd like to spend, but he gives Eric the cash. Through the week, I see several stories like this, sometimes with a small child in tow.
I tell very few people what I am really doing - only if they ask. It is actually refreshing, not having to repeat my "True America" story twenty times a day. I want to photograph one family in particular - they have named their new tree "snowball" and are a lot of fun - but I don't know how to ask their permission. Overall, I had a very good week. I made about forty bucks in tips and worked twenty-eight hours. At $7 an hour that's just under $200, but Eric gives me ten twenties and a big, goofy grin.

Growing up in Maine, we always had a huge Christmas tree, decorated to the hilt. My parents had this crazy tradition of hiding the tree until Christmas Eve, letting us string some of the lights, then putting us to bed, telling us that Santa would decorate the tree. Well, the anticipation of getting gifts, combined with seeing that huge spectacle of a Christmas tree in the morning had us kids practically wetting our Dr. Dentons with excitement.
Running pell-mell down the stairs on Christmas morning was a living fantasy as we'd tumble to the bottom, round the corner and take in the spector of lights, tinsel and presents. It was the crowning point of the entire year, and I know my Mom and Dad got a kick out of watching us tear presents open in front of the tree, the most beautiful, most awesome spectacle in that house all year.
Eric Johnson will sell no more trees after December 20th. "After that, the bottom falls out of the market," he says. "I'm looking forward to going home." He knows how to time his shipments just right so that he will run out of trees on the Sunday before Christmas. Then he'll pack up the lot and head back to Lake Elsinor and pretty much take the next few days off with his family, playing with his children and sitting by the tree.