Friday, March 19, Mount Pleasant, South Carolina - Ride out of Charleston, South Carolina on Route 17, over the Cooper River Bridge and you'll be in Mount Pleasant, a coastal community protected from the eroding waves of the Atlantic Ocean by a long barrier island, where one of the oldest African American family traditions in the United States is struggling to survive against the tide of development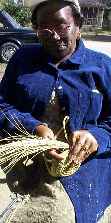 Rosalee Coaxum has been sewing baskets here since she was seven years old. Like her mother, and her grandmother, and her family before them, Coaxum spends her days weaving palmetto fronds around sweetgrass, forming beautiful baskets which can last for centuries, weaving a tradition centuries old.
Brought here by slaves from west Africa, "lowcountry coil basketry" has been a part of this community for over three centuries. Mount Pleasant claims to be the only place in the country where the craft is practiced, and baskets from here are on display in the Smithsonian Institution.
Sewing the baskets is only part of the tradition. Centuries ago, the whole family was involved in making baskets, with the husbands and sons searching fields and marshes, and gathering grass, and with the women sewing the materials together. With the strong plantation industry in the south, two types of baskets were needed to carry produce around the farm and to carry household goods within.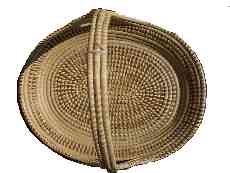 On the plantation, a sturdy, large, work basket was needed to carry rice, grain and cotton, as well as fish and shellfish. Men would make these out of the stiff and strong bulrush grass. Inside the plantation homes, a lighter, more pleasant basket was needed to carry or store items such as bread, fruits and clothing. Women made these out of sweetgrass, a softer, more flexible grass with a sweet aroma, as of fresh hay.
Basket sewing has been in Coaxum's family for generations, but not always with the women. "In the early days, it was the men who made baskets," she says. "My grandma didn't make as many baskets as my grandfather." But there are some newcomers to this small industry. "A lot of people are making baskets out here, who never made baskets before," says Coaxum.
"I'm always making baskets, even when I was working, "Coaxum says, refering to her nursing career in the 1960's and one with the South Carolina Department of Social Services for 23 years. "When I retired, I couldn't just sit home and do nothing, so I started working out here." Here is where she works 20-25 hours a week. Here is where she sews baskets and sells them to tourists, often rich and often white. Here is a small stand, made of two-by-fours and plywood, on the shoulder of the northbound lane of Route 17.
Sewing the baskets, Coaxum uses the traditional boring tool to open a gap between the blades of sweetgrass for the palm frond. Centuries ago, sewers would use a carved piece of bone for this, but Coaxum and most basket sewers today use the handle from a spoon or fork, cut off and filed down to a dull point. In the hot Carolina sun and through the cold winters, she sits beside this four-lane highway, and pries grass apart, inserts the frond and wraps it tight. Pry, insert, wrap, pry, insert, wrap - hundreds of times a day, sometimes thousands of times for a single basket.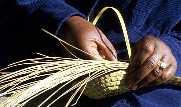 Coaxum's most valuable tools are her two hands, with which she gathers a small shock of grass, splices it into the strands on the basket, wraps the blades around her work and stitches it together with a frond. The grass absorbs moisture from her hands and the fronds make tiny cuts - hundreds of tiny cuts. "I have to keep oiling my hands because they get dry," she says. The fronds used to cut more, but her hands are hard and calloused now, tough enough for the chore. She tries to keep her hands relaxed through this, to avoid Carpal Tunnel Syndrome, and she worries about arthritis, which can render her valuable tools useless.
Unlike some woven baskets, which have several colors of dyed materials, sweetgrass baskets contain only; sweetgrass, palm fronds and long leaf pine needles, which are more pliable and are used to start the basket, in the tight circle at the center. Pine needles are also used to add rings of color throughout the piece. The grasses are from marshes, and you can rinse them with water to wash them. With proper care, they say, these baskets will last indefinitely.
The same road which built this industry - Route 17 - is hurting it now. A popular tourist route between Myrtle Beach and Savannah, the road has made Mount Pleasant, now the sixth largest city in the state, a very popular place to live. "We used to just go out into fields and pick our grass," Coaxum says. "They promised us they wouldn't do it, but they do - they sell the land and then you see a fence up and you can't get the grass." Coaxum now buys her grass from people who harvest it in Hardeeville, Georgia and as far south as Florida.

Development is also encroaching on their means of selling the baskets. Route 17 is very busy, and many baskets sewers had little or no rights to stay on the roadside. Coaxum's stand is in a small group of stands run by her sister and cousin. They have intangible rights to this public land, as their families have been sewing and selling baskets here for decades, in a tradition which started after the depression, when the road was paved and later when the bridge to Charleston was built. Many sewers are moving their stands farther north toward Cape Romain and many are just giving up. "In the 50's there were more basket stands," Coaxum says. "But the developers have just pushed the people off the road."
With six children and nine grandchildren, you would expect the Coaxum basket sewing tradition to have a promising future, but there just isn't enough money in it. Prices range from twenty to several hundred dollars, but when you consider that it takes many hours to sew a basket, and sometimes many months to sell it, she is working at near minimum wage sometimes. Family members sew after work, sometimes as a hobby, and Coaxum sells their baskets at her stand.
Rosalee Coaxum is the type of person who must keep working. "As long as I can go, I'm gonna keep going," she says. "I'm not going to punch a clock in my life again, I hope, but I have to keep going." Retired in 1994, she does volunteer work at her grandchildren's school and works at her stand on Route 17. Here, she weaves blades of grass, which bear the sweet smell of fresh-cut hay, with a generous amount of love for her work, to make beautiful baskets for the people of America.
Some information for this report was garnered from the brochure "Sweetgrass Baskets of Mount Pleasant, South Carolina" by Marguerite S. Middleton and Mary A. Jackson, 1997.