Monday, May 10, 1999, Berea, Kentucky - How do you provide a quality education for people who have little or no money to pay for it? This was the challenge facing John G. Fee over 150 years ago in the area around the Appalachian Mountains, where the population had outgrown any sustainable industry. His answer was to let the students essentially build the college. Let the students provide for part or all of their tuition in creative ways, such as making traditional Appalachian craft items which the college would sell. This answer worked very well, and today, the school is a tremendous success, although the work system has taken a turn.
Visit northern Kentucky and, if you are a crafts or art lover, Berea, in a dry county 42 miles south of Lexington, is a must-see. They call their town the "folk arts and crafts capital of Kentucky" with good reason. Berea College produces some of the finest crafts in the country, crafts which are made entirely by the hands of students, students whose education does not include such crafts, but whose education is, to a great extent, all about working in them.
Weaving
an Education
Berea buys thread - usually cotton - already spun and dyed. 20 - 30 students work here, turning those threads into placemats, napkins, baby blankets, rag rugs, couch throws, coasters, table runners, pot mats, scarves and other goods.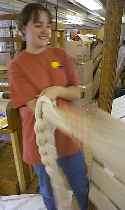 Grace Newman, of Salem, Arkansas, "wharps" threads on a tall, rotating frame, creating a bundle 60 yards long. Newman is a sophomore in nursing, who worked as a janitor in her dorm last year, and she doesn't mind the work program. "In high school, I worked thirty hours [a week]" she says. "It's been a while since I knew what just studying was like."

Sunny Gardner, a freshman from Cincinatti, helps thread a loom, feeding each thread through an eyelet. On each pass of the shuttle, certain threads will be lifted or lowered to create the pattern. She choose Berea because; "It's free!" she says.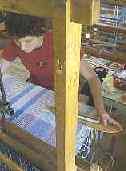 Sophomore Trish Gibson works a loom, creating the product.
Jenna Holmes, an education major, works a flying shuttle loom. More automated, these looms can weave much faster than the other hand looms.
Material is woven in 60 yard rolls, then cut to make the item. Jennifer Durham, a freshman from Cincinatti, cuts baby blankets. "I think I'd clean toilets to be able to go to college - especially Berea," she says.
The item's edges must be secured in some way, for appearance and to avoid fraying. They are usually sewn by machine, but here, sophomore Abbey Arahood ties fringes on a mohair couch throw.

The product is now ready to sell through the college store, a retail and wholesale catalog, or directly from the "factory" here in the Sunshine Ballard Cottage, on the east edge of campus.

Founded in 1855 by John G. Fee, and officially a college in 1869, Berea was Fee's idea of a southern Oberlin College - a school that would educate people regardless of race, with a Christian and strong work ethic.

The first interracial college in the south, Berea's enrollment was roughly half black and half white, until 1904, when Kentucky passed the "Day" law, which actually prohibited education of whites and blacks together, according to Berea College literature. The law was changed in 1950, allowing for integration of colleges.

Today, Berea accepts only 1,500 students, mostly from the eight Appalacian states and Kentucky, with only about 15% from around the U.S. and the world. Racial numbers are no longer half black, half white, but are more reflective of actual demographics.

Berea College existed before the town of Berea, which grew around it and was separated from it in 1890. Even up until a few years ago, the town's hospital and fire department were actually owned by the college, which still physically engulfs the town.

Things have changed at this liberal arts college, yet they have remained the same. Attend Berea College and you still pay no tuition, which today is valued at $14,400. This is paid for you, partly by donations, but mostly by the school's extraordinary endowment, presently valued at over a half-billion dollars. Athletes are not courted with scholarships to Berea, because everyone gets a scholarship, and there are no intercollegiate sports.
How to pay for your room and board? This is where the "labor program" helps out. You will have a job, as that is part of the curriculum. You will work 10-15 hours each week, and you will receive competitive wage and a paycheck.
As a freshman, you are assigned a job, and, believe it, you will likely be a janitor or landscaper or kitchen helper. As a sophomore, you can choose your job - that is, if you qualify. "Student's have to apply to my office, fill out an application and provide a resume'," says Ed Ford, Director of Public Relations. "It is very much like they're applying for a career job." Juniors and seniors are encouraged to work in jobs related to their majors.
Berea limits its enrollment to only 1,500 students, qualifying people on two fronts: First, your family must "have limited economic resources" (a family of four, earning less than $44,600, for example). Second, you must rank in the upper three-fifths of your class, or score at least 17 on the ACT, or 350 on the verbal SAT.
The craft departments are only a small part of the labor program, but a significant one. In the broom department, students make functional and decorative brooms, in woodworking, they make wooden games and furniture, in pottery, they make vases and dining ware, and in wrought iron, they make functional items, such as boot scrapers, as well as decorative items. All crafts departments will custom make items - in the weaving department, they actually sew chin pads for violinists.
Where are all the jobs? *

465 students work in the college's academia (secretarial, teaching assistant, tutor, lab tech.)
350 work in admissions, accounting, labor & financial aid, Registrar's and similar offices.
275 work in food service, health care, building maintenance and other basic duties.
180 work in the five craft programs.
130 work in the college's Boone Tavern Hotel and restaurant.
100 work off campus, in community service programs, such as in nursing homes, or with disadvantaged adults and children.
* From the Berea brochure, "Labor and Learning."
Many visitors to the town believe that Berea students actually earn degrees in broom making or pottery, but the labor program is distinctly separate from scholastics. "A lot of people think we're a craft school, but we're not a craft school," says Bill Roberts, manager of the weaving department. "We're a school that does crafts."
The craft program is no longer even financially vital to Berea's existence (it seldom makes a profit, the school claims) but it is vital to the students' educations. Though Roberts teaches students the craft of weaving, he basically runs a factory, hoping that the students learn more than the craft from him. "It is an educational thing," he says. "They learn to appreciate craftsmanship, they learn the value of doing the job right." This appears to fulfill John Fee's ideal, and one of the "Great Commitments" of the college: "To provide for all students... experiences for learning and serving in community, and to demonstrate that labor, mental and manual, has dignity as well as utility."
Berea offers four Bachelor of Science degrees and 22 Bachelor of Arts degrees, and has twice been named by U.S. News and World Report as the "No. 1 Regional College in the South." according to college literature. Not bad, for what started out as a one-room school house and a creative idea to help people educate themselves.