Monday, April 19, 1999, Wilmington, Delaware - One of the oldest family-owned candy factories in the United States, Govatos is remarkable in that, entering its second century, it is still owned by the same family, a family which still opens the doors in the morning, still melts and mixes the chocolates and candies in copper kettles and still greets their customers as old friends.
In 1899, a Greek immigrant named John Govatos started working in a Market Street restaurant, which had been making and selling chocolate candies for five years. He worked hard, and soon he owned the place. As years went by, he sent for his brother, Nickolas Govatos, to emigrate from Greece, and the two men made chocolate candies. They moved the restaurant and factory up to Market and 8th, near the theaters, and based their livelihood on the hopes that people would like chocolate.
Nickolas begot a son, named him Richard, and through the years, let him play in the chocolate factory after school. The factory and restaurant became a second home for the boy, and it was an exciting place to be.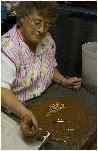 A
Chocolate Life
Ethel Subach climbs the two flights of narrow, winding stairs to the candy factory, on the 3rd floor of this 200 year old building. She is a candy dipper here, a job she has enjoyed for forty years.

She starts her day by breaking up a ten-pound chocolate bar and putting the pieces into a heated tank, as it has been done for hundreds of years. If this were the 1920's, there might be 19 other candy dippers working with her, but machines have nearly wiped out the candy dipping vocation. Only the most difficult pieces, the peanut clusters, are still dipped by hand, and at Govatos Chocolates, that hand belongs to Ethel Subach.

She puts both her hands into the tank of molten chocolate (110-120 degrees) cups them, pulls out a healthy portion and plops it on the marble table. She then massages it, letting it cool slowly, to avoid "shocking" where the butterfat will bloom, and white streaks will appear in the finished product. When it cools to about 92 degrees, she takes a handful of peanuts and begins dipping.
She pulls three or four peanuts from her pile in the chocolate, and clusters them on the table, then she scoops some chocolate in her hand and pours it over the peanuts, lets it cool, and places it on a tin sheet covered with wax paper. She will put 63 clusters on each of 24 tins today, dipping over 1,500 pieces of candy, with just a few of them missing the tin and landing in her mouth.
"I never get tired of eating it," she says. "I love candy." Her love for the product might be why she is still working here. "I love it here. I retired, but I keep coming back!" Subach's favorite? Well, there's black walnut, and nougat... "Oh, I like them all."

There were half a dozen movie theaters in the district and people would meet at Govatos before or after a show and enjoy dinner, a soda from the fountain, some hand-made ice cream, and likely at least one piece of the now famous Govatos chocolate.

In 1948, Richard Govatos began his chocolate career, and has since had two sons, who are now well into their chocolate careers. Nicky Govatos is the manager of the restaurant, and Richard Jr. is the head of production. "We were born into this business," Richard Jr. says. "I remember coming here each day as a kid, bringing my friends on weekends to help out." When your family owns a candy factory, you have plenty of friends.
Both brothers chose to stay with the business, outgrowing the novelty and experiencing the reality. "As you grow into it," says Nicky Govatos. "You appreciate what it means to your family." He manages the restaurant, which only serves breakfast and lunch these days, as many of the theaters have closed, and the area doesn't enjoy as busy a nightlife as it used to. His favorite candy is the chocolate coated black walnut, which they get from a grower in Missouri - "I think it's the strongest tasting nut available," he says.
With a good economy, and a return to traditional tastes, chocolate sales have improved in the last decade. "In the last 5-8 years, truffles have become very popular," says Nicky Govatos. However, sales today are still short of what they were in the 1920's, when Govatos would prepare thousands of boxes for the Christmas season, because chocolate candies were the gift of choice.
The Govatos family enjoys winter and spring because that's when business picks up. The strongest chocolate gift-giving holidays are Easter, Christmas and Valentine's Day. "If we have a warm spell for Easter, our sales will suffer," Nicky Govatos says. "It's a known fact that people buy chocolate in cold weather."
Richard, Jr. also enjoys colder weather, as it is nicer for candy making. "A day like today (warm and humid) is good for nothing - humidity and candy just don't mix well," he says.
Richard Govatos, Jr. loves to make candies, and he has made just about everything with chocolate. From coated pretzels, to 3-foot tall Easter bunnies (it weighs 27 pounds) he creates up to 95 products for the restaurant's candy cases and for their store on Concord Pike.
There are three ways which you can make a chocolate candy; mold, dip or funnel. Molded chocolates are not usually mixed with anything, and the larger items are usually hollow.
Govatos makes very large, chocolate Easter eggs which hold wrapped candies.
Dipped, or filled, chocolate candies are the ones you find when you open a box of chocolates. There are four groups of fillings: cream, chew, crisp and fruit or nut. Examples of chews are caramel and Irish potatoes (a mixture with coconut and cinnamon.) A crisp could be a pretzel. The most favorite fruit is cherry, and there are all sorts of nuts, such as; coconut, cashew, peanut, walnut, roasted almond and Brazil.
Funneled chocolates are "kisses" and nonpareils, which are dollops of chocolate dropped on a sheet of sugary sprinkles ("Jimmies"). At left, Richard, Jr. makes up a batch of nonpareils.
There are three common varieties of the product we call chocolate; dark, milk and white. Dark is the richest, strongest flavored chocolate, and milk is milder. White is not really chocolate at all, but a product with the same consistency, using vanilla as its flavoring.
Standing at the front door of the restaurant, over 100 years of tradition behind him, and a promising future in front of him and his family, Nicky Govatos, namesake of the Greek immigrant who helped build this tradition, smiles and greets customers as they enter the historic building. "Some of our customers have been like friends for so long," he tells me, "when they come in, our girls know exactly what they want." Knowing what the customer wants is key to good business, and the Govatoses know what their customers want, and they know what their customers love, because everybody loves chocolate.