The Love of Music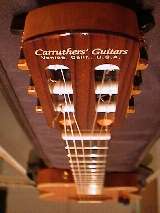 Friday, December 3, 1998, Venice, California - John Carruthers is having a heck of a day. He is trying to do about six different things at once, while talking with a nosey reporter, when in walks a customer who needs something done, done perfectly and done right now.
Rather than be rattled by impromptu visits and demands on his time, this late-forties Canadian-American thrives on the challenges they present. His soft, pleasant voice and gentle delivery contrast with his swift pace as he scurries from room to room in his shop repairing guitars. Though this is not the life he originally set his dreams upon, he seems more than pleased to be living it.
The customer, a woman who teaches classical music, shows Carruthers a Ramirez guitar, which, if one has to put a value on such a priceless work of art, one would put that value at over $5,000, because, simply, that is what you would have to part with if you wanted someone to part with one of these.
This instrument is worth this much because it will play beautiful music, and it will do this because it is delicate and lovely, and it is practically carved from a person's own soul. And she has put this near-child of hers into his hands because she knows his hands will do it no harm, because they have the magic, they have the power to heal. Carruthers drops what he is doing and holds her baby in his arms. He plays a few sour notes and agrees with her; the child needs a new nut.

When Eric Clapton wore out the neck of his favorite guitar, a Strato Caster he called "Blackie" he sent it to Carruthers, who had developed a machine which will duplicate this important part of an instrument. Carruther's made Blackie a new neck.

John Carruthers moved to Los Angeles in the mid-sixties from Alberta, Canada. He was an eighteen year old guitar player, and he came here with dreams of spending his life between six strings and bright lights. But he quickly learned that the city of angels was lousy with guitar players and was, in fact, lousy with very good guitar players. "I realized I was a small fish in a big pond," he says. While working in a music shop, he developed a love for repairing the instruments he loved to play.
An unusual combination of talents has helped Carruthers become a creator of music and of musical instruments. He has mastered the creative art of playing a guitar and also the technical skills needed to create the instrument, making great strides in the industry. "I was one of the guys who pioneered the use of precision milling equipment for wood," he says.
A guitar's nut is the white piece between the headstock and the neck, which suspends the strings above the frets. When a guitar is played hard and often and for many years, the strings wear grooves into the nut and they end up laying flat on the frets. Carruthers will have to replace the nut, a procedure which could injure the instrument if not done correctly. But, he will do it correctly, as he has done hundreds of times.
Carruthers knocks out the old nut and uses an air-powered drill to clean the glue from the neck. Apparently, the nut had been replaced before, and they used too much adhesive. "Glue will affect the quality of the sound, so you should always use as little as possible," he tells the owner.
He selects a block of cow's bone for a new nut. Using a micrometer, he measures the gap he just created in the guitar's neck and checks the width of the bone. He will have to remove part of the bone to make it narrow enough for the gap, so he clamps it into his vertical milling machine, a large, very precise, high-speed drill press. With this tool, he carves the bone to within thousandths of an inch tolerance. The smell of bone being cut reminds me of a bad day with a dentist.
Each year, Carruthers and his apprentices will repair three to four thousand guitars and will make several hundred (a far cry from the factory in Korea which makes "50,000 guitars per month" says Carruthers.) It takes six to eight weeks to make a guitar, and you can have your choice of woods, designs, colors - even the number of strings. They are currently making a seven-string guitar with 37 frets, and they produce a beautiful, hybrid acoustic/electric model.
"It's always a challenge because we are very advanced here," he says. "Everyone has to be the best." He is proud of his employees; Mace Bailey, Mike Peters and Mike Prusic, who have all been with him for years. Carruthers enjoys working with people who are as eager to learn as he is. He teaches a course on the subject at Hollywood Institute and he has written a technical manual on wooden instrument care and repair, published by Alfred Publishing.
Carruthers will use up to five different woods in a guitar, selecting each type for three important qualities: Most important is how the wood will affect the sound of the instrument; second is how the wood looks; and the third consideration is how easily the wood can be worked with. "You wouldn't use oak," he suggests. "It has a wide-open grain, it's too rigid and it's very hard to tool."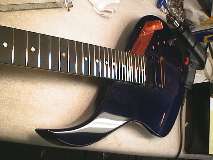 One of the several hundred guitars made each year at Carruthers' Guitars, in a nondescript building a few blocks from Main Street, in Venice, California.

Popular woods are Hardrock Maple and Alderwood, both native to North America. Ebony is a nice wood to space frets with, because of its color, but the most coveted wood in this industry is Brazilian Rosewood, according to Carruthers - "It will increase a guitar's price by three to four thousand dollars." This endangered wood is still harvested legally, but very carefully.
After putting so much effort into creating a guitar, surely Carruthers gets upset when he sees musicians breaking equipment on stage. "I've never seen anyone smash one of mine," he says. "I think when people have bought one of my guitars, they have worked long and hard and they are not in the mood to smash it. The closest we've come to that is when a woman thinks a guy loves his guitar more than her and she smashes it."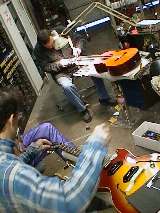 "It doesn't matter where you are in the world," Carruthers says, "you will hear one of my instruments, or one that I've worked on." In fact, if you have heard the music of Eric Clapton, Pearl Jam, John B. Williams, Peter Frampton, Duran Duran, Gloria Estefen, Elton John, K.D. Lang, Sarah Mclaughlin or the Indigo Girls, you've heard his music.
The new nut fits perfectly and Carruthers snaps it into the neck of the Ramirez. He and the customer talk about the classical guitarist Christopher Parkening, whose career blossomed years ago. She attended one of his performances in the eighties and one recently and she compared the two; "He had a lot more feeling and emotion this time," she says. After giving the Ramirez a quick tune-up, Carruthers hands it back to the owner and says; "Take it for a spin."
"The part I enjoy is not in the office or the paperwork, I prefer the hands-on work," he says, noting that his wife manages the company's books. "You have something tangible, something you can hold in your hands. You have made something which will last for generations and will be a source of pleasure and pride for people."
Carruthers enjoys repairing guitars now, more than manufacturing them. This he attributes to the irritation sawdust gives his scratched cornea, but more so to the challenges offered by the varied instruments and the honor of being a part of the musical legacy and helping it survive.
Discussing the classical guitarist, Carruthers speculates that Parkening had been "just going through the motions" in the eighties, but now is playing for his own enjoyment. This is an emotion Carruthers knows firsthand. After three decades of repairing and building delicate musical instruments, he still loves his work. "There's no end in sight as long as I can see what I'm doing," he says. John Carruthers still has the passion and interest that are vital to living your dream.