---
P L A N E T - H O U S T O N
---
Cerebrating art
(If you thought Houston was
only oil wells and football, think again.)

The Art Car Museum was founded to provide a year-round focus for the famous Houston Art Car Parade, for which people glue anything but their kid brother to the hood of their car, and will transform them into nearly living, breathing beasts of beauty (the car, not the boy.) Melissa Noble, my "artour" guide, rides an art-cycle on the right, and the tree that is on the car that is on the left is artificial and goes with the car. It is art that makes you think, even if your only thought is "why the hell did he do this?"


Nothing rhymes with orange, but Jeff McKissack so loved the citrus fruit, that the postal worker spent a dozen years creating a small theme park to promote it. Like most folk art, The Orange Show, at 2401 Munger, is McKissack's own doing, unaffected by demands of critics and buyers.

He slowly built the site out of anything he could find, using many old tractor seats, carriage wheels, tile and cinder blocks, and he opened it to the public in 1979. He had high hopes of millions of people paying a dollar each to see his work, but faced the low reality that few people were that interested in the fruit and his art. You could say that building the monument to the orange kept him alive, or you could say that his disappointment in its reception killed him, but he died within the year. A benefactor endowed a foundation to rescue the large work of folk art, ensuring that its neighbors won't be rid of it as soon as many might have liked. The Orange Show Foundation also organizes the annual Art Car Parade, which had 242 entries last year.


Sure, we have all, at some time in our lives, fantasizeed about covering our homes with beer cans, but John Milkovisch actually did it. He spent twenty years emptying and flattening thousands of beer cans, and turning his home into a shrine of the aluminum canister. He finished in 1988 and his wife, Mary, still lives here. Some cans are cut and flattened, some are whole, and most are faded from the sun.



Even if your house is already full of junk, swing by the J.L. Proler Junkyard, on Clinton. The Proler family evidently loves its employees as much as its business. Around the site are hand-painted signs inspiring men to take care of their families, and the grounds are playfully decorated with bright colors.


You have your big budget, "Titanic" movies, and you have your low-budget, art films, and then you have "no-budget" films which find no major distributor, so underground theaters, like the converted church on Aurora show them. The Aurora Picture Show plays mostly video flicks made by students and semi professionals, and you never really know what you're in for. Just park out front by the kaleidoscope, grab a pew and enjoy the show.



Houston is in the great state of Texas, but its musical heritage has strong ties to the delta. Crawl past the skyscrapers and into the wards, and you have yourself a house full of fun.

Step into places like El Nedo, a former motel, former triplex in the second ward and step into the heart of the blues. Miss Maxine runs the place, her grandson serves up some of the best fried catfish in town and pick-up bands carry the beat into the night.
You can buy setups here, pin a dollar bill to your friend's shirt for his or her birthday, but you can't use the dance floor - many of these "juke joints" won't pay the city for a dance floor license, so just do your thing between the tables. Enjoy some of the best "home cooking" around, but don't look for headliners or gold records here, just talented musicians. A variety of forces keep these artists from making the "big time" and so their time is right now, right here, among friends.

Surfing the Night
(Art and music aren't the only only treasures you'll find in Houston.)

The very toys you once rolled down the stairs and left outside in frozen snowbanks are now collectors' treasures. Bernard Sampson has been buying, trading and admiring slot cars for seven years, and now has "between three and four thousand" in his warehouse home. Sitting quietly on spacious shelves in the former bottling plant are pre-WWII, German, French and American cars, made of metal, wood and fiberglass. His favorite car as a kid was the British-made Scalextric, and his favorite one today? "Nobody knows for sure," he says.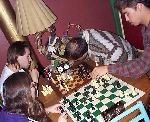 Thousands of new shoes, decades old, line the third floor of Notsuoh ("Houston," backward) a trendy cafe and underground live theater. Down in the street-level cafe of the 106 year-old former department store, you will find a fascinating collection of furniture, artwork and memorabelia. Enjoy the company of patrons of all ages, sipping teas and beers, relaxing or playing good, old-fashioned, board games. I found Rosemary, Brian Farley, Paul Smolen and Steve Smith playing "Siamese Chess" where your partner uses pieces that you capture and you use his - it's just one of the unusual pasttimes in this unusual place.


Houston on Ice - They don't care that our Creator did not want ice rinks in south Texas, and they don't care that little kids can skate rings around, and embarrass the heck out of, adults like us. They just move in a truck filled with freon and giant hoses, they cover the ground like the back of a refrigerator and they add water, rent skates and defy Mother Nature.
It is like an island, floating between the Texas hill country and its plains, and it has its share of problems, with traffic, smog and crime, but Houston, Texas is a beautiful city, of beautiful people, unlike any place else on this rock.