Thursday, September 16, 1999, Cheyenne, Wyoming - Before the U.S. industrial machine provided us with more food, clothing and blankets than we could each consume in a lifetime, and before our economy improved to help us pay for them, our ancestors grew their groceries in their backyards and made the clothes on their backs from whatever they could gather at their feet. Vinnie Wright, born in 1910, grew up making her own clothing and bedding, and when she had made enough for herself, she made them for other people, and her favorite was quilts - it has always been quilts - and she made hundreds of these for hundreds of people, and she didn't take a penny for most of them, because quilts are warmth, and beauty, and giving them to those in need is a very decent way to lead a life.
Growing up in Lyman, Wyoming in the first quarter of this century, Vinnie Wright had little choice but to sew. "Quilting at that time was a case of 'have to,'" she says. "You either made quilts or you didn't have bedding." A quilt was indeed a "poor man's" blanket, because if you could not afford a blanket, you sewed little scraps of material together to make one.


These needle-studded paddles, called "cards" were used to straighten and mesh wool fibers into flat pieces for quilt batting.
A quilt is made of three components, which, up until the middle of this century, were much more difficult to produce than they are now. For the bottom piece, Wright used old flour sacks, bleaching and dyeing them to hide the printing. To make the tops, she scavenged scraps of material from old clothing or sewing projects, or bought scraps from a store, and sewed them together on a treadle machine. For the inside batting, she harvested wool from her family's sheep, and "carded" it to make flat pieces. Since these pieces were very small, they would easily settle and create lumps unless they were sewn in, so the entire quilt had to be sewn through, by hand.
Today, at age 89, Wright has made so many quilts, she has been called the "Quilt Lady of Cheyenne" and she still makes at least one quilt each month, though her techniques and materials have changed. Like most quilters today, she uses a single piece of material for the bottom, and a sheet of polyester for the batting. Although she often uses scraps for the top, she sews them together with an electric sewing machine. She uses store-bought templates to guide her as she embroiders, cuts patches and makes designs.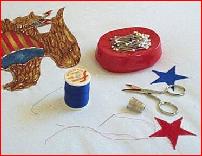 A quilt top can also be made from a single, "whole" cloth, and decorated using cross-stitch, paint or applique. In the photo at left, the eagle is painted on, while the stars are sewn. A quilt is often made in blocks, which are sewn together, and bordered with lattice. It may be edged with either a bias binding, lace, ruffles, or prairie points. To view samples, visit Vinnie's Quilting Bee.
For fifteen years, Wright was chairman of a quilting bee for her ward of the Church of Jesus Christ of Latter Day Saints. In 1978, one of the group's double wedding band quilts was used by Unicover on one of their brochures.
Wright has volunteered thousands of hours at the bee, sewing and supervising women to make hundreds of quilts. These quilts were either donated to needy people around Cheyenne and around the world, or were sold to raise money for the church. She also sewed other items, including 1,000 drawstring purses for a church fundraiser. Though her five children don't sew as avidly as Wright has, they volunteer in their church, and the selfless thread of volunteerism still runs strong through her 22 grandchildren, her 28 great grandchildren and even in her great, great grandchild.
Wright has made baby clothes for much of her large family, and she often sews costumes for the children. She makes wedding quilts for family members as they put another fork in the family's tree. One of the most rewarding volunteer positions was teaching blind people quilting. "It was a great learning experience," she says. For them and for me, too."
Wright also enjoys making the family quilt each year, which she has done for the large, extended family's reunion for the last 24 years. Each family will produce a block with information about them, using a chosen theme, such as "patriotic" and will mail it to Wright, who assembles them into a quilt. At the reunion, the family members who provided blocks draw for the prized quilt.
Quilts are now a rich man's bedding, and Wright has made and sold a few expensive ones. A man once paid her $1,500 to display his large collection of neckties in a quilt. The project took her about 400 hours, so she was paid less then minimum wage. "Most of the time, you're lucky if you make fifty cents an hour," she says.
You would think that, after more than eighty years of working the needle, Vinnie Wright would be a little tired of it, and you would be right, but only because of her waning abilities, not her interest. "I'm getting slower," she says. "And I don't enjoy it as much as I did - I can't control the needle as much as before." But she continues, sewing clothes and quilts for family, friends and strangers, because it keeps her busy and it keeps her warm, the kind of warmth that comes with giving.