Friday, May 28, 1999, Marengo, Iowa - Carve a bust of Ken "Doc" Fettkether and you would start with a large chunk of oak; the tough, strong, grainy wood of which axe handles are made. That would describe Fettkether, a 69 year-old Iowa furniture maker. He also has an amicable side, though, just as oak has its own beauty, and getting along with him is quite easy, as long as you agree with him.
Born in 1930, in Maceline, Iowa, Fettkether graduated high school in 1946, and made butter for a few years. He tried to join the Navy, but a heart problem kept him out. The Marines didn't mind, and they drafted him in 1953. He spent two years as a hydraulic mechanic, then returned home and took up farming. "I didn't like farming much," he says. "And I noticed that the only people making money were the veterinarians. So I spent 5 years in vet school." In 1961, Fettkether began his first, real career, as a large animal veterinarian. This is sort of where the story begins.
By the late 1970's, farmers in his part of Iowa raised fewer cattle and hogs, and more corn and soybeans, drying up his market, Fettkether says. So he sought a new career, and in 1981, he started "making anything out of wood" as many of his German ancestors did. He designed and built custom furniture, until about 1991, when he happened upon a chair design with which he fell in love. It was for a 200 year-old gliding chair used by colonists on their cabin floors, which were made of dirt, or rough planks, according to Fettkether.

He now makes "the rockinest rocker in the world" as one of his customers called it, out of woods milled within sight of his shop and house. The chair behaves just like a rocker, but the base sits fixed on the floor. A series of swing arms and bearings make the chair rock on its base. With an old design, it is appropriate that he uses old tools, and his shop, just west of the Amana colonies, in eastern Iowa, is practically a power tool museum. Nearly buried behind piles of beautiful walnut lumber are a 1934 stroke sander table, a 1920 mortise machine and - his favorite - a 1914 bandsaw. They all work better than what he could get new, he says.
Crowded into a long, wooden building overlooking thousands of acres of farmland, Fettkether's "Macht Nicht" woodworking shop is about as much of an organized mess as one could possibly endure.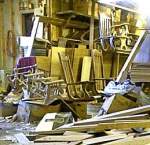 "The floor has never seen a broom," he says. "Not so long as I've been here." And that would be, oh, two decades. Rubbish is kept to a minimum, but that is his only redemption. Wood is scattered everywhere, tools are placed wherever seemed to be convenient at the moment, bench tools double as tables for clutter, floors are merely narrow pathways between large piles of wood - old wood, new wood, large wood, small wood. More clutter clings to the walls, as if it crawled up there, trying to escape. Customers have stormed out of this dust factory, frightened insurance inspectors have stumbled away, their trembling hands tearing up policies, Fettkether slamming the door behind each of them, cursing their uptight souls.
A quarter-inch of sawdust coats the floor and anything which hasn't been moved recently, and Fettkether claims the cushion makes the 100 or so hours he spends in here each week easier on his knees. No word yet on what the dust does to his lungs. "Doc," as he has been called since his vet days, is used to harsh environs, after years of treating animals in barns and pastures, a tour in the Marines, and a childhood with a hard-knocks father. "My dad was a smart-ass," he says. "You can see where I get it from." His father was an intelligent man, who held several patents, but who never knew great success with them, and Fettkether was bred to follow in his footsteps.
"My job when I was sixteen," he says, "was to drive my father around from tavern to tavern."
Doc went on to his own successes, with a good career, and a 45 year-and-counting marriage to Lois, which produced and raised four girls and two boys. He is enjoying his life, making custom furniture and a few dozen rockers each year, riding his recumbent bicycle (clear across this country, a few years ago) and just being himself.
Part of his career right now is just being himself and knowing himself. He knows that he is a better woodworker than a manager of people, so he keeps the business small. He is no longer the breadwinner of his family - Lois is the county's deputy treasurer - and he knows he enjoys woodworking, so much, that he signs and dates each piece he makes. "When I was a veterinarian," he says.
"I would always have a hobby, which sort of made money. But I would change that hobby every three or four years, looking for something different. I've been making rockers longer than any of those other vocations and I still enjoy it." Macht Nicht is German for "makes no difference" Doc says. He named his company that after pestering his wife for her opinion, and that seemed to be her favorite answer, and he's just the sort of joker to take her up on it.
It looks like oak built this man, but when he creates custom furniture and his famous glider chairs, he favors walnut and cherry. "They're finer hard woods," he says. "Not only are they more practical to work with on fine furniture, but they have a more refined look." He likes to use cherry for bedroom furniture; "I think it's more subdued," he says. Walnut is his favorite wood, and he has a climate controlled storage shed filled with it. "Oak is the poor man's wood," Ken Fettkether says. "It gives me a feeling of brute strength. If your son is going to come home and take apart a carburetor on the dining room table, you want that table made of oak."