Thursday, March 18, Savannah, Georgia - You could say it all started with a murder. No one can really pin it down, but the coincidence is too strong to ignore. This whole craziness down here in the deep south is somehow due to the untimely death of a man by the hand of his lover.
Stroll through downtown Savannah, Georgia and you will see shady live oaks, peaceful Spanish moss, and lovely old buildings from a romantic part of our nation's history. Everywhere you go, there is shadow and light, giving all objects and people another dimension, as though everything has a secret, and a secret side, something it wants to hide, and a story it wants to tell you.

Ralph Anderson has lived here for 25 of his 42 years, so he can hardly be considered a Savannah native, where you don't join that group until your name is on at least a few generations of headstones in Laurel Grove. His job is to uncover secrets and stories, preserve some of them, erase some and maybe create new ones. Anderson owns one of the oldest home restoration companies in this city, a city with the largest historic preservation district in the United States, containing architecture from the federal, victorian and Georgian eras.
Anderson began his career at age thirteen, in Des Moines, Iowa, cleaning construction sites after school. Years later, he worked as a trim carpenter, and he moved to Georgia in the mid seventies, working on new houses. He grew bored with new construction, and he apprenticed with a home restorer for a few years before starting his own company in the early eighties. This began an adventure of discovery, as he uncovers and preserves history for the future.
Savannah has a unique history, as it was one of the first planned cities in the U.S., and the plan included several parks, called "squares" each the size of a small city block. There are sixteen such squares here, and any native worth their grits can name each of them for you. "The city saved the east and west sides of each square for important buildings, like churches, schools and offices," says Anderson. "That is where you will find the more interesting structures."
There is not only a lot of history to remember in this city, but plenty of beautiful, timely architecture to remind you of that history, and the citizens of Savannah have worked hard to preserve it. The Historic Savannah Foundation, organized in the mid 1950's, has helped make the area a veritable outdoor museum of life in the 19th century. "Everything you do on the exterior side of your house, that's going to be seen by the public, has to be approved by a seven-member review board," says Anderson.
An example of the strict rules is that windows must be "wood or wood clad with true divided lights" according to Dirk Hardison, of the Historical Savannah Foundation. "A lot of people here butchered their houses in the past," says Anderson. "But people have gotten more educated about the value of their own history. That makes my job a lot more interesting than building new homes - the historical aspect is really interesting, and at times I feel like an archaeologist."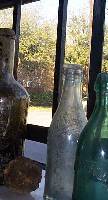 Anderson has found artifacts including old bottles, tools and even a cannonball from the Civil War, and he can tell the age of a house by its materials. For example; hand, or "pit" sawn lumber, and nails made by a blacksmith are a good sign the house was built before or during our Civil War era, he tells me. "You know how they say 'life is the pits?' That came from pit-sawn lumber. One man would climb into a small pit and hold the bottom of a log, which is standing straight up, while another man would saw it into lumber. It wasn't much fun being the man in the pit."
Working with centuries-old materials, and discovering artifacts is only a part of the enjoyment Anderson gets from his job. "You're always doing something new, or discovering something new," he says. This makes even building an occasional new home an adventure. In the bed of his truck are test blocks of "tabby" an early southern building material that is a mix of limestone mortar and oyster shells. He is building a home on the west side of Chatham Square and the owner wants this product, as well as "Savannah gray brick" to make the new house look centuries old.
One of Anderson's ongoing challenges has been treating rotted wood. Years ago, he would clean out the rotted part of wood trim, baseboard or molding, and replace it with automotive body filler. This worked very well, but in five years or so, it would fall off, because rot is caused by a fungus, Anderson discovered. "We would fill in the wood with a very solid material, but the fungus would soon eat away at the wood below it, and then nothing will hold it together. Now there are specialty products which kill the fungus."
Part of his job now is finding qualified craftsmen. "You can't train someone in this trade easily - there's no school for this type of work," he says. "It actually would help if someone has an archaeological background - that teaches them patience. The goal is to keep as many historical features as possible - you can replace anything these days, but it will not be the real thing."
Anderson and his crews work to keep the history in Savannah, installing new wiring behind baseboards, or using eight foot long drill bits, rather than gutting interior plaster work. "Anything to preserve the historic properties of the house," he says. "In the 1880's, when they installed gas lines into these homes, they cut out boards for the pipes," he says. "We can remove those same boards and insert electrical wiring."
One of his larger projects was the restoration of the building holding the Ships of the Sea Museum, a three-story domestic Greek revival structure built in the early 1800's. He installed or restored many interior features, such as windows and doors, and the wooden pilot house of a British ship. He restored the rear portico and built a large skylight, replacing the entire roof in the process.
Preferring not to take his work home with him, Anderson lives in a 50's ranch house (a 1950's ranch house). "I bought the worst house with the best land I could find," he says. "It is on some awesome property on the Bull River - 13 minutes from downtown." He loves to hunt duck and turkey, he fishes, and among the wildlife trophies and artwork on his office walls is the head of a 291 pound wild boar. "It took three shots to kill him," he says. "My third shot was all I had, and I took off running!"
Running fast, just like the Savannah economy this past decade, with incredible growth. "There has been a really big push in the last five to ten years," Anderson says of the recent interest in downtown architecture. "People actually started selling their homes on Skidaway Island and moving back here into Savannah." He gives credit to the Savannah College of Art and Design, which bought and restored many homes for facilities and students, and he credits the national interest in historical architecture, as well as a good economy and concessions by the city, such as an eight-year tax abatement on improvements.
But one of the strongest influences, Anderson believes - as do other Savannians I spoke with - was the book and movie "Midnight in the Garden of Good and Evil" a dark drama about a 1981 murder committed by a Savannah socialite who killed his male lover, and the uncovering of that secret. "Since that book came out," Anderson says. "Tourism has skyrocketed and house values have just doubled - my business doubled in a year or so." Holding secrets can be fun, but sometimes discovering and revealing them can make for an exciting adventure.