Tuesday, January 5, 1999, Avery Island, Louisiana - Harsh traffic reports don't bother Ramona Romero, as her job is just around the corner from her home, in one of the few company towns still in existence in America, and possibly the most peaceful and beautiful. Romero lives on Avery Island, a haven of quiet, natural beauty, only two miles long and two miles wide.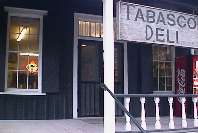 Avery Island is a busy place, but a very quiet, busy place, with the Tabasco factory, a salt mine, a petroleum pumping facility, a K-6 grade school, a company store and a popular public flower garden. The entire island, with buildings nestled among live oak trees, a gravel perimeter road, and only 200 human residents, is like a wildlife sanctuary - and part of it is.
---
It Takes...
Time to Make
Tabasco!
---
It all starts here, on Avery Island, Louisiana, where seeds are grown in this greenhouse for the famous Tabasco (Capsicum frutescen) pepper plant. In April, these seeds are shipped to farms in Honduras, Venezuela, Mexico and Columbia, where 98% of the peppers are grown. Only 2% are grown here on the island.

Starting in August, the peppers are harvested. They are mashed with Avery Island salt and put in oak barrels, which are covered with a thick layer of salt for preservation and steeping during fermentation, which continues though warmer weather.
The mash is shipped to Avery Island, where it is aged for three years, "like fine wine and whiskey," says Dave Landry.

The peppers have an almost sweet aroma, ready to mix.
The mash is mixed with vinegar...

The seeds are removed, and the mixture is put in large vats, where it is stirred for four weeks.
The hot sauce, made the same way it has been made for 130 years, is strained and put into bottles with labels virtually the same for 131 years. They are boxed and delivered to your grocer, where you can get the same piquant flavoring your ancestors did, 131 years ago.

Romero has enjoyed this community and her job for seventeen years. That's a long stretch for such a routine job, and I'm not sure I would enjoy standing for eight hours a day, watching some ten thousand bottles whiz by me each hour, checking that each label is straight and unblemished. But it is a job that is a big part of her life on this island, a life she enjoys, and a job she does well. "I love it!" Romero says. "It's peaceful here - never a problem."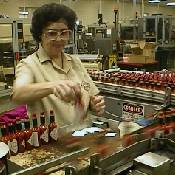 Even after working around hot sauce all day, she still enjoys using it at home; "I like Tabasco on my gumbo!" Romero says, referring to the Cajun soup containing okra, a pod plant abundant around here. She has to shout over the noise of the bottling machines and the conveyor belts as they rush hundreds of bottles of hot sauce past us. Romero inspects them, and they are pushed to another line, where they are packaged in small boxes. An overhead conveyor carries the bottles into another room, where they are cased and prepared for shipment.

For over a century, McIlhenny made only one product; Tabasco sauce. They have recently diversified, making milder, green and garlic pepper sauces, a hotter, habanero pepper sauce, steak, barbecue and soy sauces, and other products which are available only in Louisiana and through their catalog.
"My husband likes the habanero sauce," says Romero. "He'll put it on anything!" This is not unusual, as the taste can be very compelling. Some soldiers in Desert Storm carried the precious sauce with them everywhere. They could be seen with bottles of Tabasco on camouflage belt holsters given to them by McIlhenny. Lord knows what the Iragis thought of that.
The Tabasco pepper originated in Mexico, at least that's what the man told Edmund McIlhenny, when he gave him a handful of them just after the Civil War. No one knows just who that person was, or if he had even been to Mexico, but we know that his act has since had a great impact on taste buds around the world.
McIlhenny, an out of work banker, was married to Mary Eliza Avery, whose family owned a sugar plantation on Avery Island. He planted the peppers and in a few years, grew enough to mix them into a sauce with vinegar and salt. He stirred up a batch for friends, and it was very popular, and so was the second batch and the third... and the rest is history...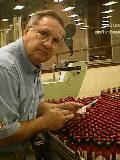 "It sure wakes up that egg!"

Dave Landry, on the line at McIlhenny Co., holds his favorite pepper sauce.

"This is a very family oriented company." says Dave Landry, Visitor Relations Specialist for Tabasco, and my host today. "I've had cousins, aunts and uncles who worked here - my mother worked for the company," Landry has worked in every facet of production here, in a career that has lasted over forty years, since 1957.

Landry takes me on a tour of the island, past the "saline swamp" the pepper fields, the Exxon facility, the school and the salt mine. In case you're worried that we may not have enough salt to last the next millennium, Avery Island is actually the top of a salt deposit that is eight miles deep and six miles around, according to a McIlhenny press release. It is the oldest salt mine in the country, used before the Civil War. "They pull several tons of salt out of there each hour," says Landry. "They'll never run out."

Until recently, Tabasco was one of very few pepper sauces on the market, and certainly the most popular, but today, consumers can choose from over 1,000 hot sauces. McIlhenny Company seems to be riding the high tide of this popularity, rather than fretting about the competition.
For a 131 year old company that is still family-run, McIlhenny is still quite hip and market savvy. Understanding the concept of brand loyalty, they offer the requisite line of Tabasco logo clothing and accessories. They produce several condiments with Tabasco, and even co-brand with companies like; Tyson, Heinz, and Nabisco. In sports sponsorship, they tried an affiliation with NASCAR. Tabasco has one of the coolest (hottest?) sites on the web (www.Tabasco.com They give free factory tours (you have to pay fifty cents to get on Avery Island) and have a few stores around the country where you can buy the many Tabasco products. You can actually buy a gallon jug of the sauce, for $32.95 (straw not included) and even authentic Tabasco seeds, in a growing kit, for $10.95, enough for ten plants.
She lives in a beautiful haven of nature and tranquility, with enough hot sauce around her to wake up the world. So, what's Romero's favorite time of year to enjoy Tabasco Sauce? "It's better in the winter," she says "It keeps you warm!"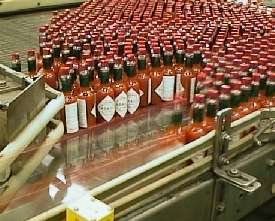 All photographs by Mark Gilchrist, except top photo, courtesy McIlhenny Co.
Check out the True America Features Archives

Return to our MAIN page

---