Thursday, April 8, 1999, Jacksonville, North Carolina - Tattoos are one thing that separates Man from the rest of the animal kingdom. No other species on earth does this to themselves. Some would say it is because of our superior brains, and some would say it is because of our inferior brains. Whatever.
---
Under my Skin
---
I have felt the sting of the tattoo artist's needle, I have stained my body with unnatural ink, I have decorated the very temple God gave me, and I have done all of this for you, my dedicated readers.

Before researching this report, I wanted a tattoo about as much as I wanted to jump out of a perfectly good airplane, but somehow, the trend got to me. Maybe it was the smell of ink. Maybe it was the sight of two young girls, holding hands at another parlor, one crouched over a tattoo chair, both of them nearly crying. Maybe it was the feeling that getting a tattoo would make me young and hip again.

It isn't until the interview is over that I actually consider getting a tattoo. It's a slow day at Odyssey - it's Thursday, and that's field day on Lejune, and the Marines are kept busy all day, kept out of trouble. I need to watch and photograph Reust in action, and I wait for a walk-in, but none show. So I ask Reust if he would give me a tattoo, and he shows me the chair, right there between the John Wayne soldier sketch and the Saturday Evening Post cover of a parlor. Before I can get the "oh, shits" he pulls my sleeve up, preps my arm and works up a little tattoo. It's the most beautiful tattoo I've ever had, the only one, actually.

You know I wouldn't let anyone crack my skin unless I knew they were safe, and Eric Reust plays it safe.

So you want a tattoo, not an infection?
The art has come a long way in the last decade or so. Here is what Eric Reust does when giving somebody a tattoo:


Don new, latex gloves.


Scrub the area with antibacterial soap.


Shave the area with a new razor.


Convey the design from a stencil to the skin.


Open a bag of new, sterilized needles and load a needle.


Apply A&D Ointment to lubricate the skin.


Draw an outline of the design with a flat set of 3 needles.


Shade the areas.


Fill in the colors with a flat set of 7 needles.


Clean the area, and cover with a bandage.

To see Mark's new tattoo, click on Deana's belly.
Tattoos are hot now, and everybody is getting them. "Even grandmas got to come in and get some ink," says Eric Reust, owner of Odyssey Tattoos, on South Marine Boulevard, near Camp Lejune. "I tattooed a grandmother's breast the other day." But Reust has been in this business for decades, when tattoos were for servicemen to show where and who they had been, rather than just a way to join the latest trend. Reust has painted skin since the mid 1970's, at his parlor on Court Street, right next to his bar, which many a Marine remembers as "Jazzland."

One of his early customers was a young Marine who came in with his brother. Reust doesn't mention his name, just that he had wanted his brother to get the same tattoo as he was getting, but the brother declined. That was decades ago, and he still remembers that young man, and those two brothers.
Back when he owned Jazzland, Reust's life was a wild ride. His nights were filled with rowdy Marines, drunken, brazen and high on bravado, and he would paint skin on whatever came in. "There'd be forty fights out there on a good night," he says. Guys would roll in after a few beers, their buddies egging them on. They would sit in the chair and make a decision that would last them their lifetimes, and some would wake up the next morning and realize that they had indeed made that decision.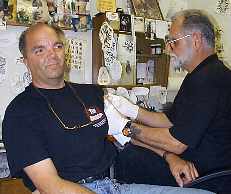 What's this? Mark Gilchrist getting a tattoo? Check it out in the sidebar "Under my Skin."
Reust was a 14 year-old boy in Cleveland, Ohio, when he got his first tattoo; a dragon on his left forearm that, decades later, looks like a very old dragon. It is the only tattoo that shows outside of his normal clothing, and he uses it as an example to persuade young Marines out of tattoos there. The Corps actually asked his help in keeping tattoos "above the Charlie line" so they won't show when wearing an elbow-length, short sleeve shirt. "We don't want them visiting other countries looking like mobsters," he says.
When he isn't working the needle, or cruising Jackonville on his 1985 Wide Glide, Reust works as a commercial diver. It's a job which takes him around the U.S. and the Caribbean, and a job which helped erode three marriages. He is cutting back on diving and traveling now, giving more time to his four children and to his new wife.

Tattoos are in vogue with civilians today, and Reust has painted them all. "Right now, tribal tattoos are very popular," he says. But traditions are still strong with the Corps. "I'll do the bulldog and golden anchor every day, it seems, and the Marines come in and they got to get their meat tag," he says, raising his left arm and slapping the side of that rib cage. "I put their name and social right there."
Some things you just can't get Reust to do. He won't tattoo you if you're under 18, or if you're drunk. He won't tattoo your hands or your face, or a guy's private parts. He won't even give you certain tattoos unless you've earned them. "I've had some Marines come in and say; 'give me a skull and daggers,'" Reust says. "They think I don't know what that is. I say; 'are you a Close Combat Instructor? You don't look it.' There are some tattoos, you just couldn't pay me enough to put on you; Recon, snipers - those are special tattoos for special men."
It has been decades since Reust served in the Corps, but he will always be a Marine, and he has enough friends wearing red and gold to defend a small country. An Instructor's hat, a presentation paddle and a Gunny Seargent's crest are among gifts which line his studio walls. "My love for this country and respect for this business is unquestionable!" he says.
The tattoo industry has changed dramatically in the past two decades. "The professionalism has taken over," Reust says. He is pleased with this, because tattoos are his profession, and he has worked it a long time, and he keeps his standards up. "I must turn away five people a week because they're drunk," he says. "If I'd used those standards in the seventies, I'd have turned away at least sixty percent." Reust has four artists working for him and he asks for one thing from them; discipline.
"You have to learn to discipline yourself and be the best you can," he says. "You don't work on this guy, thinking about the fifty bucks that's waiting in line. You have to have intense focus - you're doing something that will last this guy his lifetime."
Working up the nerve? You'll spend at least $20 for a good tattoo. If you're thinking of having something clever done, like your entire back, it will take you a while. Most people can only sit under the needle for 2-3 hours, and large tattoos can take up to a year to finish, and cost over a thousand dollars.
Tattoos are still a serious part of life for many people, supporting traditions and strengthening bonds. They last a lifetime, and then some. Of the two brothers who came in decades ago, one is still alive. The young Marine who got the tattoo was killed when a bomb laden truck exploded at a Marine barracks in Beruit, Lebanon. "I tattooed about half the guys that got killed in that BLT in Beruit," Reust says. The man's brother showed up at Reust's parlor shortly after. "I remembered the guy, because his brother had just been killed. He came in and he said; 'Eric, give me the tattoo my brother had.'"
All Photographs by Mark Gilchrist, except for the photo of Gilchrist and Reust, by "Bill" of Odyssey Tattoo Studio.