Bike Week in Daytona could well be described as "Laid-back Frenzy" - thousands and thousands of beautiful, tough machines ridden by thousands of beautiful, tough people. There is no age descrimination, here, with a clean spread from the twenties to the seventies. The event is, of course, rife with merchandising, with hundreds of vendors selling everything from motorcycle parts to black leather coffins (pall bearers hold chrome footpegs) to food (Turkey leg: $5) and drink (beer). Daytona proper is somewhat staid, more professional, if you can believe it, with the bars in the fringe towns working the foreign bike bashings and cole slaw wrestling, in order to draw crowds.

We're at a red light on International Speedway Boulevard, a bunch of men with our toys. We are about a dozen, atop our beautiful machines, and it is a long light, so we are allowed to play. At first there is the quiet rumble of a dozen V-twins, accented every few seconds with a casual rev, a flick of the wrist to pop the exhaust - "Brow-brow-boh-boh" - there is no real reason for this, just a mating call, I guess. A few guys start showing off and comparing their engines and loud pipes (or lack of them) and the revving builds. "Braw-braw-BROW!." Heads are turning and we're all grinning. A guy on a dragster clamps his front brake and pops his clutch, roaring in place, spinning his wheel and leaving half his tread on the asphalt. We've lost control now, and everyone (myself included) is opening their carbs and injectors right up, throttling their engines to near red-line, pouring fossil fuels into vapor and burning them in a righteous, loud crash of cylinders and pistons, wrapped in tons of chrome. The light turns green and we drop into first gear, release our clutches and take off toward the ocean in a frightening roar, hell-bent on two wheels. Then a cop flips his siren for a second, to say; "Knock that off!" and we throttle down, quiet down and roll on to the next red light.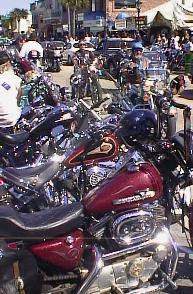 Main Street, Daytona Beach, where the chrome comes out to play.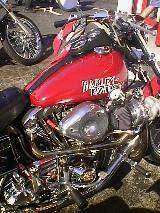 Turbocharged and Polished
Classics: A 50's era Cushman and Indian
Motorcycles aren't just for big, fat, ugly men!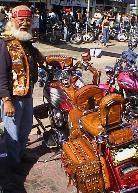 Chick Difrancesco, of Deland, Florida, hand tooled all the tacking on his iron horse.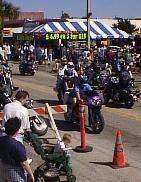 No doubt the kid in the stroller wants louder pipes and more leather for Christmas.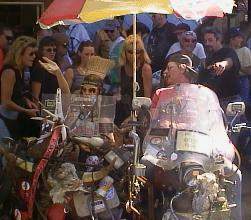 In a bike version of an "art-car" this guy has everything from a girlfriend mannequin to steer horns - even the kitchen sink (on the sidecar.) Not the prettiest bike on the street, but effective, as the ladies around him are not there for the shade of the umbrella, which, I believe, he folds and stows while riding.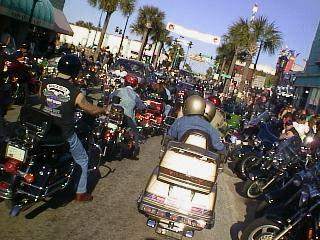 Bike Week,
a week-long parade down Main Street.
A trike with a trunk and some hot wheels!