---

Woodstock, Vermont, July 3, 1998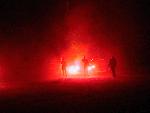 # 11. Laying fire to the night sky.
Saturday, July 4, 1998
Ludlow, Vermont
Like action? Join a pyrotechnics crew on a 4th of July explosive story!
Posted July 6, 1998
---

Date: July 8, 1998
Location: Billerica, Massachusetts
Recent Stops: Manchester, New Hampshire
Next Stop: The coast
Notes: This is damn awkward.

Never before have I spent so much time in other peoples homes - I feel like a plumber. I am trying to make myself completely self-sustainable, but there are things - simple things - I need to keep this project going; electricity, telephone and, occaisionally, running water.

I am a rather independent person and I don't like intruding on people's lives, as trivial as the intrusions may be. But I have had the tremendous luck of meeting some very hospitable and friendly people. I fear that I have insulted some by refusing their kind offers - my first instinct is to consider any kind offer as just expressed politeness and I need to understand that maybe they are more than that.

If I had big sponsors and a large budget, I could stay in hotel rooms each night. I would be able to get a lot more work done, but, in a way, it would be a shame, as I would not really get to know the True America. There is no better way to understand a society then to involve yourself in it and I have learned so much that I would not have learned at the Holiday Inn.

The dangers of my intrusions are becoming clear, one in particular; I must not get too close to those about whom I am writing.

Case in point: The Lisai family. I honestly doubt that there is a more hospitable family in Vermont than the Lisai's. I asked to park my camper behind their store in Chester for a night and from there they took me in like a brother. They let me use their office to work, they gave me sandwiches from the deli and let me in their homes for dinners. I am very grateful to them.

The danger here is that I was writing about them and this tarnishes the whole picture. Were the Lisais being cordial for fear that I might portray them poorly in my article? Did I favor them in my writing because of their generosity? The answer to these is, I believe, NO, but how can you, the reader, be sure? My only answer to this, is that I will provide disclosure of any relationships that go beyond the boundries of standard journalism and I will provide them in this column each week.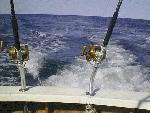 # 12. The Big Catch
Sunday, July 12, 1998, Eighteen miles off the Massachusetts coast
Captain Briggs is a gambler. Like the ten thousand commercial tuna fishermen on the eastern seaboard, he goes for the big game, the few and far between. Last year he only caught nine of these trophies... catching even one fish put him in the top ten percent of the commercial fishermen, and catching more than one put him in the top one percent.
Posted July 16, 1998
THANKS!
Thanks to Charles Smith, of the Computer Outlet, Neeka Smart of Sign-A-Rama and Robert and Dave of Manchester Harley Davidson. I had an incredible day in this city (voted #1 on the East Coast) and these people were very helpful with problems I had trouble getting help with anywhere else.
Also, thanks to Peggy and Steve, old friends who live in Billerica. And, of course, thank you Brent, Lonnie and Cindy Lisai.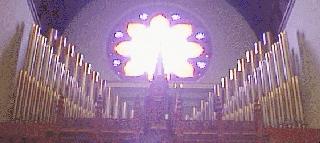 # 13. Keeping the faith with an awesome set of pipes.
Thursday, July 16, 1998 -- Boston, Massachusetts -
The pipe organ is not a portable instrument - it is the size of a house. So when this massive device is played by a 78 pound, 12 year-old boy, and played so well the floor shakes and the audience cheers, it is an inspiring event.
Posted July 18, 1998

# 14. Seeds of love, bounty of pride.
Sunday, July 18, 1998, Foxboro, Massachusetts
The dedication of many serves to help the needy in this small New England town.
Posted July 20, 1998

---
THANKS!
Thanks to Mark and Kathy Krumm of Hingham, Mass. and Doug and Chris Cameron of Mansfield, Mass. -- four old friends who have been kindly harboring this "fugitive from reality".
---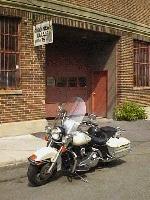 Home of "Car Talk," Cambridge, Massachusetts, July 13, 1998

Date: July 20, 1998
Location: Mansfield, Massachusetts
Recent Stops: Cape Cod
Next Stop: RI, CT
Notes: "Stories I've missed."

Good Times on NPR - I have always been a BIG fan of the National Public Radio duo of Click and Clack, the Tappet Brothers. Each weekend for over a decade they have been spreading the gospel of car repair to the nation, with a wit so sharp, you could slice butter with it.

I wondered what it was like, working at the auto repair shop which Ray claims to own (and actually does). With these two crack-shot pun-sters around, it certainly must be a Dream Job working there.

But, I was too late, about ten years too late. Ray does still work at the shop, despite his fame, but these days he spends most of his time in the office, probably writing scripts for his national radio show. I was able to speak with only one employee during my visit, and it seems that working at the Good News Garage is much like working at any other. That is, except that their customers seem very satisfied and that the employees are treated well and most still do enjoy working there, even if Ray doesn't start any more water fights, or pull practical jokes, or have the crew over for Friday night jam sessions. The old-timers miss you, Ray, but life goes on.
---
The Harley scores a goal at Lynch ice hockey Arena,
why can't Mark? See Slip Shot


Date: July 24, 1998
Location: Mansfield, Massachusetts
Recent Stops: Rhode Island, Connecticut and back
Next Stop: CT, NJ
Mileage so far: 4,187
Notes: When I first met Roland Morgan, father of Terrence, Lewis, Ronald and Linda Morgan (see In Good Hands) he was hesitant. "I may be a little over-protective," he said. "But each time an article is written... it gets bigger and bigger." The story that I went to cover was the story of their their achievements - chair caning - over their disability - blindness from Retinitis Pigmentosa.

After meeting the Morgans, I felt that their achievements were so great, their character so pleasant and skills so sharp, that details of their blindness weren't really important. Roland Morgan, of course, let me write about anything I chose, but I decided that these men and this woman are average people. They are pulling their weight in this world more than many people and they are certainly deserving of the honor of attention being given to their abilities, not their disabilities.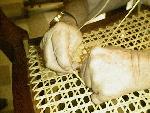 # 15. In Good Hands
Friday, July 17, 1998, Somewhere in Rhode Island
Keeping the traditional art of chair caning alive in Rhode Island. Keeping the spirit of achievement alive around the world.
Posted July 25, 1998

---
# 16. Slip Shot
Thursday, July 23, 1998, Pawtucket, Rhode Island
Thursday night in Pawtucket, Rhode Island, where men get together to play one of the fastest and most dangerous sports in the world. Come along for a thrill and a good laugh!
Posted July 26, 1998


See the team of gruesome characters who had the patience to let Mark play hockey with them, and the heart to let him live!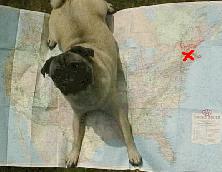 Held over for a second week - it's PUG!
Mark is still in Mansfield, Massachusetts, covering three states from here.

# 17. America Eats Here
Wednesday, July 22, 1998, New Haven, Connecticut
Putting the "er" in Hamburger. In 1900, Louis Lassen put a broiled beef patty, known as hamburg, between slices of bread and changed the way America eats.
Posted July 27, 1998
---

# 18. Cross Words in Cheshire, Connecticut
Wednesday, July 22, 1998 -- Cheshire, Connecticut
This seventy-something woman spends her days confusing the people of her hometown, and challenging them, and perplexing them, and mystifying them...
Posted July 28, 1998
---
# 19. Sophie and Frankie's Last Dance
Tuesday, July 28, 1998, Branford, Connecticut
Hospice isn't so much a place you come to die, as it is a place you come to live.
Posted August 2, 1998
---
True America Tip
PHOTO ALBUM: Campsites
The collection of True America CD photo albums is available from the main page. Here is one:


Click on the photo to view the
CAMPSITES photo album.


---
REGIONAL MAPS



Every full-length article is accompanied by a
colorful map showing where it takes place.
Click on the "CD MAP" symbol to view
the map in a pop-up window.
Click the button above to see
a map of Maine.