Mark's Aftermarket Handwarmer.
Blocks the wind and rain from those precious digits - a little more cardboard and maybe some duct tape and I'll have me a GOLDWING!

Date: November 6, 1998
Location: Lamesa, Texas
Recent Stops: Amarillo and Happy, Texas
Next Stop: New Mexico
Mileage so far: 12,803
Notes: I am becoming spoiled rotten. So far in the five months I have been on the road, I have spent only five nights in motel rooms, and four of those nights have been during this past week. I spent two nights in Amarillo (missed the Cadillac Ranch!) getting ready for and giving a guest appearance on an AOL forum (Writers of the World) on Thursday night. The program was enjoyable and I would like to thank them for having me.

Tonight, I just totally wimped out. The 200 miles down from Amarillo were solid drizzle in 40 degree weather - I had to stop every 30-40 miles. I was hoping to head to California, but I don't know if I can. I can't go much farther south that way. The motel owner said it's warmer in New Mexico. "Why?" I asked. "I don't know." Thank you - I want to believe, I really do.
---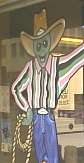 Mark Sighting! - Stopped by Roswell, New Mexico where one spectacular night decades ago, a man saw a huge tourist attraction fall from the sky and create museums, tacky stores and clothing that says "My parents were abducted by aliens and all I got was this lousy T-Shirt."

---
Stopped in to Brooks Construction, in Hobbs, New Mexico, to ask directions, and was greeted by Ernie, who is Ned Wharff's purebred Husky. What a beautiful dog!

# 46. Give Me the Sky
SUNDAY, NOVEMBER 9, 1998, HOBBS, NEW MEXICO
"He rides the wind, climbs on clouds and dances on thin air."
Curt Graham hang glides above the New Mexico plains (the soaring capital of the world.) Come along as he takes Mark Gilchrist for a flight. Enjoy the view, feel the exhileration, hear the screams.
Posted November 10, 1998

---

Date: November 11, 1998
Location: Las Cruces, New Mexico
Recent Stops: Hobbs, Roswell, Lincoln, New Mexico
Next Stop: Phoenix, AZ
Mileage so far: 13,413
Notes: Would somebody please tell Mark Gilchrist that this is WINTER and he has no business riding a motorcycle?
First the lousy weather in Texas, then New Mexico greets me with 60 mph crosswinds. I'm telling you, that makes for a wild ride. People were getting out of their cars at intersections and asking me if I was all right. "I never seen someone ride a motorcycle tilted over like that!" When a truck passed me in the other direction, his wake usually hits me a little, but today, this is how I handle it; when I see him coming, I move to the right side of the road, then, just as he passes, I steer hard into him, aiming for his rear wheels. This somehow faces me more into his wake so I don't get completely broadsided - whew!
Then the snow. Making my way over Capitan Pass, some 8,000 feet high, I meet snow! What a beautiful ride, though, through Hondo Canyon, between Roswell and Ruidoso. Crazy deal on this road; There are five towns along a 25 mile stretch of route 70 that each have a self standing, staffed post office. Two of them are only a mile apart and they only have about 60 boxes each!
---
Alpine Biker - Talk about snow, I rode through it heading up to Sunspot, New Mexico. Down in Alamogordo, I was looking for a story when several people told me that Cloudcroft, 18 miles up a nearby mountain, was beautiful. Well, I love mountains, so I headed up. In Cloudcroft, there was snow on the side of the road. I stop by the local store, and a beautiful baker named Annette told me about an observatory, 16 more miles through the mountains, and, well, I love mountains.
So I headed up to Sunspot, a town of 75 people who work at the observatory. I'll tell you, this was a dumb move. The road was mostly clear, except on the shaded switchbacks. Put two wheels on ice on a slope on a turn and you'll be skidding toward trouble. I don't know how I made it, but I did, and my days of snowmobiling on Bob are OVER!
Close your eyes! This car is being tested for future production and the person driving it KNOWS NOTHING!

Date: November 12, 1998
Location: Exit 62, I-10, New Mexico
Notes: TOP SECRET! - I missed an exit to get up to Silver City, and tried this exit. I took the road across a set of railroad tracks when it turned to dirt. Right there, cowering behind some bushes was a group of men with four brand new cars. It took me a while to figure out, but when I noticed that all the cars' manufacturer markings were covered up, I knew that they were working for some automobile company, testing these prototype cars. This is very common around here, as this area offers many types of terrain and climate. I've wanted to do a story about this - actually about the photographers who lurk around here snapping shots of these future models for magazines like Car & Driver.
So I give one of the guys my card and I start asking questions and he just clams up and turns into a jerk. Well, I hate it when that happens, and I knew it would bug this guy if I took a photo of one of these precious cars, so I did.
Now if I can just sell this photo to Car & Driver...

# 47. Staring into the Sun
WEDNESDAY, NOVEMBER 11, 1998,
SUNSPOT, NEW MEXICO
Up in this alpine village, a mile and half high, scientists study something that is five billion years old, yet brand new every second.
Posted November 16, 1998

---


Date: November 16, 1998
Location: Phoenix, AZ
Recent Stops: Safford, Arizona
Next Stop: Flagstaff
Mileage so far: 13,956

Regrets and Regards - Phoenix has never had much significance in my life, until today. I will always remember this area, with it's stunning vistas and quiet composure, because of a small, but significant event that occurred at a hotel pay phone here.

We indeed are not in control of our destinies in this life, especially when our Maker becomes our Taker. Today I heard the news of my grandmother's passing - "expired" the nurse said from the hospital in Florida - and I developed a serious regret for not calling, visiting or writing her more often. I can't make excuses for a lack of communication with her, or for traipsing around the country during her final days, I can only regret that I will never see her again.

So today I took a long ride, thinking about what a wonderful woman my grandmother, Evelyn Gilchrist, was, and remembering the times we were together and how she always had a smile for me. I am thankful for the heritage she has created and the legacy she leaves. As I rolled along the Arizona landscape, I gazed at the quiet mountains and the huge, solemn buttes, all thousands of years old, and I let them talk to me about immortality.

# 48. Easy Rider
SATURDAY, NOVEMBER 14, 1998, GLOBE, ARIZONA
Nancy Sheppard has thrilled rodeo audiences from coast to coast; she has ridden the wild ride and roped the moon, and she has made it look so easy...
Posted November 20, 1998

---

Date: November 20, 1998
Location: Pheonix, AZ
Recent Stops: Flagstaff, Happy Jack, Skull City, Nowhere, Arizona
Mileage so far: 14,460
Notes: Whew, what a blast! I had an excellent ride up to Flagstaff and then back down to Phoenix. If you are ever in the area and you have the time, take 87A from Flagstaff to Prescott - an incredible ride!

Met some interesting characters along the way. Looking for a place to camp, I stopped in Nowhere (just across the cattle guard from Wilhoit, AZ.) I dropped into the Burro Inn and met Jackie, the owner. She's a gruff woman, with her own barstool and a cigarette, drink and dice cup in her hand - but a real sweetheart, I gathered. After determining that I wasn't going to wreck the place or try to sell things to her customers, she let me set up out back. I appreciated the gesture and I bought a beer and sat and watched things for a while. Jackie and a few regulars were playing a dice game called "Admiral, Captain and Crew" or something, and it involved a lot of dollar bills being swapped back and forth. Jackie couldn't tell me how many people live in Nowhere, but I gathered most of the residents had their elbows on the bar at the moment, including a "33 year old DWM, seeks fem..." according to the sign on the back of his pickup truck out front.

I about finished my beer when I noticed an old, very weathered man standing behind me. He wasn't moving at all, just standing, quietly. I got up to leave and he took my seat, or his seat, I guess. There were a half dozen empty stools along the bar, he just wanted that one.

I know Jackie is a good woman, because she talked a lot about a "Toys for Tots" program she is helping out with and I see a donation jar at her elbow that she is in charge of. "I'm gonna make sure every kid in this town gets a toy for Christmas!" Go Jackie.
Down the road, in Congress, Arizona, I met a man with special connections. I'm leaving an antique store when this guy walks out behind me and he says "nice rig." He is still wearing his motorcycle helmet and that always strikes me as funny, but I give him one of my cards and my usual spiel about what I'm doing. He asks me; "Do you believe in the man upstairs?" I ask him what that has to do with writing, and he says "I write. Have you heard of automatic writing?"
Well, I guess this guy is some kind of poet, only he gets the words from "the man upstairs" and he writes them down for him. I choose not to get into the sexist thing with him (God is a he?) when he claims to have actually copyrighted his work - an impressive feat for any writer...
"Isn't that stealing?" I ask. "I mean, you didn't author the poems, you just held the pen while the man upstairs wrote the words, right? Aren't you ashamed of yourself?"
"I never thought of that," he says, trying to squeeze a smile through his helmet. I get on my bike and take off before I realize that I probably should have gotten his autograph. I mean, wow!

The photo on the right is of some motor home that another wacko is driving around (the Southwest seems to be a haven for freedom of speech.) I call him a wacko, because, well, nothing he says here makes any sense. I grabbed a quick photo before the guy could start unloading his "truths" upon me. I just don't want to be saved, thank you.

# 49. Where's the Love?
TUESDAY, NOVEMBER 17, 1998, FLAGSTAFF, ARIZONA
Christina Anderson works past midnight, pouring and serving libations, taking care of the customer and dodging wolf whistles. And she does it all for love.
---
The Sacramento Mountain range, as seen from Flagstaff, Arizona.



Date: November 23, 1998
Location: Wickenburg, Arizona
Next Stop: California
Mileage so far: 14,741
Notes: Wandering north out of Phoenix, I met two men riding Harleys, planning a cross-country trip for Vietnam vets ( rftw.org ) One suggested I check out the museum club in Flagstaff. It's a great, old roadhouse on the east end of town, where the cowboys and Indians hang out. "Around here," he says, "the cowboys are Indians, so you'll find a good mix of people."

So I go to Flagstaff, which is about 9,000 feet high and cold. I'm hanging around at the Museum Club, getting a feel for the place, trying to decide if this bar is a good enough candidate for a story, when a near fight breaks out - two guys shouting, drinks knocked over, cue sticks at the ready - and I decide this is a great place for a story.
---
One of the nine burros which rule the town of Oatman, Arizona checks out my trailer.

# 50. Come Ride With Me
MONDAY, NOVEMBER 23, 1998
WICKENBURG, ARIZONA
They ride the rugged terrain of the West and put their lives into words so beautiful, they could make a cactus blush. Share the life of a cowboy poet.
Posted November 28, 1998

---


Date: November 28, 1998
Location: Los Angeles, California
Recent Stops: Twentynine Palms and Needles, CA, Oatman and Lake Havasu City, AZ.
Next Stop: San Diego
Mileage so far: 15,087
Notes: Six Months on the Road Makes One Weak Call it burnout, call it stress, whatever it is, I need to get over it. Less than a third of the way through this project and I am fed up with people! I am irritable and argumentative and just plain mean. My friends back home will tell you that I am just being myself, but no, this is worse. You know how you get sometimes, when you're talking to someone and you're convinced they're an idiot and so everything they say sounds dumb? Well, that's how I've been lately. Of course, there is the chance that everyone I've met lately really is...
---
True America Tip
PASS WITH CARE
An unusual look at the way in which we mark our passing, is available on the main page.
Visit



a tribute to our
most touching roadside attractions.


ROCK'N THE ROAD
Geared up for your own adventure? Check out this manual, exclusive to purchasers of the True America CD-ROM, and get ready to go!
The guide to your next adventure.