Greetings from Pennsylvania!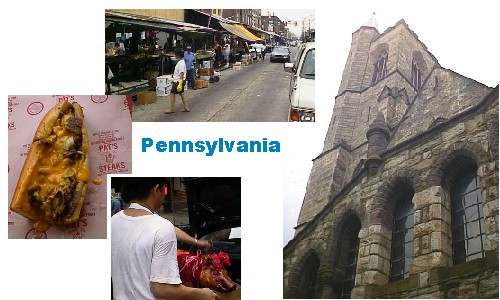 (Top) Sunday morning market on 9th Street ends. (Left) A Philly cheesesteak sandwich, at Pat's, where they claim to have served the first Philly cheesesteak sandwich, not only in Philadelphia, but the world. (Lower) Getting ready to party in chinatown - a restaurant employee loads a roast pig into the trunk of a customer's car. (Right) A church in Jim Thorpe, Pennsylvania, named for the Olympic athlete who never visited the town.
Pennsylvania offers a great variety of scenery, and I did not get to see half of it. The Keystone state has rugged terrain and nice, rolling hills. Wandering around the northeastern part of the state, I rolled into Jim Thorpe, named for the athlete after his wife offered to bury him there. Two adjacent towns, neither happy with their present names, agreed to merge and honor this incredible American Indian athlete. The town also calls itself a "little Switzerland" and gets away with it because of the beautiful mountains surrounding it and the old-european architecture throughout the town.
ARTICLES
---

52 minutes of pure ATTITUDE -
THURSDAY, AUGUST 20, 1998, YORK, PENNSYLVANIA
They call him Inspector General and for ten years he's been a part of the team making the finest motorcycle in the world, the Harley Davidson.
My Labor Day salute!


The Good Luck Club
SUNDAY, AUGUST 16, 1998, PHILADELPHIA, PENNSYLVANIA
Making good fortune, cookies, in Philly.
"Read this and prosper." "A new romance is in your stars." "Good fortune will come your way." "You are about to be enlightened."


All Ears on Deck!!
MONDAY, AUGUST 17, 1998, GRADYVILLE, PENNSYLVANIA
The ship is sinking! You've got only minutes to get out and
there is corn EVERYWHERE!