Greetings from Rhode Island!
Sorry, but I did not get any photographs of Rhode Island, other than the ones in the two articles listed below. I'll have to get over there again for some good snaps.
ARTICLES
---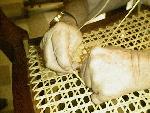 In Good Hands
Friday, July 17, 1998, Somewhere in Rhode Island
Keeping the traditional art of chair caning alive in Rhode Island. Keeping the spirit of achievement alive around the world.

Slip Shot
Thursday, July 23, 1998, Pawtucket, Rhode Island
Thursday night in Pawtucket, Rhode Island, where men get together to play one of the fastest and most dangerous sports in the world. Come along for a thrill and a good laugh!