---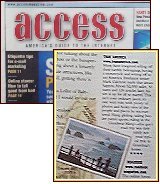 Access Magazine
National
May 21, 2000
Stephanie Rottenberg
"This isn't your ordinary jaunt; it's one wild ride, with plenty of photos and funky tales of the people and places he encountered."

---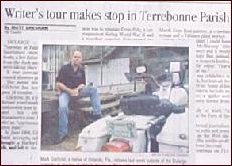 The Courier
Houma, Louisiana
December 13, 1999
Matt Gresham
Photo: Bryan Tuck
"One will not find any celebrities in his collection of work, but instead the true, everyday American. "

---
KUHF Radio
Houston, Texas
88.7 FM
Paul Pendergraft
---

Wichita Eagle
Wichita, Kansas
October 19, 1999
Bud Norman

---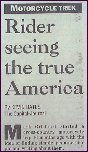 Topeka Capital-Journal
Topeka, Kansas
October 13, 1999
Kevin Bates

---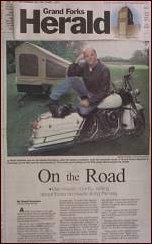 Grand Forks Herald
Grand Forks, North Dakota
June 16, 1999
Dave Knutson
Photo: Jackie Lorentz
"Gilchrist is a cyber-journalist
with all of America as a beat. "

---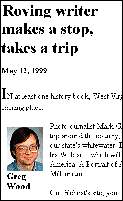 Charleston Daily Mail
Charleston, West Virginia
May 12, 1999
Greg Wood

---

The News Journal
Wilmington, Delaware
April 25, 1999
Chip Guy
Photo: Tom Nutter
"'I never thought I could do this. I thought, 'This is not going to happen in my life,' Gilchrist said.'"

---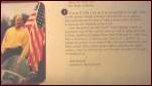 Hog Tales
National
March / April, 1999
Photo: D. Brent Miller

---

The Orlando Sentinel
Orlando, Florida
February 13, 1999
Doris Bloodsworth
Photo: Roberto Gonzalez

---

Commercial Appeal
Memphis, Tennessee
February 11, 1999
Tom Bailey, Jr.

"This motor-cyber writer, inspired by the writings of the great World War II journalist Ernie Pyle has tapped into the romance of journalism."
---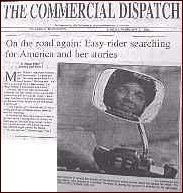 The Commercial Dispatch
Columbus, Mississippi
February 7, 1999
Hanna Miller
Photo: John Andress
"Mark Gilchrist's trip across America isn't about places. It's about people. "

---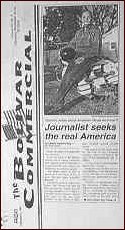 The Bolivar Commercial
Cleveland, Mississippi
February 5, 1999
Debbie Ingram Long
Photo: Debbie Ingram Long
"Gilchrist is in search of the true America
as defined by its ordinary people."

" Drenched in detail and the personality of people and their places..."
---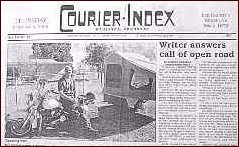 The Courier Index
Marianna, Arkansas
February 4, 1999
Robert Shearon
Photo: Robert Shearon
"A man on a Harley. Riding alone. A drifter going wherever the call of the open road takes him."

---

Yahoo! Internet Life Magazine
National
February, 1999 issue, page 130
Reviewed as The Best!
of all active adventure sites.

---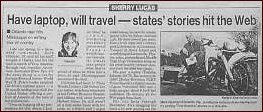 The Clarion-Ledger
Jackson, Mississippi
January 25, 1999
Sherry Lucas
Photo: Vickie D. King

" Drenched in detail and the personality of people and their places..."
---

Family Circle Magazine
National
January 5, 1999
Margaret Jaworski
Photo: D. Brent Miller

---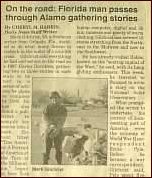 The Alamogordo Daily News
Alamogordo, New Mexico
Cheryl M. Harris
Photo: Cheryl M. Harris

---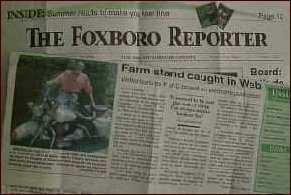 Foxboro Reporter
Foxboro, Massachussetts
Photo: Vin Igo
Jeff Peterson

"Woven throughout all of Gilchrist's tales is an uplifting quality, aiming to capture the quintessential qualities of the human spirit as it perseveres through good times and bad. "
---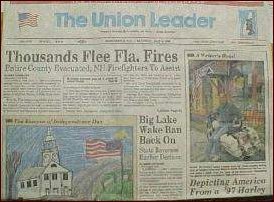 The Union Leader
Manchester, New Hamphire
Lorna Colquhoun
Photo: Lorna Colquhoun

---

The Times Record
Brunswick, Maine
Aaron Smith
Photo: Terry Taylor

"Mark Gilchrist, 38, is a man on a mission
that many burned-out 9-to-5ers would envy. "
---

The Portland Press Herald, Portland, Maine
WATD radio, Marshfield, Massachusetts