Wednesday, January 20, 1999, Piney Woods, Mississippi - Herbert Jones has the loudest hands I have ever heard. He uses them to talk, whether he's on the phone or with a student or in an interview. He uses them to teach, and he uses them to lead an incredible group of voices supporting a 78 year-old tradition called the Cotton Blossom Singers. Jones is the Choir Director at Piney Woods Country Life School, in central Mississippi, the largest of less than half a dozen traditionally African American boarding schools in the U.S.
Piney Woods Country Life School
"A hidden jewel"
in the heart of Mississippi.
The campus, with a church, post office, store, fire house, auto shop, gymnasium and library, as well as classrooms, administration and dormitories, is on 50 acres. The rest of the school's 2,100 acres holds a working, educational farm and timberland.
Piney Woods was founded in 1909, by Lawrence Clifton Jones, a Missouri-born, University of Iowa graduate. For decades, it was just another boarding school struggling to survive, except at this school, in addition to standard scholastics, students learned industrial and farming operations - an important curriculum in this part of the country, where there is plenty of land for a person to make a living, if he only has the knowledge.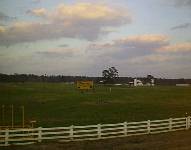 The farm at Piney Woods

The school struggled for decades, until 1954, when an appearance by Dr. Jones on the television show This is Your Life, with an appeal for donations, brought in $776,000, according to an article distributed by the school. This endowment secured Piney Wood's future, helping it stay open even when segregation brought an end to most of the 82 other African American boarding schools in the U.S. 300 Students, in grades seven through twelve, attend the school, and it boasts one of the oldest, well known choirs in the south. I spent a few hours with Jones (no apparent relation to the founder) and "his children" during the Cotton Blossom's Wednesday afternoon rehearsal.

Beginning with a warm-up, Jones takes the students through Hospodipomilui a Russian piece that sounds to my untrained ear like a graduating frenetic chant, but I actually think they're saying "High School Diploma" over and over, so don't listen to me. The Russian word, somewhat of a tongue-twister, is articulated precisely by each voice and it rings clear through the basement hallways as the song gets louder and faster and faster and louder. Through simple movements of his hand, Jones controls the choir with precision and power. He lowers his hand and the group quiets to a hush, he raises his palm, and the 27 voices pack the place with beautiful sound - a commanding presence. The singing is loud enough to be heard in Snoopy Hall, across the campus - "Get it out of the nose and into the mouth!" Jones shouts an instruction above the choir. "I hear rattling!"

The only rattling I hear is a loose window pane giving way to these powerful voices. This is one awesome choir - a collection of ordinary voice boxes trained to maximum potential - and it is carrying on an awesome tradition. The choir originated in 1921, when the founder's wife, Grace Jones, organized a quartet named The Cotton Blossoms. The program has grown to include male and female quartets, a 35 member chapel choir, and the 40 member Cotton Blossom Singers.
Lately, the singing groups have appeared on The Today Show, 60 Minutes and The Arsenio Hall Show. In 1995, the quartet performed at a major summit in Africa. The groups compete often, and they have the trophies to prove it.
---
"Fame is vapor, popularity an accident, riches take wings, only one thing endures, that is character."
Sign on campus
---
Jones gave up a career directing college choir to work at Piney Woods two and a half years ago. Born in Mississippi, he taught around the country before returning to his home state. He has directed and taught at Alcorn State University, the University of North Dakota, University of Arkansas and the University of Philadelphia. Here, he teaches Intro to Fine Arts, Music Theory and Choir.
"When I came here, I knew that I was going to have some limitations, but I have taught and trained these students at the same level that I do college and professional choirs," he says. "I choose literature that you would basically find your college choirs singing."
Jones leads the group through a cheery version of "Swing Low, Sweet Chariot," (if you can imagine it done that way) then a spiritual arrangement of "Steal Away." He is constantly instructing them, in a voice propelled by emotion, but layered in respect. "It has to be felt from the forte' to the piano! From the forte' to the piano!" he says. "Let's do it again, please. One, two, three - four." He pushes them hard, makes them repeat verses and choruses over again, and he compliments them when he is pleased.
"It works because I drive them," he says. "I drive them and drive them and drive them. I demand of them not only physically, but academically." At age 49, Jones is single and has no children. He has created a musical and educational, as well as spiritual bond with his students, and refers to them as "my children."
"My greatest thrill is when I see my choir, or a student, or a group of students, grow from thinking one way and come more open to thinking another, better way," he says. "Be that through interaction with another peer or in a relationship with a sibling or with parents. I also demand that they make sure that their spiritual lives are in order as well."
"I love to hear that a relationship that was not really good with their mother or the father or their sister, or their aunt or their brother or with a friend has been remedied and has been repealed and the relationship has begun to go in a more positive direction."
If you haven't heard of any "famous" Piney Woods alumni, consider not so much where the graduates go when they leave Piney Woods, but from where they came. At least 60% of the students are from families living below the poverty level, and most students are considered "at-risk," before attending Piney Woods. So, it is fairly remarkable that the entire 1998 graduating class was accepted to college (two students joined the military) and Piney Woods alumni are attending Princeton, Harvard, Vassar, Tufts, Purdue and other fine schools.
Though students no longer have to march, single-file, to classes, they do lead a regimented life. They are not allowed to have cars, they wear uniforms of white above navy blue. They attend four classes a day, five days a week - each class is an hour and forty-five minutes long - they work ten hours a week, and they attend Sunday morning services, Sunday school and vespers.
"This is where they learn how to work," says Phillis Young, the school's receptionist. Young's husband and daughter went to Piney Woods. If students have time, they join the basketball, softball, soccer or tennis teams, or the choir. The strict discipline and busy schedule keep the students' minds off of what brought them to Piney Woods in the first place: trouble. Either trouble of their own, or a life surrounded by violence, crime and drugs. It was a stern hand which Dr. Lawrence Clifton Jones used to lead these students, and one which Herbert Jones and the rest of the faculty and administration use today, but it is filled with kindness and respect.
Read what Piney Woods students say about their school, in:
"Don't quote me..."
The choir sings a beautiful "Apostle's Creed" and then a love ballad called "Stay, Oh Sweet." After an hour or so of formal choir music, the mood gets upbeat, and the choir breaks into a gospel number; "Stir up the Gift" and a few contemporaries, as a reward, more or less, for the students. By the end of the class, the place is jumping.
Rehearsal ends and Jones makes some announcements; the usual pleas for attendance, a reminder that a 2.0 average is required to stay in choir (or any sport) and notes on upcoming performances. Tonight the group will perform at the Hudspeth Center, a Mississippi facility for the mentally disabled, and next week they will sing at an alumnus' wedding.
We leave the choir room for a quiet place to talk, and we go up some stairs and through a doorway with a sign that says "Gentlemen, hats off" and we discuss his job and the school and life in general. After the interview, I thank him for the choir's excellent performance and he breaks out in a smile. Sitting there in the Ziphla E. Chandlier Auditorium, where his choirs perform throughout the year, Herbert Jones crosses his large, slender hands across his lap and says proudly; "Now you see why I love my children so much."