UPDATE: Floyd Shaman passed away in 2005. Here is an entry about him in Wikipedia where he is referred to as: "One of the South's most important figurative artists in the last part of the 20th century..."
Saturday, January 23, Cleveland, Mississippi - If Floyd Shaman were to sculpt a bust of himself, it would likely show a bulge in his cheek where his tongue usually lies. The 63 year-old artist works his art with dedication in his heart, skill in his hands and a sneaky, little smirk on his face.
These qualities combine to create sculptures that appeal to people of all backgrounds, as the requirements to enjoy a Shaman piece of art are only a sense of beauty and a sense of humor. Shaman, a former Navy dental technician who once created false teeth out of metals, now carves beautiful, usually whimsical sculptures out of laminated wood.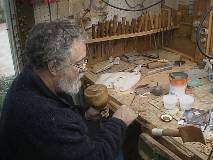 With his curious knack of poking fun at all ranks of society, no character escapes the Shaman wit. From religious leaders to barflies, from grandmothers to historical and literary figures and even wild animals, everybody and every body gets their quirks and faults cast in wood. "Right now, I'm interested in history," he says. "But a lot of the time the common man is important to me. I find that is where the true character lies."
In conversation, Shaman scorns politicians and bureaucrats with the delicacy of a table saw, and it's apparent that he is comfortable in his position as artist, where he can say whatever he wishes, about whomever he wishes, whenever he wishes. Even Floyd Shaman is not immune from his own criticism; "I don't really know if my art is any good," he says. "That'll all have to be sorted out in a hundred years." Discussing the legendary Mississippi folk artists, Shaman gives me a short lesson in the origins of true artwork. "I'm a University trained artist," he says. "I could do folk art, but it would be a fraud."
Born and raised in Wheatland, Wyoming, Shaman earned an M.A. in sculpture at the University of Wyoming in 1969. He taught at Delta State University, in Cleveland, Mississippi for ten years, before he was fired, for, well, acting too much like an artist comfortable in his position... He then began making furniture, perhaps not confident enough of his own artistic talent. Malcom Forbes bought a sculpture he had made, and he quickly became an item in the New York art market. His work can now be found in galleries in California, New York and Tennessee, as well as in Mississippi.
You will often find ordinary items embedded in Shaman's works; tiny plastic pigs scurry through "Refugees from the Boar War" and tiny figurines adorn "Old Gloria." His workshop is filled with trinkets and toys he has collected from curio shops and yard sales, and he has been known to create an entire piece based on one of these once trivial items.
Shaman enjoys using everyday materials as well. One of his favorites is yellow pine; "just look at the beautiful, natural colors in it," he says. Particle board, anathema to cabinetmakers, appears in some of his work, such as Goldie's dress, in "Goldie and Horace." "It gives it a unique texture of colors," he says.
Having studied and taught art for so many years, and having such an inquisitive personality, Shaman can't help but explore many media. Among the sculptures throughout his Cleveland home are some of his paintings and even a stained glass window. (Shown to the right; "Ascending Watermelon."
Though much of Shaman's work involves and relates to the common man, his artworks are certainly out of the average person's reach. Spending many weeks, and sometimes months, making a single piece, Shaman barges through barriers between punster and craftsman and fine artist, and though he sometimes begins with a simple pun ("Salvador with his Dolly") he creates beautiful, elegant works of art that command dear prices on the fine art market.
Shaman's choice of media is practical, as well as aesthetic. During college, he apprenticed with a stone sculptor. When he moved to Mississippi, he could find no stone to sculpt, so he carved pieces out of logs. These were heavy and grainy and they cracked over time. Shaman developed a method of laminating wood, which gave him a lightweight, durable medium that was easier to carve than stone.
The process he uses is simple, but clever. Let's say you wanted to make a sculpture of a loaf of bread. You would start with pieces of wood roughly the size and shape of each bread slice. Remove most of the "bread" from inside each "crust." Glue all the crusts together to form the loaf, and shape and sand it. Shaman uses a variety of chisels, sanders, rasps and saws to get the form he wants. All this, while keeping his tool collection to a minimum; "This is a very low-tech shop," he says. "I don't crave tools."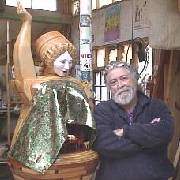 Shaman was commissioned to create pieces for a church, including an altar on which he sculpted The Last Supper in bas-relief. He was, of course, tempted to infuse humor even into this work; "I wanted to make the hymn boards say 'hymns and hyers,'" he says. He resisted temptation, and found an appreciative audience with the church. "They were one of the more pleasant clients I've had", he says. "They actually called me and said; 'are we paying you enough money? Should we give you more?' I said; 'no, that's fine.'"
Since many of his works are hollow, and since Shaman is a tireless prankster, if you carry one of his sculptures, you may hear something rattling around inside. "I like to put a little surprise inside my art," he says. "A man who owns a sheep sculpture I made, called me up one night and said; 'what the hell is that in there?' I wouldn't tell him. He sounded pretty drunk and he said he was going to cut it open. I didn't hear from him again."

Floyd Shaman lives with his wife, Molly, in a large, two-story home in downtown Cleveland, a town in the heart of the Mississippi delta, and a town that is geographically and culturally far from Wheatland, Wyoming. "Until recently," Shaman says, "it would take two men to read the electric meters here; a black man to read the meter and a white man to write down the numbers." With their three grown sons out of the nest, they have made the upstairs rooms into a unique bed and breakfast, with an unusual appeal.
When you stay at Molly's Bed and Breakfast, not only can you view many of Shaman's works, but you will enjoy a good night's rest in such creative surroundings as "The Cowboy Room" or "The Watermelon Room." In your spare time, you can even stare for hours at Floyd Shaman's extensive beer can collection, all of which is sure to bring a sneaky, little smirk to your face.