OK, you bikers can stop pleading with me to go to Sturgis, because I've been there. Well, it was Sturgis, Mississippi, but this time of year it's pretty much like the one in South Dakota, and it's a whole lot warmer.

"Vetch" Vechorik has a BMW restoration shop here and does great work. He let me stay over for a night and I snapped this shot of Elaine Vechorik's 1968 BMW R50 - one of about a dozen classic Bratwurst Burners he has on display at Bench Mark Works, a decent shop which I swear he named after me.

---
---

Cleansing Harry's Soul - Saw this on Hwy 49 near Poplar Grove, Mississippi and had to stop. Opal Schwantz lost her husband, Harry, a few years ago, and her children erected this little grotto on her front lawn in his memory. Yes, it is made from an old bathtub, and I wonder, after it rains, do you think there's a ring?

---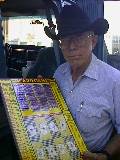 "I'm an Outlaw." While in Columbus, Mississippi, I met Jim Head, who sells these punchboards, which is perfectly legal, to small stores throughout the south, where storeowners promote them, which is perfectly legal, to customers who pay a buck a punch to play them, which is perfectly legal, and if a customer punches a lucky hole, he wins money, which ain't legal.

The board he is holding costs about $100 and has 2,700 holes in it. The buyer will net about a grand after giving away the prize money.




A Healing Heart
THURSDAY, FEBRUARY 4, 1999, CARROLLTON, ALABAMA
What do you do after a half-century of practicing medicine in a small town? You continue practicing medicine in a small town...
Posted February 18, 1999


The Producer
FRIDAY, FEBRUARY 5, 1999, THOMASTON, ALABAMA
Getting it right in the deep south.
Posted February 23, 1999

---


Date: February 6, 1999
Location: Port St. Joe, Florida
Recent Stops: Pensacola, Florida
Next Stop: Orlando
Mileage so far: 21,137
Notes: You know how some people get just crazy about food? They say things like; "Oh, you've got to try the possum stew down at the Spit n' Shiner Diner! It's the best damn possum I've ever had!" Let's face it, food can only be so good. They're probably talking about great atmosphere or even the people they were with when they had their possum. Am I right? Sure, I'm right.

Last night I got caught after dark without a place to camp, and that means trouble. When the sun goes down, so do my chances of assuring a complete stranger that I'm completely harmless, which is why I'm glad I met Archie.

Archie is retired from a job as a civilian with the Navy, and he does a lot of fishing, using a cast net - the type you hold in your teeth. He actually makes the nets. I guess he had been casting his net that day, because he was frying up some fish in his backyard when I met him.
I sat on the tailgate of Archie's truck, watching the mullet fry, talking with him about things, and just enjoying the scene. It was a beautiful night and Archie was cooking away and telling me what it's like to be a cast-fisherman and what life is generally like in this Navy town and it was one of the more relaxing, enjoyable times I've had on this trip. Then he offered me a few pieces of mullet and I tried it, and I don't know if it was the salt air, or the relief I felt because he let me camp in his yard, or maybe it was the conversation, but man, I'll tell you, that was the best damn fish I've ever had.
---
Coming Home
You know the feeling. It's that flit of anxiety you get when you are about to meet old friends again. I had been away for over 8 months, before I came home again last week. Students coming home from college, military returning from deployment and anybody who returns to a hometown even for a visit has felt it, that flit. I felt it first as I crossed the Florida border up around Pensacola. I had been around this enormous country, I had immersed myself in communities in two dozen states, I had seen a great deal and learned a great deal more. Had I changed? Had my friends changed? I'm so damn awkward in these situations. I spent a few days traveling through Florida, before returning to Orlando.

Though I've lived in Florida for 15 years, I have not spent much time in the panhandle - I've sure missed out on a lot of beauty. The coastline is very scenic up here, and thanks to over a million acres of this land being owned by timber companies, it is rather free from hi-rises and condos. Around Pensacola Beach, I saw this house someone built. It's an oil rig escape pod, a neighbor told me, and the owner perched it here after a big storm blew through. "He figured he could ride out the next storm," the man said. It is now being rented out to tourists.
::: Down the road in Apalachicola, I met Sandy Madsen, a ranger at John Gorrie State Museum. Who's John Gorrie? "He's the man who tried to invent air conditioning," Madsen says, holding two fingers almost together. "But he missed it by that much." Gorrie was a doctor in the 1840's when he became convinced that cold air could heal Yellow Fever. He used an already discovered principle of physics; compressing and then rapidly expanding gas to lower its temperature. With a machine similar to the one standing next to Madsen, Gorrie was able to make small blocks of ice. He did not become a commercial success with this, possibly due to the strong ice industry in the north, and in 1906, a man named Willis Haviland Carrier refined the process of air conditioning.

::: After one of the prettiest rides of this trip, a stretch of Route 98 southwest of Tallahassee, I met Wayne Mckenzie, who, with his wife, Beth, live in Tarpine, one of about thirty "fly-in" communities in Florida. They recently moved into their home here, with a few dozen pilot neighbors ("airplanes have right of way" read the street signs.) The retired Georgia Power lineman flies a 1950 Swift, which he parks in a large garage behind their kitchen. A trip to Tampa or Daytona is only an hour or so away - and what a beautiful ride.

::: I love this part of Florida! Gilchrist is about the smallest county in the entire state. The last time I was here, there was only one stoplight in the entire county. It is known for agriculture, excellent cave diving and a darned respectable name.

:::Rolling into Orlando, I stopped by the old homestead. I spent nine years here, and loved and hated every minute of it. This is a big, beautiful house - believe it. The other side (which is all glass) sits right on a pretty lake and the view just cannot be beat. The new owner has fixed it up nicely and you'll just have to wait for the book to learn the whole story. ::: Coming home has been easier than expected, as is usually the case. My friends haven't changed and neither have I.

Dave and Kathryn have set me up in the back yard of their new home - they even gave me a cordless phone, so I am connected! Dave gave me a desk in his office and I have been able to tie up a lot of loose ends, work on the web site and even pick up a new sponsor; Scott Smith's Seminole Harley-Davidson. I have plenty of stories to tell, and I promise to get a few of them to you this week.


Time Flies
SATURDAY, FEBRUARY 6, 1999, BEACON HILL, FLORIDA
Could you live in a town where you have to set your clock each time you cross the street? These people do!
Posted FEBRUARY 28, 1999

---
Lake Monroe, Sanford, Florida - Went sailing with my friend, Shawn, last week, just north of Orlando, on his twenty-foot Encinada. It was a beautiful day for sailing, with a steady wind coming out of the west, and we cruised around the lake for a while. Maybe it was the chill in the air, or maybe it was because it was Valentine's day, but there was absolutely nobody on the lake. With the nice wind, we were near the middle of the huge lake in no time. Shawn gave me the tiller and I steered the boat on a windward tack for a while. I mean to tell you; the wind was excellent, and we were heeling like crazy, the sails were full, the lines were taut, and I had all I could do to keep the tiller steady. Shawn tweaked the running board and we were soon racing along, leaning over the side of that boat as we sailed far from land. I held the tiller tightly, its old hardware and wood creaking against the pressure of tons of water coursing past the rudder. We leaned into the wind and felt the exhilleration of a great sail. Yeehaaw! I shouted as we chased the wind, as we sped through the water, taking on that lake like we were going 'round the Horn. It was exciting, pushing that boat to its limit, grabbing every ounce of wind we could find, hauling that craft into our own record books. Yeeeeehaawwww! What a crazy moment that was as the wind gave us an extra push, as Shawn leaned out over the windward side, as I forced every last knot from that hull, and as the tiller snapped clean off in my hands.
In that instant, the whole story changed - it's funny how sometimes you rely so heavily on a single item. The rudder feathered, the hull leveled itself, and the boom swung and nearly knocked us both off the boat. I sat at the helm, helpless now, and Shawn quickly gathered the sails, laughing through it all. "Where did it break?" he asked. I just sat there, feeling guilty. Shawn chuckled - he's a cartoonist and he just loves good material - and he put the outboard down and we motored back to the dock like a couple of rookies.
---
Date: February 28, 1999
Location: Stuart, Florida
Recent Stops: Miami, Florida Keys
Next Stop: Orlando
Mileage so far: 22,877


Notes: Traffic, traffic, traffic. I have a new slogan for the state of Florida: "Welcome to Florida, slow traffic keep right." Especially here in the southern part of the state, especially here in the wintertime. It's just a great, big party down here, and with all the huge SUVs roaring past my motorcycle, I am but a tasty, little hors d'oeuvre. I did have a nice lunch on a beach on Marathon Key yesterday, and I thought you people in New England would appreciate this photo right about now.
This replica of the Nina was built in Brazil years ago and has sailed to over 250 ports in a historical education program. You may have seen her in the movie "1492." She is in Stuart Florida, and will sail to Europe this year, then down to South America.
---
After a few weeks in my home town of Orlando, Florida, all I can say is; "Thanks!" Friends have come out of the woodwork to give this project a much needed boost. I spent a few days at my friend Dave's business (Absolute Amusements) abusing his office and workshop. With equisite timing, the zipper on my camper "door" broke just as I entered town -

I went to HEC, a company that makes those crazy inflatable games, like the one my friend, Mark Anastasia, is shown in front of at right, and Mark saw to its replacement. Another friend, Tom Cheeves, at Airstar lighting pitched in with some decals for my trailer ("50 States, 19 Months, One Long Ride.")

Airstar sells and rents huge, lighted balloons that float above your event and light them up, like this 8' tall "pirate" balloon. My friend, Bobby, gave me a set of loud pipes for "Bob" Harley. Too bad I won't be able to keep them, because they sound great (the guys at Scott Smith say they make the bike run too hot). It's nice to be able to drive through a parking lot and set off car alarms, and watch mothers grab their children as you pass by.
---
Big, bold letters in the sky couldn't show you how excited I am to be reunited with an old friend, Kit Pepper, and to enlist her illustrious talents as publicist for True America. Thank you Kit!
---